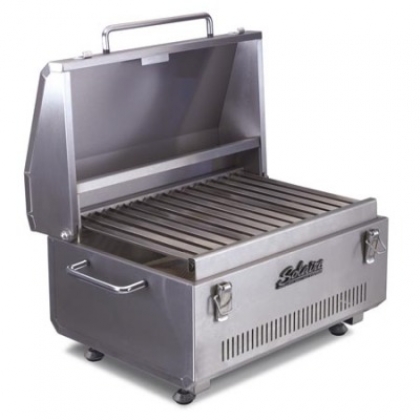 Portable gas barbecues are handy for grilling on the go, whether it be at a sporting event or just a day out picnicking with the family. They are easy to set up and use compared to a charcoal grill. To make an informed decision when shopping for a portable gas barbecue, one should understand the options that are available, including different BTU counts, flare control methods, and varying amounts of cooking space. The intent of the following guide is to help users determine the best type of gas barbecue for their needs, and to explain how and where to buy one at an affordable price. It discusses using propane as a cooking fuel, and explores the differences between gas and charcoal units. Portable gas barbecues are available at many outlets, from local retail and sporting goods stores, as well as through online sellers and auction sites like eBay.
Propane Fuel
Propane is a fossil fuel commonly found mixed with natural gas and petroleum in underground pockets. Propane was discovered in 1912 by Dr. Walter Snelling, who was working for the U.S. Bureau of Mines. He found certain evaporating gases could be converted into liquids and stored at a moderate pressure, with propane being the most abundant of these. Snelling developed a method for storing liquid propane in pressurized bottles, and shortly after that, the commercial propane industry took flight. Propane is odourless and colourless so an odourant is usually added to serve as a warning of escaping gas. Propane is used in homes, farms, certain industries like metal working, and transportation. Propane is extracted from raw natural gas and petroleum, and is around 200 more times more compact in its liquid form than its gas state, making it a viable fuel source for portable barbecues.
Charcoal vs. Gas Barbecues
Choosing between a traditional and gas barbecue can be tough, especially when there are so many differing opinions on the advantages of each. To help the user decide which one best fits his or her needs, the chart below lists some of the advantages of each type of grill.
| Charcoal Barbecue Advantages | Gas Barbecue Advantages |
| --- | --- |
| Cost of unit is usually less than gas powered grills | Propane is more cost effective than charcoal |
| Charcoal barbecues take at minimum 20 minutes to heat up to an appropriate cooking temperature | Heat starts up faster and is maintained at a constant rate |
| Flavoured fuels, like mesquite, apple, and hickory, can be added to flavour food | Gas barbecues have easier clean ups than charcoal because there is no fuel debris to clean up other than some grease |
| Charcoal can be purchased almost anywhere, while propane is only sold through certified sellers | Propane barbecues emit fewer pollutants than charcoal grills |
Portable gas barbecues are a better choice for the eco-conscious buyer, since carbon monoxide emissions are about 100 times greater in charcoal than propane grills. Barbecue purists argue the taste obtained by traditional grills cannot be beat by gas grills, but for portability and ease of use, propane gas barbecues score high marks.
What to Look for in a Gas Barbecue
With so many different portable gas barbecues on the market, it can be hard for novice grillers to choose one that best meets their needs. Understanding barbecue specifications can help narrow down the choices. BTUS, barbecue materials, flare control, are a few features buyers should be aware of when shopping for a gas barbecue.
BTUs
British Thermal Units (BTUs) are a measure of thermal energy (i.e. heat). Therefore, the higher a barbecue's BTU rating, the higher its heat output. Barbecue manufacturers tend to boast about their products' BTU capacities, but a barbecue's BTU rating is not the only thing to consider. High BTU barbecues tend to burn through fuel faster, making them more expensive to operate. For best results, byers should measure the unit's cooking surface and find a barbecue that offers 100 BTUs per square inch of cooking area.
Portable Barbecue Materials
Since they are made to be used on the go, and may get bumped and banged during transit, portable gas barbecues need to be built out of sturdy materials. The three basic metals used in portable barbecues are stainless steel, cast iron, and cast aluminium. Stainless steel is hearty, since it is resistant to rust, while cast iron holds heat longer, to properly sear food. Cast aluminium is both durable and lightweight, which is an important quality for a portable grill. The cooking grates are usually coated with an enamel to diffuse heat and prevent food from sticking. When choosing a barbecue, one must make sure not sacrifice material quality for a lightweight unit because this, in turn, affects the quality of the food one cooks.
Flare Control
When cooking on a portable gas barbecue, it is important to have a hood or lid with adjustable holes for heat control, as well as a flare control system. Portable barbecues employ different methods to avoid grease buildup, which leads to flare hazards. Some barbecues have v-shaped grates to divert the drippings. Avoiding unplanned flare ups helps avoid unneeded wear and tear on the unit, which can lead to a longer barbecue lifespan.
Other Features
As technology advances, gas barbecues come equipped with more and more extras. For example,Thermal Engineering Corporation (TEC) has created and innovated the use of grilling with infrared technology. Infrared grilling reduces the hot air produced by gas grills, which in turn reduces food moisture loss. However, units that boast more features also tend to cost more.
Where to Purchase Portable Gas Barbecues
Portable gas barbecues can be purchased at any local department store or sporting goods store. They can also be bought directly from the manufacturer or from authorised sellers online. Portable gas barbecues can be purchased second hand, but it is a good idea to have all the components checked before use to avoid any potential hazards. It is also a good idea to check for other signs of wear. For example, high wear on the grates can create hot spots that can cause uneven cooking. A wide variety of portable gas barbecues can also be found on auction sites such as eBay.
Buying Portable Gas Barbecues on eBay
When shopping for a gas barbecue on eBay, you can start by typing the keywords "portable gas barbecue" into the search bar on the main page. eBay returns all listings associated with that term. By clicking on one or more of the relevant search filters listed in the sidebar, you can narrow down the results for easier, more relevant product browsing. Search results can also be sorted by price and postage, as well as relative location. By entering your postal code, you can find local sellers and possibly arrange a pickup to avoid postage charges. A good rule of thumb when purchasing portable gas barbecues on eBay is to look for well-known brands; if you have a particular brand in mind you can type it into the Search bar along with the keywords. If you cannot find the barbecue you are looking for, you can check out the eBay shops site and browse through the portable gas barbecue selection.
Getting to Know the Seller
By getting to know the seller you can ensure the best shopping experience possible. Sellers are rated by the amount of positive buyer feedback they have received. Choose a seller with care. Sellers with a lot of positive feedback are more likely to provide high quality merchandise, prompt shipping, and great customer service than are sellers with many negative responses on their profile. Portable gas barbecues are not very complicated to use, but it is still good to have the operation manual to troubleshoot any issues or look up the manufacturer's information. If this is not indicated on the auction listing, ask the seller if the barbecue comes with its manual. However, if a hard copy of the manual is not available, most manufacturers publish them online. If you have any other questions or concerns, you can contact the seller through eBay's reliable messaging system.
Conclusion
Portable gas barbecues are a must when traditional cooking methods are not available. Gas barbecues are more user-friendly than charcoal barbecues because they heat up quickly and cook food more evenly. They are also more eco-friendly because they emit a lot less carbon monoxide into the atmosphere. Gas barbecues are easier to clean, since there is no fuel debris to dispose of. Portable gas barbecues may cost more than charcoal barbecues, but they are more efficient and cost effective to operate. When purchasing a portable gas barbecue, one should look for high quality and durable materials, as well as a hood or lid and features to help prevent unplanned flare ups. Portable gas barbecues can be found at local brick and mortar stores, as well as at sporting goods stores. They can also be purchased on the Internet from the manufacturer or other sellers. Buyers can find also find a huge selection of them on auction sites like eBay. Staying informed and knowing what kind of portable gas barbecue you want can be invaluable when searching for the perfect grill for your on-the-go cooking needs.