Collectors are realising the value and intrinsic qualities of Victorian and Edwardian shooting accessories. In days gone by, breech loading cartridges were very expensive and mass manufacture unreliable so sportsmen made their own. This ensured consistency and a degree of economy. The wide range of tools supplied were beautifully made, carefully designed and many have stood the test of time. They make wonderful decorative items or useful addition to the gun case and provide a tangible link with our sporting past.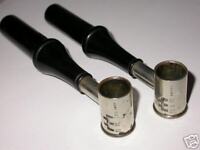 Dixon Nickel Siver shot&powder measures with rammer shaped ebony handles.
Powder and Shot measures are amongst the most elegant of these tools. Beautifully crafted they were produced by major maufacturers like G and JW Hawksley and James Dixon and Sons, both of Sheffield and measures are often seen to carry their names. Other maufacturers such as Lightwood and Webley made measures but they tend not to be named. In some cases good quality measures carry gunsmith's names, eg Ward but often high quality measures carry no name at all.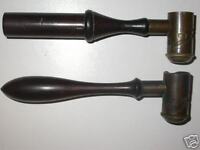 Typical Hawksley Measures
WHAT TO LOOK FOR
Measures by Dixon and Hawksley are most desirable and of guaranteed quality. Generally look for a quality handle of walnut, ebony, rosewood or horn. The bowls are normally brass but the best were nickel plated or German Silver. These are more rare and carry a price premium as a result. My own preference is for a nickel plated measure with horn handle. If by Hawksley its a bonus but you will develop your own style and preference.
Luckily copies of the Dixon and Hawksley catalogues have survived and you may be lucky enough to find a copy. These display the full range of measures available in the late 1800s.
EUROPEAN AND AMERICAN MEASURES
Different countries had different styles and these are best described by photographs. In general French measures are poorer quality than English but better than American. Despite the basic quality of most American measures many have survived in perfect condition, perhaps due to the sheer numbers produced into the 20th Century.
French measures are rarely named but marks to look for are HN, Henri Nicol and a bumble bee trademark. I don't know whose. American measures are often by BGI Co and Union Hardware Co or UHC. Best of all are the prized Parker measures beloved of Americans. One American manufacturer stands out. Capewell and Son moved to America from England and produced measures in the English style. These rarely appear but match the quality of Dixon and Hawksley.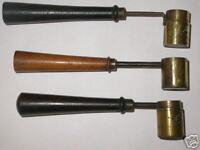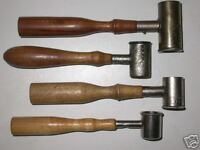 Typical French style. Typical American Style
CONDITION
Rarity quality and condition dictate value in everything. Common faults are seized measuring bowls and resoldered bowls. If a measuring cup is seized DO NOT try to tap it down as the bottom will fly off. DO soak in oil and hope for the best. Seized bowls are not a major fault. Excess solder indicating clumsy repair is a major fault. Handles may have the odd chip which is annoying but to be expected as some were shaped as rammers. Major damage detracts from value.
POLISHING
Resist the temptation to polish brass measures if you can. Many English measures still have traces of original laquer and polish will remove it along with the 150 year patina. Also the polish residue will eventually clog the movement. While polished they look nicer but many collectors, myself included, prefer to see the patina of age. I see nothing wrong with polishing the silver measures.
VALUES
Bargains are to be had on ebay as they trade for much less than in antique shops. Now you know what to look for you will do very well indeed.