POWER COMICS - PENNANTS 1967
During the winter of 1967, Odhams Press Ltd decided to add another title to their roster of 'Power' comics featuring American Marvel superhero strips. The titles already in publication were: Smash, Pow & Wham
On 18th February 1967, 'Fantastic' #1 was in the shops, this title featured almost in its entirety, Marvel supheroes. To celebrate the first issue, 'Power' gave away a free plastic pennant holder and cut out pennants of featured Marvel characters on the colour back page. The other 'Power' titles followed suite and had cut out colour pennants of their featured Marvel heroes on the backpages too. These are now very hard to find, and even if you manage to get hold of a copy containing the cut out pennants, chances are they've already been removed!
With inspiration from Paul Ware and his fabulous fanzine 'Reviews From The Floor Of 64' , dedicated to all things 'Power', I decided to seek these other issues out. It wasn't an easy task I can tell you!
FANTASTIC #1 (18th February 1967) Thor / Iron Man / X-Men. Don't know what's happened but picture has vanished and I can't seem to upload another??????......
...anyway, here are the rarer ones....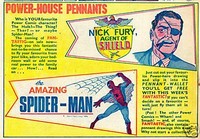 POW #5 (18th February 1967)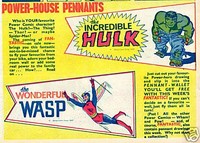 SMASH #55 (18th February 1967)
WHAM #140 (18th February 1967)