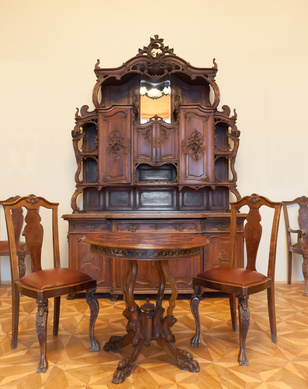 Owning a pre-Victorian cabinet is like owning a piece of history. Handcrafted with elegant style, a pre-Victorian cabinet is rich with tradition and quality and makes a wonderful accent to any home. An antique like a pre-Victorian cabinet is a lovely complement to most any type of contemporary furniture and décor, and once a cabinet is placed in a home it can quickly become the beautiful focal point of any room. While the Victorian period covered the years when Queen Victoria reigned from 1837 to 1901, the Regency period covered Pre-Victorian furniture from 1795 to 1837. Cabinets come in a variety of types, from bedroom and kitchen, to display and music cabinets, although design styles often varied with exactly when the piece was made. These historic furniture pieces were handmade from a variety of different types of wood such as rosewood, zebrawood, mahogany, kingwood, oak. This guide provides the history of pre-Victorian furniture, what to look for when buying a pre-Victorian cabinet, the features that make them so unique, and how to care for a pre-Victorian cabinet after it is placed in the home.
History of Pre-Victorian Furniture
The pre-Victorian age was the Georgian age, with a subset of this being the Regency era, which covers the dates from 1795 to 1837. In 1811, King George's son ruled the country as Prince Regent before he became George IV, hence the term Regency. Furniture designers gained inspiration from Greek and Egyptian antiques, and Regency furniture mixed feminine curves with elegant décor. Pre-Victorian cabinets were elegant, slender and simple in design. For a more attractive finish, the veneers were finished in rosewood and zebrawood, and brass was used as decoration. Around 1810, the addition of French polishing encouraged a smoother, shiny finish to match the elegance of the furniture. Frequent characteristics in Pre-Victorian furniture include lion paw feet and sabre legs. Antique furniture was hand crafted from quality wood, and popular furniture designers included Thomas Chippendale and Thomas Sheraton.
Discover Pre-Victorian Cabinets
While there may be several benefits to buying a Victorian Cabinet, there are a many great advantages to buying pre-Victorian style furniture as well. Pre-Victorian style was plain in design, elegant, and a popular choice to have decorating a home. Many designers were inspired by Egyptian-style furniture, and pre-Victorian style elements include loose ring handles, paw feet on chair legs and tables, and lion masks. With regular care and maintenance, a pre-Victorian cabinet should last for many years and may increase in value.
Materials of Pre-Victorian Cabinets
Pre-Victorian cabinets were hand crafted from zebrawood, mahogany or rosewood, but other types of wood used to make antique furniture include oak and kingwood.
| Part | Description |
| --- | --- |
| Rosewood | A popular wood used to make pre-Victorian cabinets. It is a very distinctive wood, as it releases a fragrance when cut. It has a dark-brown red shade featuring black-grey stripes. |
| Zebrawood | It was used to make veneers during the manufacture of furniture in the late 18th century. This wood features as a pale background with darker stripes. |
| Mahogany | Pre-Victorian furniture was made using mahogany. It is an excellent wood to carve and its appearance is a rich red-brown. |
| Kingwood | It has a similar appearance to rosewood, although it is popularly used as a veneer. It has a dark brown-red background with black stripes. |
| Oak | Popular in Regency furniture, the oak tree takes up to 200 years to mature and features a dark-unrefined grain. |
Types of Pre-Victorian Cabinets
Pre-Victorian furniture dates back to the Regency era. Learn more about some popular cabinets that were designed in this period.
| Type | Description | Advantages | Considerations |
| --- | --- | --- | --- |
| Bedside Cabinet | Small bedside cabinet, plain in design but features decorative legs. | Has a small drawer for storage and a clean elegant finish on the top. | Pre-Victorian cabinet dating back to 1820. |
| Collectors Cabinet | The interior of the cabinet features drawers featuring a satin birch veneer. | Features carved scroll structural columns on either side of the cabinet. | Pre-Victorian cabinet dating back to 1820. |
| Rosewood Chiffonier | A late Regency chest of drawers in rosewood. | It features internal drawers. Hand carved motifs on either side. | Late regency cabinet dating back to 1835. |
| Display Cabinets | Display cabinets designed to show off smaller items. | Provide storage for previous items. | Often a large item |
| Regency Cabinet | An unusual side cabinet with secretarire drawers. | Often designed with mahogany decorated with ebony. | Pre-Victorian cabinet dating back to 1810. |
Factors to Consider When Buying a Pre-Victorian Cabinet
There are many factors to consider when buying a pre-Victorian cabinet, including its condition, how the furniture was originally cut, and its wood type.
Design – Furniture was all hand-made up until 1860 when machines were first introduced to cut furniture. Look at the cabinet and notice if the drawer feels even to touch. Machine cut furniture made very precise cuts, but if there is slight unevenness, it could indicate that the furniture is indeed antique.
Finish – During the late Victorian period, varnish and lacquer were not used on furniture, so pre-Victorian cabinets normally feature a shellac finish.
Wood type – Furniture made after the 1700s was made from mahogany and walnut.
Cut – A cabinet that has nicks of cuts is likely to have been cut by a drawknife, plane or spokeshave. Older pieces were indicated by a straight saw mark. Circular marks indicated that the furniture was cut by a circular saw, and this tool was not available until the year 1860.
Condition – An antique piece of furniture will be either classed as mint, excellent or good. It is rare to find a pre-Victorian cabinet without the occasional blemish, but some quality pieces of furniture still do exist.
How to Care for Pre-Victorian Cabinets
All pieces of antique furniture must be treated with care to preserve their value. The wood types used in pre-Victorian cabinets may gradually develop a surface called a patina, which is not visible on modern pieces of furniture. The safest product to use on pre-Victorian cabinets and antiques is traditional beeswax. This can be applied sparingly with a soft cloth, and polished the following day. Items that can damage antique furniture include sunlight, furniture polish, and excessive moisture; however, all three problems have simple solutions. Firstly, to prevent the wood fading on the cabinet, place the furniture out of the sunlight, or use curtains or blinds to preserve the wood. Secondly, avoid using modern furniture polish, as it can penetrate the patina and cause future repair or restoration problems. Thirdly, excessive moisture can cause mould to develop at the back of furniture, but this can be remedied by using a dehumidifier in the home. It is also not recommended to use any furniture oils, as it can lead to a rapid build-up of dirt and dust, whilst also degrading the finish of the wood over time. Antique furniture can be delicate to move, so consider removing any items inside the cabinet beforehand.
Popular Pre-Victorian Cabinet Manufacturers
Ince and Mayhew
Thomas Hepplewhite
Morel and Seddon
Thomas Hope
George Smith
Morgan and Saunders
Thomas Sheraton
Accessories and Add-ons for Pre-Victorian Cabinets
A pre-Victorian cabinet is a quality piece of furniture that will require care to keep it in great condition. Some items which may help with this are:
Soft cloth
Natural beeswax
Dehumidifier
Curtains or blinds
Finding Pre-Victorian Cabinets on eBay
Once you determine the type of pre-Victorian cabinet you want to purchase, visit the Antiques portal on eBay, click on cabinets then regency and start searching item listings. The Categories list on the left-hand side of the eBay page helps to narrow the search.
Searching for Pre-Victorian Cabinets on eBay
Search eBay listing titles for specific words when shopping for a pre-Victorian cabinet For example, to find a pre-Victorian antique corner cabinet, type 'Pre-Victorian Corner Cabinet' into the search box, and then click the Advanced button to customise the results. Also visit eBay's Search Tips page for more advice on searching for a pre-Victorian cabinet with keywords. If you can't find the exact pre-Victorian cabinet you want, try shopping eBay Stores.
Conclusion
There were many quality pieces of furniture made in the pre-Victorian period, including cabinets. There are a wide variety of cabinets available in different styles to suit any room, including the bedroom and living room. Before buying an antique like a pre-Victorian cabinet, it is useful to understand its history and options available. Popular woods used for cabinetry included mahogany, zebrawood, and rosewood. Pre-Victorian cabinets are typically plain, in contrast to the darker gothic style of the Victoria era. There are many styles of pre-Victorian cabinets, and they were created for a wide range of different uses. This guide should help inform a buyer about the pre-Victorian era, the types of furniture that were made, and how to properly care for such an antique piece of furniture. However, if more information is needed on a cabinet before a purchase, a buyer should not hesitate to ask the seller for more details. Once you have collected this information, you can buy a pre-Victorian cabinet safely and securely on eBay.