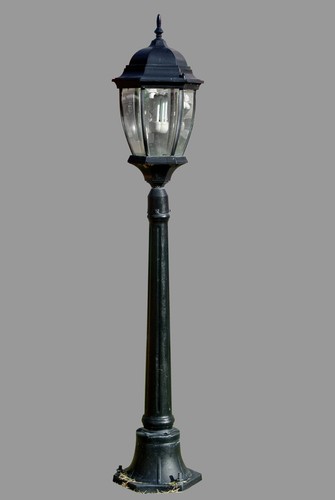 The Age of Enlightenment applied to many elements of 18th century life, including philosophy, politics and science. It would be another hundred years, however, before the term could rightfully be used to describe the interior of European homes. Oil lamp lighting made homes ominously dark, not only at night but also during the day if no sun was shining. Improvements to oil lamps in the late 18th century made things a bit better, as did the introduction of gas lighting in the late 19th century. But it wouldn't be until electricity became widely available after the First World War that European homes would have adequate lighting.
This buying guide will provide information about the history, types and styles of pre-Victorian lamp.It will also provide tips to assist the selection process, and instructions for care and maintenance after purchasing.
History of Pre-Victorian Lamps
Oil lamps were the most common type of lighting in pre-Victorian homes, but they smoked badly and cast a foul odour. The introduction of the Argand style lamp was a major improvement. It was the first in a series of developments that revolutionised lighting. Unlike its predecessors, it used concentric cylinders to wrap the wick in a circle, channelling air through and around so the oil burnt most efficiently. Airflow was further improved via a glass chimney.
Over time a wide variety of different designs emerged, with the oil reservoir often disguised as a classical urn. Simpler designs emerged too, such as wall lights, with the reservoir designed to reflect the light downwards. Elegant but functional brass reading lamps also became popular. The reservoir always presented a problem, but the Moderator lamp and Sinumbra lamp offered a resolution. Appearing in the 1820s, they disguised the reservoir as a hollow ring inside the rim of the light shade above. Both models resulted in simple pedestal-shaped oil lamps, the form we are most familiar with today.
Discover Pre-Victorian Lamps
There are many advantages to buying an antique pre-Victorian lamp. They lend an air of history and elegance to surroundings, which is one reason why this type of lamp continues to be re-created in modern times. Pre-Victorian lighting can also create a wonderful mood for a room. Now that oil lighting is not a necessity, it can create a beautifully romantic or nostalgic aura. Pre-Victorian lighting used carefully proportioned fittings, decorative scrolls and garland motifs to accent the lamp. Some or all of these may be present in period oil lamps, lanterns, candelabras and chandeliers.
Components of a Pre-Victorian Lamp
Antique pre-Victorian lamps underwent several improvements through the years, but the essential form and constituent parts remained the same. They are listed below.
| | |
| --- | --- |
| Part | Description |
| Candles | Chandeliers and other lamps used candles prior to oil. |
| Fuel | First oil and later kerosene were used in lamps. |
| Wick | Made from absorbable material like linen; it is half submerged in the reservoir. |
| Reservoir | Held the fuel. |
| Shade | Usually glass to protect the flame from wind and to protect flammable items from the flame. |
| Ceiling cones or plate | Ideal for covering unflattering hooks and electrical connections on the ceiling. |
| Drops and buttons | Used to affix the lamp onto the ceiling. |
Types of Pre-Victorian Lamps
In the pre-Victorian era there were only three types of lighting – candles, oil or kerosene lamps, and rush lights. Below are some of the different types and styles.
| Type | Description | Advantages | Considerations |
| --- | --- | --- | --- |
| Chandelier | Multiple lamp or candle holders in one structure suspended from the ceiling | · Adds elegance to the home | · Delicate and must be handled carefully. |
| Candelabra | Multiple lamp or candle holders drawn together at the base | · Can be turned to different positions to adjust lighting | · A classic form of lighting still very popular |
| The Argand Lamp | A new type of oil burner with a cleaner flame | · Provides ten times more light than earlier oil lamps | · Eventually copied by all manufacturers after the patent expired |
| Moderator Lamp | Innovation that pumps the oil up to the wick | · Avoids large, bulky reservoir | · Both a technical change and a stylistic change |
| Sinumbra Lamp | Disguised the reservoir as a hollow ring inside the rim of the lamp shade | · Avoids large, bulky reservoir | · Both a technical change and a stylistic change |
| Traditional antique brass pendant | Has a dimming feature | · Makes a great centerpiece | · Ensure it is secured firmly to the ceiling |
| Berkeley | Features a crystal glass base | · Various sizes and designs available | · An elegant table lamp |
| Candelabra | Decoratively designed holder for candle | · Secures candles | · May require cleaning regularly |
Factors to Consider When Buying a Pre-Victorian Lamp
Technically, any lamp made prior to 1837 (the beginning of the Queen Victoria's reign) can be considered Pre-Victorian. But generally speaking, the start of Age of Enlightenment (1650) provides a good parameter.
Style – There are a wide number of antique pre-Victorian lamps available, from table-top lamps and floor lamps, to chandeliers and candelabras. Remember that ambience is the key so try to imagine different rooms in the home and how the lighting will fit in.
Age – Lamps that date further back into the period will generally be worth more, but examine the photos for condition and restoration.
Research - Some research is required before making a purchase. This guide is a good start, but once you've identified a potential style or design, spend time browsing the selection available on eBay. If any more information is needed about an item, ask the seller for more details, or pictures.
Original Condition - This is important among collectors. Restored might look better, but it will usually negatively affect the value of the lamp
How to Care for Pre-Victorian Lamps
An antique pre-Victorian lamp requires careful attention and maintenance, however it should be done carefully as, by their nature, there will often have at leas traces of flammable items in them. Don't leave cleaning it for too long. The rigorous scrubbing to remove dirt and grime could damage the integrity of the lamp and affect its value. Special care must be taken with the shade and reservoir, both of which are usually glass.
Glass Shade and Reservoir Cleaning Tips
If the reservoir can be detached from the shade do so and clean each separately
Dust both carefully with a slightly dampened cloth
Empty the reservoir of any fuel and submerse in water with a mild soap
Chandelier Cleaning Tips
Before taking apart a chandelier to clean it, take a photo to assist in re-assembly.
Dust with a soft cotton flannel or blow off using hairdryer
Place cushions or blankets underneath to catch any falling pieces
Carefully remove the pieces and place into a container
Add a mild detergent and hot water, then wash and rinse each piece carefully (note vinegar and ammonia will add more shine)
Place pieces on a towel and allow to air dry
Carefully place each piece back into its original place, working from the inside out
Accessories and Add-ons for Pre-Victorian Lamps
Below are a few items that will assist in the care and enjoyment of a lamp. Some of the items listed are outlined in the 'How to care for' section above.
Soft cotton flannel
Vinegar and ammonia (to clean crystal chandelier)
Hairdryer
Digital camera/notepad
Mild detergent
Container
Pencil and paper
Pillows or blankets (to catch any parts of the chandelier)
Alternate shades to quickly change the lamp's appearance, and the light it casts
Finding Pre-Victorian Lamps on eBay
Once you determine the type of antique pre-Victorian lamp you want to purchase, visit the Antiques portal on eBay, click on 'Lamps' and start searching item listings. The Categories list on the left-hand side of the eBay page helps to narrow the search.
Searching for Pre-Victorian Lamps on eBay
Search eBay listing titles for specific words when shopping for antique pre-Victorian lamps. For example, to find pre-Victorian lamps, type 'Antique Lamp' into the search box, and then click the Advanced button to customise the results by time period. Also visit eBay's Search Tips page for more advice on searching for an antique pre-Victorian lamp with keywords. If you can't find the exact antique pre-Victorian lamp you want, try shopping eBay Stores.
Conclusion
Finding the right antique pre-Victorian lamp begins with selecting a room in the home fit for ambient lighting, and then deciding on what style of lamp, and what mechanism of lighting, will fit the decor of the room. The information on eBay can help you find the right antique pre-Victorian lamp, or even a selection of lamps to outfit the home. Knowing how to maintain and preserve the lamp will help a buyer keep it looking its best for years to come. A pre-Victorian lamp can be a good decorative addition to any home whilst also being a sound monetary investment.
It is advised that you do as much research as you can on the subject before deciding on a purchase. Once you have collected this information, you can buy an antique pre-Victorian lamp in your preferred style safely and securely on eBay.