I wanted to really embrace the PayPal and Royal Mail Postage Label printing website but I can't stand the inefficient paper wastage baggage it brings.
I read a similar guide about printing on the same piece of paper four times by another person, basically inserting a single page into the printer in a 4 consecutive varieties of ways, to maximise the printing efficiency. I didn't think much of the messy overlapping result though.
This guide is not official or even guaranteed to work (for you) There is a lot of assumed knowledge about printing your own postage labels so familiarise yourself with the standard use as this is an advanced technique for experience label printers.
TRY THIS AT YOUR OWN RISK I ACCEPT NO LIABILITY FOR ANY COSTS YOU INCUR ATTEMPTING THIS, THIS WORKS FOR ME AND NOT NECESSARILY FOR ALL.
What you Need
1. PDF viewer. The quickly opening freely available Foxit PDF or if you prefer a slow behemoth of a PDF viewer, acrobat.
2. CutePDF virtual PDF printer
3. Either uncut or quarterly cut A4 Label paper (or just paper will do - if you like to cut your labels up for doc wallets)
Optional
4. PDFextract software (Method 2)
5. Label: Avery A4/A5 > L7145 (modified by merging cells from eighths to quarters - 14.35 x 9.9cm)
Method 1
(preferred)
1. Log into PayPal, buy your postage label as normal however you need to print it to PDF file, this is done by clicking print, and if you have installed CutePDF correctly, select it from the list of printers installed.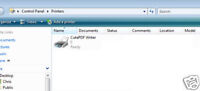 Save to a convenient location with an appropriate name (use a more imaginative name than me)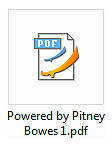 2. Repeat the process for all of your days labels till you have a collection of PDF's files each containing a single label
3. Open PDF in Foxit and screen grab the label area using the photograph / snapshot tool,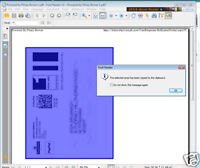 4. Open label template and paste the content it into the correct label cell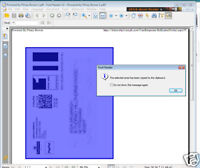 5. 4 labels to a page works for me.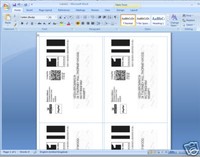 Method 2
1. & 2. Print postage to PDF as above
3. Run PDFExtract and extract the image file from the PDF as a jpg, drag and drop into the label template cell (4 to a page)
Additionally
Never tried to shrink the size of the label to fit more on a page, imagine it would play havoc with the Royal Mail scanning machines so i will leave that to you
If you have any questions, ask, I am not promising any support, but I will drop by from time to time to help.
Cheers
Chris (hexmeshman)