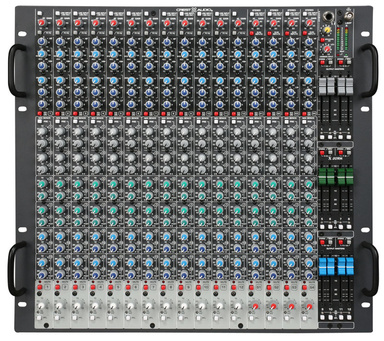 Many people have careers in the music industry. They may be working with large record labels or working alone as a solo act that performs in clubs on the weekends. No matter how major or minor a person's role in the music industry is, it is likely that they need high quality professional audio equipment to make their sound. There are so many components that need to be purchased and deciding which equipment is essential and which is not can be a challenge. Because different musicians and sound engineers have different requirements, these need to be evaluated before shopping for professional audio equipment.
In order to find the best audio equipment for the job, shoppers should become familiar with the many pieces that are available. After locating the equipment that is required, shoppers can begin looking for deals and shopping for used equipment. eBay is a convenient online marketplace that has thousands of listings for both new and used pro audio equipment. Shoppers are sure to find professional audio equipment that fits into their budgets on eBay.
Professional Audio Equipment Glossary
Before heading out and investing in professional audio equipment, it is important for shoppers to know what to look for. Not all pieces of equipment are required by all types of musicians and audio professionals. Shoppers should brush up on the uses for each of the main pieces of equipment so that they can determine which pieces they should invest in and which ones they don't need to bother with.
Amplifiers
The amplifier connects to the preamplifier. It takes the signal from the preamplifier and sends it to the speakers so that listeners can hear the audio. There are a few different types of amplifiers and each type produces a slightly different sound. Solid-state amplifiers are the most common type, but valve amplifiers are popular amongst audiophiles and musicians looking for natural and airy sounds.
Cables
None of the electronic components of professional audio equipment can be connected together or even operate without the proper cables. Speaker cables and wires are needed to connect the speakers to the amplifier. Line cables and USB cords are needed for connecting components to each other.
Drum Machine
A drum machine is an electronic instrument that plays repeating drum patterns. The tempo can be changed as needed as can the style of the drumming. Drum machines have several inputs and outputs to connect to other audio equipment or speakers when used alone. Drum machines are essential for DJs or recording studios that need a wide range of rhythmic beats to go along with their music.
Microphone
A microphone is used for recording vocals or picking up a singer's voice. It can be connected to the audio equipment to amplify the sound so that the audience can hear the vocals through the speakers. Additionally, the microphone is used to pick up vocals for recording purposes. Any professional performer needs a microphone so that the audience is able to hear him or her.
MIDI Controllers
A MIDI controller is used by professionals who record to their computers or other MIDI-enabled devices. The MIDI controller does not make any noise on its own, and it does not change or distort the signal in any way. It functions to take the MIDI data from a keyboard or other instrument and transfer it to the computer. MIDI controllers are commonly used by performance DJs. They are also used in recording studios.
Mixers
Mixers are a must-have piece of audio equipment for DJs. These devices connect several audio sources together and allow the DJ to mix and manipulate the signals from different audio sources. Faders, volume controls, equalisers, and balance controls are all present on the mixer. Various types of mixers are available. Some have inputs for connecting turntables for scratch DJs. Some have inputs for one or two microphones for MCs. The mixer is the single most important piece of audio equipment for a professional DJ.
Preamplifiers
A preamplifier is the control system of any professional audio system. The preamplifier connects all of the audio components into the system. Inputs for CD players, turntables, keyboards, and other musical instruments are all available. The number of inputs varies depending on the type and brand of preamplifier. The job of the preamplifier is to slightly amplify the signal from these audio devices to line level. The signal is then sent to an amplifier for further amplification.
Samplers
A sampler is very similar in function to a synthesiser. The difference between the two is that the sampler uses recorded vocal tracks rather than recorded instrument tracks. They also function as sequencers to play the same part of the track in a loop. Like the synthesiser, the sound can be manipulated in several different ways.
Signal Processors
Signal processors are a vital part of recording studio equipment. They change the input levels of the various audio devices and also produce effects that are needed for recording. Reverb, delay, pitch, and chorus changing effects are all included in what the signal processor can do. These are also known as effects processors or reverbs.
Software
Many people in the music and audio business use their computers for storing and recording songs and tracks. Software is needed for editing these tracks or manipulating the tracks for the desired sound. Software that acts as a drum machine or a MIDI controller are also available.
Speakers
No one can hear the music or audio without a set of speakers. These come in all shapes and sizes. For many purposes only two speakers are needed. Speakers are connected to the amplifier and the signal from the amplifier produces sound in the speakers.
Stands and Cases
Although stands and cases are not technically pieces of audio equipment, they are required for the setup and storage of all of the equipment. Stands set the instruments and equipment up to a level where performers can access the equipment easily. Cases protect the equipment during transit and also provide a way to organise all of the smaller pieces without them getting lost.
Synthesisers
Synthesisers are musical instruments that can create a wide range of sounds. They are most often controlled by a piano-style keyboard, but they produce sounds that imitate all types of instruments. Synthesisers can be connected to just about any instrument to manipulate the sound and create new sounds. Many synthesisers have a built-in instrument control. When an external control needs to be connected, it is known as a sound module.
Tips for Buying Professional Audio Equipment
There are so many components and pieces of audio equipment that a professional may need. Additionally the quality is important to ensure that they can achieve the best sound possible. In order to find these components and avoid spending too much money, shoppers should look around for deals and find equipment that is worth the investment. Also, before making a large purchase, shoppers should be sure to read reviews to see if it is a piece of audio equipment worth buying.
Used Audio Equipment
A shopper who is working with a limited amount of funds is going to want to get the most for their money. When paying full retail price for equipment, this is hard to do. A shoppers should look into investing in used equipment to save some money. Equipment that has been well-maintained allows for years of use. When shopping for used equipment, a shopper should be on the lookout for instruments and devices that show excessive signs of wear and tear on the exterior. Most professional audio equipment is delicate, so if it is handled improperly the components on the inside might be damaged as well.
Bundle Packages
A shopper can save space and money by opting for bundled packages and equipment that has several components combined together into the one unit. Some components such as amplifiers and preamplifiers are often combined together in a single device. Purchasing equipment this way not only ensures their compatibility, but also lowers the overall price. Shoppers who need multiple pieces of equipment should look for devices such as integrated amplifiers, software that combines drum machines, synthesisers, and samplers, and bundled speaker sets.
Reading Reviews
No matter what kind of budget the shopper is working with, reading reviews is always a good idea before making a major purchase. Reviews are written by both audio professionals and consumers. Reading several reviews for a single piece of audio equipment gives shoppers a good idea of the equipment's quality. Before writing off a piece of equipment due to a single bad review, shoppers should be sure that it is a widespread problem rather than an isolated incident.
How to Buy Professional Audio Equipment on eBay
All of the pro audio equipment needed to set up a sound studio or for a DJ to play at a gig are available on eBay. There is a large selection of new and used equipment available from sellers all over the UK. Because items are constantly being sold and listed, `the inventory is always changing. This means that if you can't find what you are looking for today, it might be there tomorrow. There are a lot of good deals on professional audio equipment at eBay. In order to take advantage of these deals, you need to know how to search the site properly.
Searching for Professional Audio Equipment
To perform a search, enter keywords that describe the professional audio equipment you are looking for in the search bar. You can also perform an Advanced Search if you need to perform a more focused search. Avoid being too specific in your search terms or the search engine might not return many listings. Instead, try to be less specific and narrow down the list by selecting different options. If you are shopping with a limited budget, then specify a price range and limit the search results to only those items that match your budget. Once you've narrowed down the list to a smaller number, begin looking at each listing to find the the piece of audio equipment you want.
Conclusion
In order to make it in the music business, people need to have high quality professional audio equipment to achieve the best possible sound. With so many different jobs within the music industry, it is no surprise that there are so many choices when it comes to audio equipment. In order to make the best purchasing decision, shoppers should take the time to learn about each component and its function.
With this knowledge shoppers can determine which pieces they need and which equipment they can do without. This is especially important for people who are shopping with limited funds. Shoppers should also not be afraid to purchase used equipment. If the equipment has been cared for properly, it should still function and produce high quality sound. Whether shoppers are looking for a single component or everything they need to set up a professional recording studio, eBay makes it easy to find all of the items shoppers need at prices they can afford.