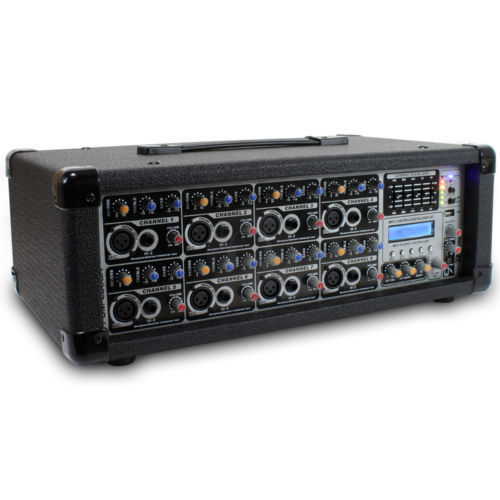 Most people enjoy music, movies, and other types of audio and video entertainment. The way one experiences sound when watching a movie or listening to a live show depends on the quality of the audio system. Sound has the wonderful ability to change how a person feels at any given time. For example, while watching a movie, when sudden suspenseful music drops into the scene, a person knows that something scary or unexpected is about to happen. The same thing happens while a person is attending a concert. The artist can change the energy in the room by making the music louder or softer. All of these elements of entertainment and sound can be enjoyed through different methods of audio output.
The main types of audio equipment that are used by professionals are amplifiers , speakers, and headphones. Knowing the features and benefits of each output method can help buyers make an informed decision when looking for professional audio output devices either on eBay or in local audio and video stores.
Types of Professional Audio Output
Though professional-grade amplifiers, speakers, and headphones are primarily used by DJs, musicians, or other audio professionals, they can be used by both professionals and amateurs. When making a decision on which professional audio output is best for one's needs, it is helpful for a person to consider the best usage for each.
| | |
| --- | --- |
| Types of Audio Output | Uses |
| | Best for increasing sound from musical instruments; increases power from external energy source; used by professional musicians; best for large spaces |
| | Best for increasing sound from electronic devices (computer or DJ equipment); can be used in small or large spaces |
| | Best for usage by a single person; can block out sound while simultaneously projecting sound; commonly used by radio professionals or movie editors |
While some of the professional audio amplifiers, speakers, and headphones can be used for many different purposes on multiple devices, the above chart summarises the recommended uses that can provide optimal audio output. However, it is always advisable to read the owner's manual for each audio output device to make sure there are no compatibility issues. When a person is choosing a professional audio output, it is important to take the intended usage into account.
Professional Amplifiers
While an amplifier's main purpose is always the same, to increase the power of an audio signal, there are several different types of amplifiers for a person to choose from. Each type of amplifier has its own strengths and weaknesses, so before making a purchasing decision, it is important to read the product description. Also, a person should consider what the main purpose of the amplifier is going to be. There are specific amplifiers designed to help professionals express particular elements of sound.
For example, a professional electric guitar player should choose an amplifier that is specifically designed for an electric guitar. That type of amplifier is best for bringing out electronic notes, as opposed to others that are best for acoustic notes. There are even professional amplifiers that are made strictly for practice. They are smaller, do not project the sound as loudly, and can be powered by battery. This can be beneficial to a musician who is on the road and wishes to practise in a small space like a tour bus. Another type of amplifier is a headphone amplifier, which is used by professionals for studio and stage applications. Regardless of the type of amplifier, the most important things to consider before a person makes a purchase are exactly what the amplifier is intended for and where it is going to be used, in order to choose the maximum quality audio output.
Professional Speakers
Professional speakers are commonly used by DJs, karaoke clubs, concert venues, and theatres. There are several different styles, but each is designed to bring out the bass and treble of the audio output, which makes the projection of sound clearer. Most professional speakers are relatively large and very heavy; however, there are smaller speakers that are preferred by professionals like DJs, so that the equipment can be moved easily from venue to venue. Portable professional speakers can either stand alone or come with a stand to be set up on. A person should be familiar with the input and output methods of whatever device they plan on connecting the speakers to. This ensures that there are no problems setting up the speakers.
A 300-watt speaker pair is the most common choice by professional DJs and by karaoke venues. However, depending on the size of the space, a person may choose to purchase either more than just a single pair of speakers, or a speaker system with a higher wattage, such as 500 watts or 800 watts. It is important for a person to know how loud each speaker can go when hooked up to a device, whether that is a DJ turntable or a monitor, to make sure one does not blow out a speaker.
There is also an option of active or passive speakers. Active speakers divide the sound into three main parts: low, high, and mid-range. This is ideal for a professional DJ because one has the ability to alter the audio output and customise the sound. Passive speakers have audio components that are driven by individual amplifiers. This type of speaker is ideal for professional musicians.
Professional Headphones
Professional headphones are high-quality devices that deliver crystal-clear sound through a small speaker. They are used by professional DJs and by professional sound editors who work in radio or television, amongst other professional fields. There are several types of professional headphones, each type being suitable for a certain situation.
Full-sized headphones are worn over the head and are fitted around the ear. They can deliver acoustic sound the most realistically and are a great option for all types of audio playback. Full-sized headphones can also come as a wireless option, using Bluetooth technology to transmit the signal from the device to the headphones. In-ear headphones are available, but are rarely used by professionals because they let too much ambient sound in, which is more disruptive than beneficial.
Noise-cancelling headphones work by encompassing the whole ear to help electronically block out ambient noise from a person's surroundings. This type of headphone is very popular for professionals who work in close quarters. The headphone allows the listener to set the volume at a normal level as opposed to needing to crank up volume just to cancel out the distractions of the surroundings. Typically, noise-cancelling headphones are full-size; however, there are in-ear options as well.
How to Purchase Professional Audio Output Devices on eBay
Though professional amplifiers, speakers, and headphones are a long-term investment, a budget can keep you on track and can ensure you find exactly what you are looking for. To get started on the eBay home page, just type the relevant keywords, such as 'professional amplifiers' and click 'search'. You are then able to choose from various types of audio output devices dedicated to professionals and amateurs alike. You can browse through thousands of professional amplifiers, speakers, and headphones. To make the search less overwhelming, however, eBay gives the user an option of refining the search results even more. You can narrow down the results by selecting the condition of the product, new or old, a particular price range, or brand, among others.
For example, if you are looking for a professional subwoofer , simply type those keywords into eBay's search bar and pick the product you like from the list of relevant results that are displayed. You can also perform a general search by typing ' subwoofer' and refine the results using the categories available until you find the professional audio equipment piece that you are looking for. Once you have found a product that you want to buy, make sure to read the product description before making your final purchase. You can also contact the seller about the product if you have any questions about the product that were not answered in the item's description.
Conclusion
Whether buyers are looking to upgrade their current sound system, or they are just getting started, professional audio equipment offers them exceptional sound quality that cannot be matched by regular grade amplifiers, speakers, and headphones. Sound from professional devices is delivered in the highest quality, and allows listener to fully enjoy their audio experience. Subwoofers can make listening to music in a karaoke venue sound like when one is in the front row at a rock concert. Likewise, an amplifier can take a band practice from sounding subpar to sounding even more like professionals. Whatever the audio output of choice is, a person's listening experience is likely to be improved by using professional-grade audio output.
Professional audio amplifiers, speakers, and headphones can be used by both professionals and nonprofessionals. However, one should read the product's description thoroughly to make sure that the device is compatible with the audio players or other devices that they plan to connect the output device to. A person can purchase professional audio amplifiers, speakers, and headphones at a respectable local retailer or choose from eBay's large selection of professional audio equipment.