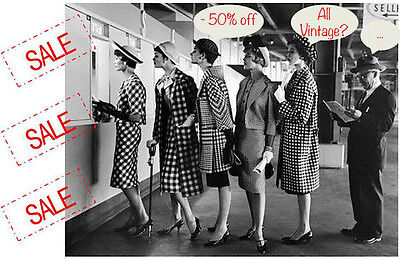 Christmas is a time of giving.
I also want to give you something dear customers. I am offering 30% discount on all items from my auctions.
I believe it is a great gift.
Please contact me for any further details. Please remember buying more then one item on my auctions you safe on shipping as I combine postage. If you pay more then £150 the postage is free of charge on my auctions.
If you have any questions please do not hesitate to contact me. I am here to help you.
If you have any ideas or looking for something specific please contact me ans I might help you to fins something interesting.
I have many beautiful pieces of clothing. Most of them are in 1930's 1920's or Art Deco style as it is my favourite fashion period. I love vintage clothing and want to share my pasion with others. If you like my items be sure that they are of supreme quality. I love embellished fabric with beads, sequins..Love quality materials : silk, velvet, satin damask. Vintage fascination began when I was a very young person till now. Some items were worn by me for some time others were my beloved collelctions that needed rehoming:-) Anyway I am sure you will find something that caught you eye. At lest I am hoping you will...
Marry Christmas and a happy New Year.