Your Wedding Day
So you have your special wedding day planned.
Your guest invitations were carefully
designed, printed, and mailed.

The food selection for the reception is set to be
mouth watering, delicious, and extravagant!

All of your bridesmaids have their gorgeous dresses
and hairstyles ready to impress the crowds and you
have your elegant white wedding dress that was
csutom designed just for you in mind with a
long flowing trane and white lace veil that will
leave your wedding guests in complete awe!
After the wedding, it is time to drink champagne
and enjoy dinner with all of your family and friends.
Oh, but let's back it up. Did you forget to get your
wedding dress cover to protect your dress
for your wedding day?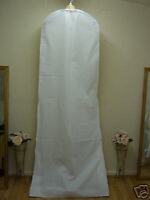 Accidents can happen. It is better to be safe than sorry.
A wedding dress cover is an exceptional way to
protect your investment and to protect your special
day from ruining. So why not spend a few extra dollars
and get your wedding dress cover BEFORE your
wedding dress is ready to wear!
Honey B Selection specializes in wedding dress covers, ladies' lingerie
and so much more! Please check out their eBay Shop TODAY!