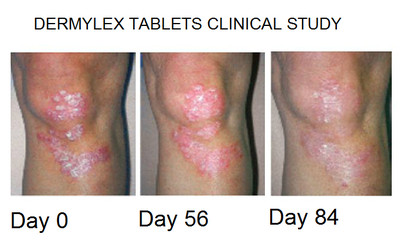 Psoriasis is a skin condition, that causes people to have patches of crusty, red, flaky skin. Psoriasis is not infectious as it genetic and is something you are born with, however it can start at any age and affect anyone. Psoriasis is a long-lasting (chronic) disease that can return at any time. There may be times when you have no symptoms or very mild symptoms, followed by times when the symptoms are severe.
Psoriasis is a chronic autoimmune
disorder that appears on the skin. It appears when the immune system sends out faulty signals that speed up the growth cycle of skin cells. There are several types of psoriasis. The most prevalent form, plaque psoriasis, is seen as red and white hues of scaly, silvery patches that appear on the epidermis – the top layer of the skin.
Plaque psoriasis can afflict many areas of the skin including the face, knees, elbows, hands and feet. This disorder is a chronic recurring condition that varies in severity from minor localized patches to complete body coverage.
Unfortunately there is no cure for psoriasis, but there are plenty of treatments that can reduce and relieve the symptoms of psoriasis. Here are a few examples.
Dermylex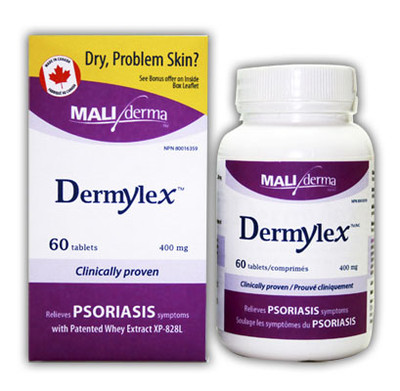 Dermylex
is a all natural supplement that have been clinically proven to help improve the symptoms of psoriasis. It is the first supplement to receive Health Canada's NPN (Natural Product Number) for the relief of psoriasis symptoms. This product is based on a patented, natural, Undenatured Whey Protein Fraction - packaged 60 tablets per bottle. Clinical studies showed that individuals with mild to moderate psoriasis showed a marked improvement in the severity of their psoriasis symptoms - after taking 2 tablets each day for 30 days. For many, the results were even better after 60 days. Dermylex tablets may not cure plaque psoriasis. However, a commitment to try this easy to use, natural product for 3 months will be highly rewarding.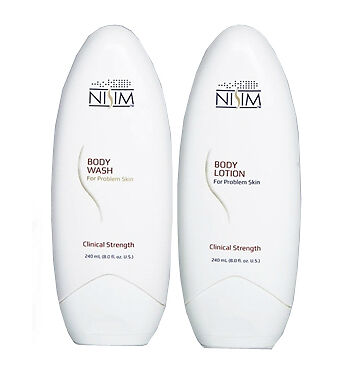 These two high performance skin care preparations were developed by the skin care scientists at Nisim International Inc. Based on the company's exclusive Amino Acid/Vitamin Complex, both products promise measurable benefits to women and men who have "problem skin", particularly psoriasis. Unlike most other topical psoriasis relief preparations, neither
Nisim Body Wash nor the Body Lotion
contain Salicylic Acid (potential skin irritant) or Coal Tar (persistent, obnoxious odour). Instead these formulas are based on mild cleansing and moisturising compounds – working in harmony with Nisim's exclusive Amino Acid/Vitamin Complex. High levels of Niacinamide (Pro-Vitamin B3) and Aloe Vera Gel supplement the performance of these gentle, easy-to-use products.
The Body Wash
has been scientifically formulated to cleanse, condition and tone areas of the body that are prone to problem conditions such as excessive dryness, scaly skin and roughness. NISIM's exclusive Amino Acid Complex works in perfect harmony with carefully chosen, gentle cleansing compounds to help maintain natural, healthy looking skin.
The Body Lotion
has been purposely designed to work in harmony with NISIM Body Wash. Highly fortified with Niacinamide and Nisim's exclusive Amino Acid Complex, this silky, easy to apply lotion deeply hydrates to help reduce roughness, excessive dryness and scaly skin - key factors related to "problem skin".
These product has been developed following the success of the Nisim haircare range, which was found to greatly help many with unsightly and uncomfortable skin conditions such as psoriasis and eczema. If you suffer from scalp irritations, we also recommend trying the Nisim Shampoo for
Normal to Dry hair.
Nisim Shampoo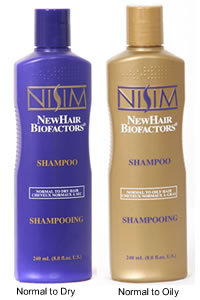 Over 20 years has gone into the research of Nisim (made in Canada). Nisim is not a drug, safe to use even on children. This shampoo is perfect for anyone who wants to maintain their hair, control hair loss or help treat scalp problems like dandruff, itchy scalp and psoriasis. The Nisim deep cleansing shampoo has been specifically formulated to create a clean and nutrient rich environment for healthy hair growth, It is mild enough to be used by both men and women on a daily basis and is suitable for both coloured and treated hair. Most of our customers note it is much kinder to their hair and scalp than ordinary shampoos Nisim does not contain harsh chemicals or drugs, making it very safe to use with no known side effects.
Creams

Skin Deep
- Skin Deep is formulated for perfection using a unique blend of nature's ingredients. This deep moisturising cream is excellent for those with skin problem, eczema, psoriasis or dry skin. One of the key ingredients in Skin Deep is Grapeseed Oil which is known to have excellent skin healing properties and, according to University research, works 1000s of times more effectively than Vitamin E! Grapeseed oil is used in high end skincare products and has been shown to help with rashes, burns, bites, sunburn and other skin irritations. Other key nutritional ingredients include: Coconut Oil, Grapefruit Extract and Oil, Vitamin E oil and Avocado Oil.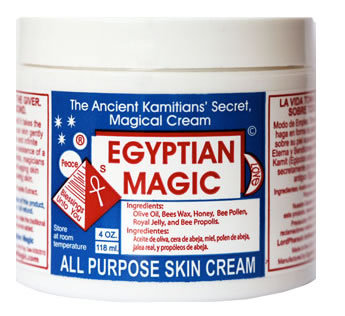 Egyptian Magic All Purpose Skin Cream
- The miraculous all-purpose formula in Egyptian Magic has amazed 1000s of customers and beauty editors worldwide since 1991, quickly gaining a cult following amongst celebrities and the press. The non-greasy blend of all natural ingredients serves an astounding variety of purposes from healing to revitalising dry skin, to helping burns and insect bites. This one product may well serve to replace a host of other products in your bathroom cabinet!