(Part 3 of a five part series)
As Ebay's limit is 10 pics per guide,
this guide should be read after Part 1. How to buy Old Country Roses - Royal Albert
The major difference from other English backstamps is the (R) trade mark registration character located after ROYAL ALBERT.
The trade mark ROYAL ALBERT was registered in 1993, which was also the year that Royal Doulton demerged from the Pearson Group and listed publicly in their own right on the London Stock Exchange.
This period of some ten years represents the last of the English produced china in the district of Stoke-on-Trent, Staffordshire England.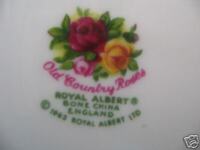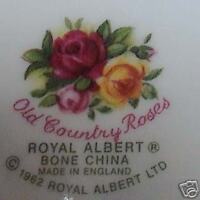 other guides in this series are: