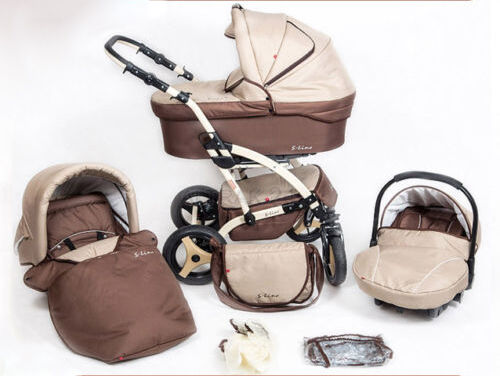 A pushchair is similar to a buggy or a stroller, except it is inclined like a seat and usually intended for a toddler rather than an infant. The pushchair allows the child to sit up rather than recline, which is better for the back and allows the child to interact with people and things. Parents can choose to leave the pushchair as it is or purchase accessories with a range of different functions.
Adding accessories to a pushchair can allow personalisation, practicality, and of course, the ability to add comfort and entertainment options to a simple pushchair. Because most parents do not do anything other than pushing their child in the chair, it can be beneficial to include toys, games, or even screens to block out the sun. Buyers should consider what they want to purchase as well as how much they want to spend on accessories before going out and buying them.
Pushchair Changing Bag
A changing bag is one of the most practical choices for pushchair accessories. Essentially, this bag can either fit under the seat on the back or strap onto the chair in some way. Most changing bags are also completely removable so that they can be taken into bathrooms or carried without the pushchair. Factors to look for include a size that fits in the available space on the pushchair, plenty of pockets for organisation, and good snaps that do not risk coming undone.
Pushchair Liner
A pushchair liner is a padded cushioning that can be inserted into the pushchair. Usually designed to make the seat more comfortable, many pushchair liners come with extra features including waterproofing. Some liners are also reversible with a different pattern on each side, which is great for changing the look and feel of the pushchair. Some liners are designed to strap into place while others simply set in place. Most are also one size only, and can usually be interchanged across most pushchairs.
Pushchair Footmuff
A footmuff is great for cold days, especially if the child is younger. Footmuffs usually wrap around the child's foot. Some variations include muffs that can also be used as a pushchair liner, or those that can do both at once. Each of these options is practical for parents, although the convertible is the most flexible in terms of year-round use. Footmuffs can also be purchased in a range of colours and patterns in order to add personalisation and style to the pushchair.
Pushchair Parasol or Umbrella
A parasol or umbrella can be a practical accessory for a pram or pushchair. Usually parasols for pushchairs come with clips that can be attached to the handle to allow a stemmed umbrella to shield the chair. Parasols are generally flat and might not be completely rain resistant while umbrellas are curved to allow water to drip down, and can double as a parasol. Alternately, some parents choose to purchase holders that can clamp around the umbrella or parasol that they already own.
Head Support Cushion
Head supports and cushions are not completely necessary but they can make a pushchair more comfortable over long periods of time. Many head support cushions are designed to help improve posture and allow the baby or toddler to look out without constantly supporting his or her head. Head support cushions are usually specially designed for younger babies rather than toddlers in order to provide support during bouncing motions from the pushchair.
Pushchair Covers and Nets
Covers and nets can serve a variety of purposes including keeping out bugs and rain. For safety reasons, pushchair covers should not be used indoors or in hot weather due to an increased risk of suffocation. Bug nets can be used in all weather and are completely safe as long as they are attached properly. Usually nets and covers come with clips that can be attached to the edges of the pushchair.
Clip-On Toys and Mobiles
Clip-on toys and mobiles are popular for children of all ages and can be used to entertain children while travelling. Options range from mobiles that hang down and are usually designed for infants and older babies to book-type attachments with pictures and sometimes words. Most toys hang down from the top of the pushchair, attach to the handlebar, or stretch between one side of the pushchair and the other. For some pushchairs, it is also possible to purchase a holder or clip-on stand for a tablet so that the baby or toddler can play simple games or watch a movie. These are not always easy to find but can usually be interchanged with those intended for strollers, wheelchairs, and even bicycles as long as the grip is adjustable enough to attach to the pushchair handles.
Pushchair Tables
Some pushchairs come with tables or boards, but others do not. Parents who want to give their children something to do, or feed them, while in the stroller should definitely consider a table. Usually tables grip or clamp onto the pushchair bars so that they are adjustable and removable. Common features include a cup holder to keep drinks from spilling, and some come with hooks or cubbies for storing small toys. Tables are a very practical choice for adding a pushchair accessory because they are adjustable, useful, and can be used for toys, food, drinks, and even activities such as drawing.
Pushchair Extensions
Extensions are not always called accessories but can be attached to a pushchair. Usually an extension is designed to add an extra seat to the pushchair, for example for parents who have twins. These options can range from face-to-face extensions, side extensions, rear extensions, and forward-facing extensions. Usually the important considerations include that the extension and the weight of the additional child do not go over the pushchair's maximum weight limit, and that the extension is firmly attached to the pushchair.
Deciding on Pushchair Accessories
Deciding on individual accessories can be difficult for some parents; however, most can make the choice by settling on what is most practical and most affordable. For example, a mobile for an older child might not be a good investment, and a rain cover might not be a good investment if there is already an umbrella grip on the pushchair. Deciding on options that are practical and useful for some time can help parents with a budget.
A table can be one of the best investments because it gives the child a place to eat or play without potentially dropping things in his or her lap or on the ground. A changing bag or supply bag is a great place to put almost anything, including personal belongings. A mobile can be an excellent choice for a very young child but might get in the way or hinder movements of an older child. Extras like extensions should also be gauged carefully before purchase as they can imbalance or be too heavy for a standard pushchair.
Some accessories might also be too expensive to be used for a limited time, so it is important to budget money for the purchase and then make a decision based on that. For example, if a toddler is already four years old, he or she might only be able to use the pushchair for another year or so before becoming too big. Buyers should decide on accessories based on budget as well as practical long term use. Buyers who plan on using the pushchair for their younger children at a later date can of course consider purchases that are likely to be suitable for both children.
Buying Pushchair Accessories on eBay
If you are considering pushchair accessories, then eBay is a great place to start. eBay includes a range of different items at a variety of different prices. Options also include new and used purchases to suit every budget. For styles and varieties of accessories, options range from toys to extensions and everything in between. If you are looking for a pushchair accessory, it can most likely be found on eBay.
Try searching from the home page of the site and looking through your options. You can choose to search for 'pushchair accessories', but you might have better luck searching for something specific such as 'pushchair mobile' or ' pushchair covers'. Once you know what you want, read the description, check the shipping time and costs, and contact the seller if you have any questions before making your purchase. Make sure you know what you are getting and how much you are paying, including shipping fees before you pay.
Conclusion
There are many different pushchair accessories and for most buyers, this is the biggest decision. Accessories can range from umbrellas to tables and everything in between. Buyers can decide on one by considering what they need, what they think is the most practical choice, or what they have in their budget. Some features such as tables and changing backs can be very useful and multi-purpose, while others such as parasols only serve one purpose.
Choices include checking the practicality of the accessory. Some accessories, such as extensions, are not suited or safe for all pushchairs, so checking the weight and dimensions of the accessory is also important. Buyers can consider what their children are interested in, what might captivate interest for longer, and what might be reusable in the future. Most parents should consider each of these features as well as where they would like to purchase the accessories.