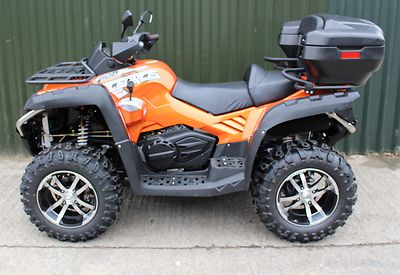 Quadzilla's X8 aka CFORCE 800 Facelift Version
The X8 is the biggest monster quad in the Quadzilla range.
It has a V-twin 800cc engine and is fuel injected with a huge spec as standard - all fully road legal.
The quad has EPS (electronic power steering), front and rear rack, king and queen seat, back rest, winch, tow hitch and diff too.
It is comfortable, the padded seat at the rear is great for passengers who also have a rear grab rail either side and it has masses of power and it drives like a dream!
This Quadzilla X8 is made by CFMOTO who are the biggest Chinese manufacturer of ATVs, they sell worldwide and Quadzilla have been selling quads and buggies for over 25 years, so overall you get a great tried and tested machine with a lot of kit for reasonable money.
It handles well offroad and is full road legal so you can use it in between fields or take in into town. The gears are high, low, reverse and park with an added diff lock incase you get in trouble. There is not much you can't do with the quad.
With regards to parts backup, the Quadzilla dealer network can supply all the parts but if you don't have somewhere local, you can buy from Quadzilla direct and get the parts at reasonable cost with delivery in 2 days.
These machines might be made in the Far East, but you still get British quality service and backup.

This one is the X8 Facelift, which came out in August 2016. The Quadzilla 800cc had a design facelift, so the plastics look a bit different to the previous version, plus it stands taller off the ground making to help performance offroad and you can't be missed on the road. It has great fuel economy, it is petrol but reaches anywhere between 45 - 60mpg depending on tasks, terrain and riders driving. This quad comes with a 1 year parts and labour warranty and cost £7199 inc VAT, registration, number plate and first years tax. You can get it in orange, camo leaf or silver.