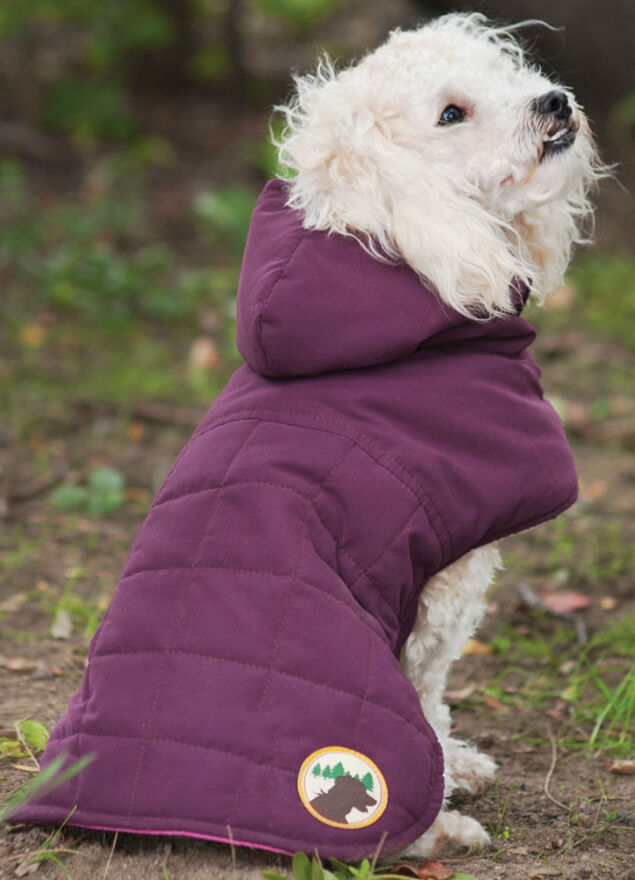 Nobody likes the cold, wet winter weather, and that includes dogs. When it's freezing outside, the last thing many dogs want to do is splash about in puddles and catch a chill. Quilted dog coats are ideal to keep dogs cosy when they are out and about, whether they are playing in the park or taking a long walk in the woods. Perfect for smaller dogs or long haired breeds in particular; a quilted coat will protect a dogs coat from rain, mud, snow and the elements.
Shopping online on websites such as eBay is a great option for anyone looking to purchase a quilted dog coat at an affordable price. Used and new dog coats can easily be found, and with a wide range available to choose from, finding the perfect quilted coat for a dog has never been easier.
Why buy a Quilted Dog Coat?
Just as humans enjoy wearing a warm, padded coat on chilly winter (and spring) days, dogs enjoy the comfort of a cosy coat too. Little dogs can often feel the cold, particularly hairless breeds or those with very short hair such as Chihuahuas. By purchasing a quilted coat,, which has layers of cotton to provide warmth, even small dogs can keep cosy.
Purchasing a quilted coat on websites such as eBay is a good way to protect longer haired dogs from the elements too. Their coats can often get matted and tangled in the rain or snow, and by covering them with a coat, this can be avoided. In addition, a quilted coat adds a smart look to any dogs' appearance and he can be styled to match his owner.
Types of Quilted Dog Coat
There are several types of quilted dog coat available to choose from on websites such as eBay, and it is a case of which the individual prefers, and which the dog will be most comfortable wearing.
Puffa jackets – these have a casual appearance and are usually quite heavily padded. Whilst they look great on small dogs, they are not ideal for larger breeds.
Lightweight quilted jackets – these are perfect for spring months or chilly summer days; with their lightweight padding and smart look they will ensure any dog looks stylish and keeps warm.
Quilted Barbour coats – the ultimate coat for the outdoors; these are similar to human Barbour coats with their waxed finish that repels water, mud and anything else a dog might want to roll in. They are cosy and durable, although usually more expensive than standard quilted dog coats.
Step-in coats – these are a fully enclosed coat which the dog 'steps' into – there are no buckles or fastenings. Whilst these are more secure to wear, it can be difficult to encourage a dog into them.
Buckle fastening quilted coats – these fasten with a plastic ruckstrap style buckle which keeps the coat securely attached no matter what the dog gets up to.
Popper fastening quilted coats – these fasten with poppers and are ideal for small dogs, although the poppers can often come undone if the dog is running or jumping.
The type of quilted dog coat to choose is very much a personal decision and will depend on available budget, breed of dog and the individual's taste. Branded quilted coats such as the Barbour coats can be found for affordable prices on eBay, where there is a wide range of dog coats available to choose from.
Measuring your Dog
One of the trickiest aspects of purchasing a quilted dog coat is measuring a dog. If the dog will stand still long enough to be measured it can still be a challenge! So it is a task best attempted with two people; one to hold the dog and perhaps tempt him with a treat, and the other to take the measurements. The following measurements are required when shopping for a dog coat::
| Coat Area | Where to Measure |
| --- | --- |
| Coat Length | Take a measurement from the dog's collar to the beginning of his tail (or where the coat would stop) – this will give the required length for a coat. |
| Circumference | The dog's chest should be measured at the widest point – if unsure a coat with an adjustable belly strap should be purchased. |
| Collar | Deep chested dogs such as pugs, bull terriers and staffies should also have the circumference of their collar area measured. |
Measuring a dog is not always an easy task, and it depends on the temperament of the dog. Some dogs love the opportunity to stand still and be pampered with attention and a treat, whilst other dogs may think it is a game. Try to make the measuring as quick and easy as possible so that the dog does not get bored.
Choosing the Right Size of Dog Coat
Choosing the right size of dog coat is easy when shopping online on websites such as eBay. Most eBay listings sell dog coats in sizes ranging from XS to XXL,, and the product listings will usually have a size chart which explains the sizing in more detail. The sizes are normally listed in inches, so it helps to have the measurements to hand when shopping.
Here is a rough guide to sizing – this may vary slightly depending on the manufacturer, so always check the product description and size chart when shopping:
| Size | Body length (inches) | Chest (inches) | Neck (inches) |
| --- | --- | --- | --- |
| XS | 8-9 | 11-12 | 8 -9 |
| S | 9-10 | 13- 14 | 9- 10 |
| M | 10- 11 | 14 – 16 | 10- 11.5 |
| L | 11.5- 12.5 | 16 – 17.5 | 11.5- 12.5 |
| XL | 12.5- 13.5 | 17.5 – 19 | 12- 13.5 |
| XXL | 14- 15 | 20 – 22 | 13-14 |
Choosing the right size can be difficult, but if wavering between two sizes, the larger size should be chosen. Most sellers on eBay will offer to exchange sizes, provided the coat is returned in its original condition.
Personalised Dog Coats
A personalised dog coat is a great way to make any dog look stylish, and it is also a lot of fun. It is possible to find fleece and quilted dog coats for sale on websites such as eBay, and these can be personalised with the dog's name for a very reasonable price. It is also possible to personalise coats with a logo, such as 'Police dog' or 'Princess' – these make a humorous gift for any dog (and its owner).
Personalised dog coats are a great treat for any dog's birthday or Christmas and make the perfect present – even if the owner sometimes appreciates them more than the dog itself. By adding a dog's name to their coat it is a lovely way to create a unique and special gift.
Should you Buy a Used or New Quilted Dog Coat?
It is a personal choice whether to buy a used or new quilted dog coat, and on eBay it is easy to find used quilted dog coats in mint condition. Many owners sell their dog coats when their dogs grow out of them, or if they are clearing out a large stash of dog clothes, and it possible to find a bargain – sometimes there are bulk lots available and several dog coats can be picked up for a very affordable price.
For those who are on a tight budget, purchasing a used dog coat is a great option to keep dogs warm all winter without spending a fortune. For those with a bit more money to spend, investing in a quality new quilted dog coat is ideal – most coats are durable and will last for many years before having to be replaced. Many owners like to have a range of different coats for their dog to wear, and in this case it may be cheaper to purchase some or all of the coats in used condition, from websites such as eBay.
Choosing the Perfect Quilted Coat for Your Dog
Choosing the perfect coat for any dog is a matter of personal preference, the dog's size, style desired and budget. It is important to ensure that the coat not only looks good, but is comfortable for the dog. A coat that is too tight or rubs uncomfortably will cause the dog distress, and they may demonstrate this by showing less enthusiasm when going for walks or 'worrying' at the coat.
A coat should always have enough room around the belly and collar area, and it is very important that it is not too tight. Choosing a brightly coloured coat is a great way to keep track of dogs when they are off the lead in the park, whereas a darker coloured coat is more subtle and will show mud and dirt less. Investing in a high quality, branded coat such as a Barbour is a great idea if living in the countryside. Big dogs can often get very muddy, and this will protect their coat and save the owner a fortune on expensive grooming and dog shampoo.
It is also important to choose a coat which is not too padded – some dogs get very hot when running and playing, and if the dog is wearing a heavily padded quilted coat, he may get tired and uncomfortable.
Conclusion
Quilted dog coats are popular with many dog owners and are a great way to keep dogs cosy and warm throughout the winter and spring. They are especially great for small dogs with short hair, or long haired breeds who may get muddy and matted coats in the rain and snow. Dog coats can be practical, such as a Barbour dog coat, or more playful, such as a personalised quilted coat with the dog's name on, and it is easy to find something to suit both the tastes of the owner and the breed of the dog.
eBay has a wide range of quilted dog coats available to choose from, and it is easy to find both new and used coats at very affordable prices, to suit all sizes and breeds of dog.