There are various types of skate suitable for all ages, skate style and level of expertise. This guide gives you a brief overview of the different types but there are links at the bottom of this page which will give you more comprehensive information should you require it.
ROLLER QUAD SKATES are made with with wider wheels to allow for a faster, smoother feel which requires less effort. They are designed for leisurely rides in the park, roller discos, fitness activities and fun skating. They usually have 4 wheels with a wheel size of 62mm for a low, stable centre of gravity.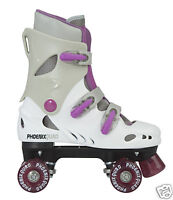 Click here to see ALL ROLLER SKATES
RECREATIONAL INLINE SKATES are also for roller discos and fun skating but usually have a wheel size of 70 - 80mm to allow for faster skating.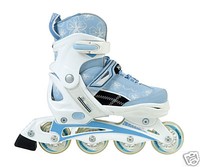 Click here for RECREATIONAL SKATES
AGGRESSIVE INLINE SKATES are designed for stunts such as rails, jumps, ramps and half pipes and usually have special modifications to allow for this as well as smaller harder wheels of size 55 - 67mm to withstand grinding and jumping. Click here to see a range of ramps and jumps.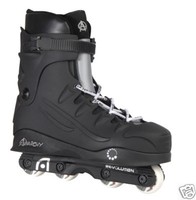 Click here for AGGRESSIVE SKATES
If you require more information, please click on the relevant link below to see our guides on:
HOW TO CHOOSE ROLLER QUAD SKATES
Thanks for looking!