HOW TO PRODUCE THE SHABBY CHIC LOOK WITH STYLE AND ON A BUDGET

It is so very easy and cheap to change the look of a room with just a handful of items.

Cushions, tableclothes, throws, curtaining, old rugs, etc. Aim for soft florals, lace, cottons, ribbons. Old 'French' style accesories such as a domed bird cage; ornate mirrors and knick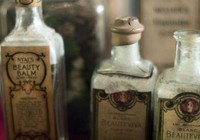 knacks, such as old talcum boxes; flower water bottles - with floral labels which will all add to the romantic feeling.



Concentrate on one roo
m at a time. P
erhaps start with the bedroom. Replace that modern headboard with either a classic iron bedstead style if funds permit. Or make a fabric covered head board with soft floral fabric, or plain fabric and lace. Drape an Edwardian or Victorian lacey nightgown over the bed.

Thrift shops are an excellent source with people throwing out old linen; ornaments; vases - even 'brown furniture''' which can be given a lick of paint in the required colour and style.

Research the internet, there are many many sites to give ideas about the look you want.

LOOK OUT FOR MORE UPDATES AND PICTURES