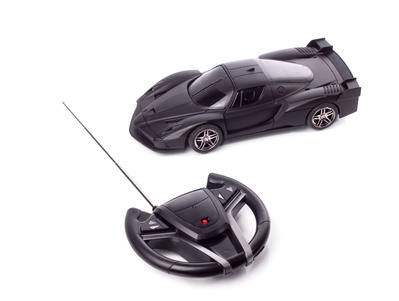 Radio-controlled cars can be quite a substantial financial investment, and are often considered to be more of a 'grown up hobby', rather than merely a toy for children. While there are affordable versions available on eBay that are ideal for younger children to play with, the majority of radio-controlled cars sold online are to older collectors who enjoy model building in general.
Radio-controlled cars are by their very nature fairly robust. However, it is inevitable that they will suffer from knocks and bumps whilst being operated, particularly if they are designed to be operated outdoors. So whilst the car itself may last for many years, various parts will need to be replaced on a fairly regular basis.
Most collectors have one or two actual radio-controlled cars, but an entire selection of parts and accessories. The attraction of this particular hobby is the ability to customise a car to suit your personal taste, and the easiest way to find a full selection of parts and accessories is to go online or onto a site such as eBay.
The Radio-Controlled Car scene
Just like their full-sized versions, radio-controlled cars attract a huge amount of interest every year, with clubs, events and exhibitions dedicated to the radio-controlled car scene. It is a hobby that often sees enthusiasts begin their interest at an early age with a simple model that is relatively affordable. However, older enthusiasts with a little more disposable income are also active in the scene, and competition to develop the best radio-controlled car is fierce.
It is not just looks that are important to enthusiasts, but performance too. So there are several things to consider when buying parts and accessories for radio-controlled cars:
What is the intent – looks or performance
The budget
The age and experience of the operator
Whether the car is being used indoors or outdoors
The most commonly damaged or worn parts
It can be very easy to spend more than intended on radio-controlled car parts and accessories, so a good idea is to have a budget and stick to it. This is easier to do if an online source such as eBay is utilised to find more affordable parts, rather than buying them direct from the manufacturer.
The most common parts
Assuming that the radio-controlled car is being used outdoors, there are various parts that will probably need replacing on a regular basis. However, the sheer range and number of parts and accessories available online and on eBay can be baffling, so it is a good idea to use the extra filters to narrow down your search:
| Filter | Categories | Useful for: |
| --- | --- | --- |
| Type | A basic filter that breaks the category down into Parts & Accessories and Vehicles | Initiating a search for specific parts |
| Power Source | Nitro, electric or petrol | Narrows down the search to power-specific models |
| Condition | New or Used | Good when looking for more affordable 'used' parts |
| Price | Can be specified by the buyer (from/to) | Ideal for sticking to a budget |
| Brand | Popular named brands of RC car | Good for collectors or if the brand of the existing vehicle is known (some parts not compatible with other brands) |
| Model | Specific named models (i.e. Porsche) | Ideal for enthusiasts of certain types of car |
| Scale | Ranges from 1/24 up to 1/6 | Finding parts and accessories that will fit the existing vehicle |
| Sub-type | Trucks, Off-road cars, Replicas etc | Good for narrowing down the search based on type of vehicle |
| Assembly Required? | Assembly required or 'Ready to Run' | Useful more for accessories rather than spare parts |
Power sources
There are three primary types of power source for radio-controlled cars:
Nitro powered cars us a volatile mixture of methanol, oil and nitro methane. They are faster than other types of radio-controlled cars, but do take longer to get up to speed due to the clutch configuration. They are also more expensive than other types or RC car, and also suffer much more from 'wear and tear'. These types of radio-controlled car are often much more 'high maintenance' and will need parts replacing on a regular basis.
Powered by 2-stroke engines petrol radio-controlled cars are fuelled by standard unleaded petrol mixed with 2-stroke engine oil. They are cheaper to run than nitro cars, but like their faster, more expensive versions they do suffer from wear and tear issues. Parts will need to be replaced on a regular basis with petrol RC cars.
Electric or battery-operated RC cars are the most common 'entry level' cars for younger enthusiasts. These have fewer moving parts and therefore are less susceptible to wear and tear. However, they also tend to be a little less robust and are often constructed primarily from plastic, which can be easily damaged. Fortunately, it is easy to replace parts for all three types of cars by looking on eBay under the individual sub-categories.
Safety considerations
It is important to remember that, although some radio-controlled cars are suitable for children, many of the larger, petrol and nitro-driven versions are not, due to the use of highly volatile and toxic chemicals to drive them. They should therefore never be given to young children as 'toys', and even older children should be fully supervised by adults whilst driving and operating the vehicles.
Both nitro fuel and petrol are highly combustible, so anyone buying these types of radio-controlled cars on eBay should take adequate safety precautions whilst operating them.
New or Used?
Radio-controlled car parts and accessories are available as both 'new' and 'used' on eBay. There is a third 'Refurbished' option, which can be a more affordable way of buying what would normally be more costly parts without going over-budget. This is particularly useful for accessories such as body parts, wheels and some engine parts, as well as control generic panels.
Certain parts should be purchased new or refurbished on eBay, as they are often the most susceptible to wear and tear. These include engine parts, gearboxes, shock absorbers, spark plugs and bearings.
Used parts and accessories are a great way to get into model car building on a budget, and on eBay there are plenty of opportunities to find everything needed to customise, repair or even build a complete radio-controlled car.
Buying power sources for radio-controlled cars online
Whilst unleaded petrol for petrol-driven radio-controlled cars can be bought at any petrol station, other types of power sources can also be purchased online. Specialist nitro fuel mixes are available on eBay for nitro-powered cars, but ensure that the fuel comes from a reputable source and that it conforms to the manufacturer's specifications before use. Putting the wrong kind of fuel into the wrong kind of car can not only damage the internal workings of the vehicle, but could also be a potential safety risk. Never allow children to put fuel into radio-controlled cars unsupervised.
Specialist batteries are available online that are designed specifically for use in radio-controlled vehicles. These have the advantage of being what is known as an 'enclosed' power source, and so are much safer for children to handle (although it is still advisable to supervise younger children at all times when operating radio-controlled cars).
Getting the right size parts and accessories
Radio-controlled cars come in a variety of sizes. Most petrol vehicles are larger, and are usually scaled at 1/5th or 1/6th the size of a normal vehicle. They usually come with 23cc or 26cc engines, making them quite powerful and fast. Nitro cars are often the same size. The reason that both petrol and nitro cars are larger (and therefore more expensive) is that they have a working engine that needs a lot of moving parts for it to operate. They also need extra space under the body shell for a fuel tank, gearboxes and 'running gear' such as axles, shock absorbers and other major parts.
Battery powered radio-controlled cars can be considerably smaller, as the power source (the battery) is much more compact and the electric engine used to power the car is also smaller. These range in scale from 1/24 up to much larger 1/6th size. Because there are fewer moving parts on a battery-operated car, they also tend to be lighter and more affordable for new enthusiasts and younger children.
Models come in many forms including two wheel and four-wheel drive, off road, and on road vehicles. It is important to narrow down as precisely as possible the search parameter when buying parts and accessories on eBay, and one of the most important parameters is the scale filter. This will ensure that donor parts will fit the primary vehicle correctly. It is also wise to check with the manufacturer's specifications, as some parts may not be compatible with certain models.
How to buy Radio-Controlled car parts on eBay
The easiest way to buy radio-controlled car parts and accessories is to browse what is on offer on eBay. Whether it is an entire body shell for a Mustang or a new battery for a monster truck, coloured shrink wrap for wiring looms or a complete engine for a nitro-powered car, there is a full selection of parts and accessories on eBay. Simply click onto eBay.co.uk and go to the drop-down menu of categories at the top of the page. Select Toys and Games. This will open up a list of sub-categories. Go to Radio Controlled and click to open the category. Scroll down to Cars and click to open the category. On the left side bar are a selection of primary filters, including the power source such as nitro, electric and petrol. There are also sub-filters for brand, type and so on. These will help to narrow down the search for accessories and parts that will fit the specific vehicle. From there it is also possible to specify cost, whether new or used parts are required and even the brand or manufacturer's specifics.
Conclusion
Radio-controlled cars are an extremely popular hobby and one that any age can enjoy. Although it can be costly to run and maintain some of the larger model cars, there are plenty of entry-level vehicles that are much more affordable and more cost effective to run and maintain. Spares and accessories allow owners to customise their vehicles, putting their own unique 'stamp' on a vehicle in much the same way that their full-size counterparts are 'tricked' up.
Radio-controlled cars are fun and make a great hobby for children interested in mechanics and engineering. The act of maintaining and customising a radio-controlled car teaches younger users a huge variety of skills that are transferable into the real world as they get older. eBay is the ideal location to find parts and accessories to maintain and customise radio-controlled cars.