If you are searching for a Ferrari Mubudala cap please watch out for fakes, they are now very good, and as these caps are so rare, there are a lot of them!
1. Check where the item is from, and the price, if it is from China please be careful
2. Look at the cap, does the colour look bright red, and does the material look ragged?
3. look at the tip the clarity of the Ferrari logo. It should be very clear, and the black of the prancing horse should not stand out that well compared to the fakes where the black outline is thicker..
4. On the inside of the cap, look at the tags.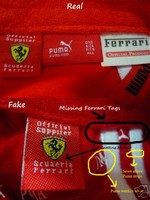 This comparison below is of a 2007 real cap and a 2008 fake cap.
A bigger picture of this is here http://i102.photobucket.com/albums/m114/anne3975/200kimi.png
5. The letter A on fake caps is the same as the A from the 2007 ca, and does not look like a proper A, however on the 2008 caps it is a normal A.
6. The caps that will be for sale will not have the Marlboro bar code on, unless they used to be one of the drivers themselves! They will have the number written where the code should be.
It is very difficult to get team issued caps from ferrari as security is very tight nowadays..For those who tried to get the 2007 team wear from ferrari itself will know the difficultly in obtaining them. and to think the price of the cap on sale is dirt cheap, naturally it will be fake.
If you have any questions please don't hesitate to email us and we will ttry and help you to check the cap!