AFTER READING THIS PLEASE DON'T FORGET TO VOTE IF YOU FOUND THIS ADVISE HELPFULL
THIS IS ADVISE ON THE PURCHASE OF THE RANGE ROVER P38 FLIP KEY REMOTE 94/02 LIKE THE ONE IN THE PICTURE BELOW.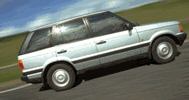 THE ONLY PARTS THAT ARE AVAILABLE FOR THESE REMOTES ARE PICTURED ABOVE.
DUE TO THE CODING SYSTEM ADMINISTERED BY LAND ROVER IN THIS TYPE OF REMOTE YOU CANNOT BUY THEM 2ND HAND AND HAVE THEM RE'PROGRAMMED TO ANY OTHER VEHICLE OTHER THAN THE ONE THEY LEFT THE FACTORY WITH.THIS IS A TRUE FACT AND IT SEEMS WRONG TO ME WHEN I SEE THEM SELL FOR ANYTHING UPTO £75 & THE SELLER HAS ADVERTISED THESE REMOTES SAYING YOU WILL NEED TO HAVE THEM PROGRAMMED TO YOUR VEHICLE IT IS IMPOSSIBLE AND WHEN THE BUYER RECIEVES THEM THEY FIND OUT THAT THE REMOTE IS COMPLETLY USELESS TO THEM AND THEY HAVE LOST ALOT OF MONEY.
THERE ARE ALSO A FEW NEW REMOTES FOR SALE THE SAME RULE APPLIES TO THEM AS WELL YOU CANNOT HAVE THEM PROGRAMMED TO YOUR CAR.IF YOU DO NEED A NEW REPLACEMENT REMOTE THEN ONLY A LAND ROVER DEALER CAN PROVIDE IT AND YOU WILL NEED TO PROVIDE YOUR V5(log book) AS PROOF OF OWNERSHIP AND THEY WILL ORDER ONE FROM THE FACTORY WHO HOLD ALL THE RELEVANT INFO TO PRODUCE A NEW REMOTE AT A COST OF APPROX £150.
BUT MOST OF THE TIME ALL THAT IS NEEDED IS A NEW BUTTON PAD BECAUSE THESE WEAR OUT QUITE QUICKLY AND ALSO THE REAR BATTERY HOLDER AS WHEN YOU REMOVE THE BATTERY HOLDER IT IS USUALLY VERY TIGHT AND YOU HAVE TO DAMAGE THEM TO GET THEM OFF.
SO PLEASE DO NOT WASTE YOUR MONEY BUYING A 2ND HAND UNIT THAT IS OF NO USE TO YOU OR A NEW ONE FROM ANYWHERE OTHER THAN A MAIN DEALER.THE REPLACEMENT PARTS ON THE OTHER HAND ARE A DIFFERENT STORY.IF YOU THINK I CAN HELP YOU WITH ANY QUESTIONS THAT YOU MIGHT HAVE ABOUT THESE REMOTES PLEASE JUST ASK VIA EBAYS MESSAGING UNLIKE OTHERS I DO NOT CHARGE FOR ADVISE BUT PLEASE JUST MENTION THAT YOU HAVE READ THE GUIDE SO I KNOW IF THIS GUIDE IS WORTH KEEPING GOING.
IF YOU HAVE PURCHASED ONE OF THESE REMOTES AND THE SELLER STATED IT CAN BE RE'PROGRAMMED TO YOUR VEHICLE THEN THAT CLAIM IS UNTRUE AND AS FAR AS I AM CONCERNED FALSE ADVERTISING AND YOU SHOULD HAVE A CASE TO FILE A CLAIM FOR GOODS NOT AS DESCRIBED AND TRY AND CLAIM YOUR MONEY BACK.
YOU CAN HOWEVER PURCHASE SPARE PARTS FOR THE REMOTE THAT YOU CAN CHANGE YOURSELF AT A LOT LOWER COST THAN A REPLACEMENT THIS SOMETHING THAT YOUR DEALER WILL NOT TELL YOU.ALL THE PARTS THAT ARE AVAILABLE ARE AS FOLLOWS 1,REPLACEMENT BATTERY HOLDER & RUBBER ORING SEAL,2 REPLACEMENT BUTTON PAD,3 THE 2 BATTERIES.IF YOU HAVE ANY QUESTIONS PLEASE ASK AND I WILL ANSWER YOU AS QUICK AND HONESTLY AS I CAN.
I DO SELL THE REPLACEMENT PARTS EITHER AS A FULL KIT OR SEPERATLEY PLEASE FEEL FREE TO HAVE A LOOK JUST CLICK ON THE AVAILABLE PARTS LINK BELOW.

PLEASE VOTE BELOW THANK YOU