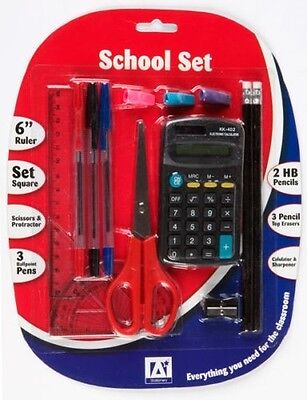 Back to School supplies
Next week marks the start of our new school year so it's time to start getting organised with the essentials. I had a quick look to see what 'Back to School' items I could find on eBay with free postage and packaging to keep the costs down and found these fab bargains;
At just £3.20 Buy It Now this
School set
includes; 6" Ruler, a Set Square, a Protractor, a pair of Scissors, 3 x ballpoint pens in red, blue and black, 2 x HB pencils, 3 x pencil top erasers in blue, pink and purple, a calculator and a pencil sharpener.
For the Frozen fans there is this pretty
Frozen stationery set
for £7.49 Buy It Now. This set includes; notepad, 3 pencils, an eraser, a pencil sharpener and matching pencil case.
Save on the lunch time squabbles with these
Personalised Lunch Bag tags
(although they could be used for school bags, PE Kits or even school coats). When my daughter started school in 2012 we lost her coat on a number of occasions as it was a School Logo Coat which most of her class were wearing and despite it having her name on the inside, nothing made it stand out for being hers and so it would often go home with someone else for a few days. Popping a tag light this on it would have made life much easier. You'll also find that with so many children in one class with similar interests the lunch boxes all match and it can be a fight at lunch time to find their bag if they have to keep them all on a trolley. Pop one of these tags on and there can be no arguments at all. At just £1.95 Buy It Now, that's a whole lot cheaper than another new coat or lunch bag!
If you haven't discovered
Pilot Frixion
pens yet, where have you been? These have been brilliant for my daughter during her first two years at Primary School as she has been learning to write so she has a few of them in different colours in her 'homework tin'. If/when they make a mistake in their writing rather than scribbling it out as many do, they simply rub over the writing with the Frixion eraser and the heat generated by the eraser makes the ink turn invisible. Clever huh?! At just £2.20 per pen you can't afford to not have one in their pencil case and you can buy refills to make it cheaper in the long run.
Children never seem to tire of Spiderman do they? I know that my son would love this
Spiderman Stationery Set
and at just £3.75 Buy It Now for a pencil, ruler, pencil sharpener, eraser and notepad, I think it's a pretty good bargain.