Already in stock:
Timberfix wafer head screws diam. 8 all size!
Timberfix screws replace coach screws and enables you to complete wood-to-wood projects faster, easier and stronger. There is no need to pre-drill as it's sharp point and aggressive threads zip right in to the densest woods.
Use in timber decking, stairs, fencing, roofing and all kinds of landscaping
1free t40 bit in every package
Door windows frame fixings 7,5x72 to 7.5x152
These Concrete screws are used to drive through PVC frames, timber, plate, etc. The embedment into the masonry should be between 25-60mm dependent upon the quality of the base material.

Concrete Frame Screws key features:-Torx 30 counter sunk head with a heavy zinc coating giving good corrosion protection Aggressive thread form design gives a consistent tapping and superb holding power the non expansion fixing allows fixing closer to the edge of substrate. The installation of the concrete screw uses no expansion plug or sleeve, therefore you may need to drill a hole 10mm longer then the concrete screw.
Coming soon:
Drywall screws:
These Forgefix Phillips, single thread Drywall Screws have a black phosphate finish for increased durability. The screws come complete with a Phillips No.2 insert bit. Their Bugle Head allows the screw to sink effortlessly into the dry lining without the need for countersinking, which in turn minimises the damage to the surface.

APPLICATION:
Designed for fitting dry linings to studding.

Phosphate coatings are made up of thin crystalline layers of phosphate compounds that adhere to the surface of the fixing or fastener. The phosphate crystals are porous and can be formed from zinc, manganese, or iron phosphate solutions. Phosphate coatings offer good corrosion resistance and have an excellent ability to absorb supplementary coatings which improves appearance, corrosion resistance and resistance to abrasion.

The Phillips screw has four simple tapered slots. It is designed so that a Phillips tip screwdriver can turn a Phillips screw with increasing torque. When the torque gets to be too strong for the tip then the screwdriver tip winds itself out of the screw thus preventing over-tightening and or damage to the screw head.

Coarse thread screws (mainly drywall screws) have an extremely sharp point and are designed to penetrate plasterboard skin. The coarse thread eases in to the board then the timber baton holding the board firm.
Wood screws diam 4 and 5 all lengths!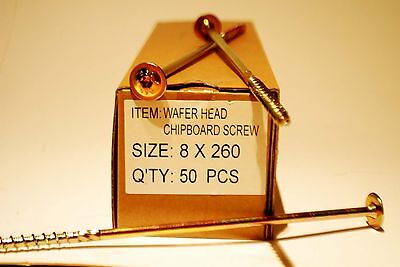 http://www.ebay.co.uk/usr/matyi1823?_trksid=p2047675.l2559