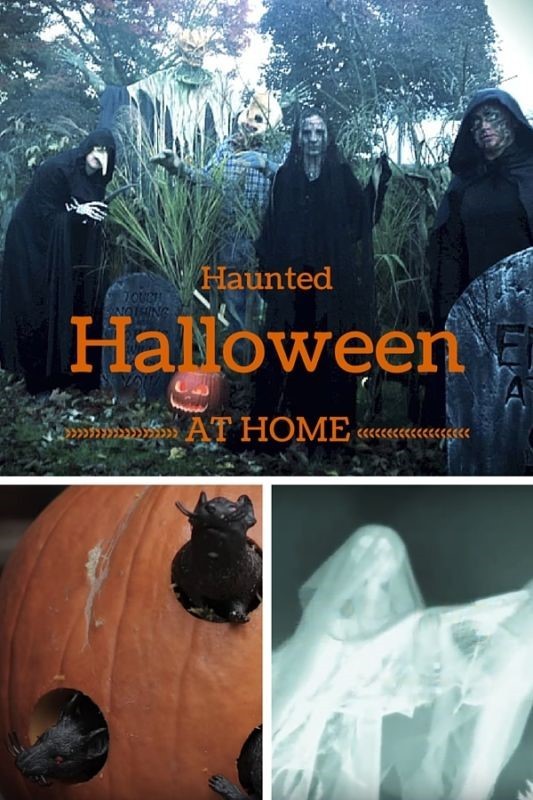 It can be fun to go out on Halloween, but it can be even more fun to stay in and create a scary space in your own home. Whether you are hosting a party, or just expecting some costumed trick-or-treaters to stop by, you can have fun and make a spooky impression by turning a room of your home, your back garden or front porch into a scary-cool walkthrough experience! To get you started, check out the ideas below.
Classy, Creepy Front Porch
This porch makeover is genius, and gives some great ideas if you want to DIY: Dye some
cheesecloth
with tea, drape some old sheets over existing porch furniture, add some
plastic rats
, snakes and
ravens
(think animals of decay), add some fake bones and taper candles, sweets and you're all set!
Front-Lawn Light Shows!
This kind of decorating is not for the faint of heart, but in one way, it IS simple; all of these light shows rely simply on—you guessed it—great lights. There are simple house "Christmas" style lights, special
party strobe lights
, dancing figure and
projector lights
. Mix and match them and your house could look like one of these (with a little elbow grease) too!
A Haunted Pirate Basement!
This is a fun idea that would be perfect for a Halloween party—turn your cellar into the deck of a Pirate Ship: You'll need a couple of
full-size skeletons
, plenty of
skulls
, an eye patch or two, gold booty, some old sails (rip them up!) and at least
one pirate flag
to hoist! Need some inspiration? Watch
The Goonies
again!
A Spooky Back Garden!
Taking trick-or-treaters through a creepy back garden display before they get their sweets is the ultimate Halloween treat. First off, you're going to need some
tombstones
(you can go silly or spooky or a combination of both for the epitaphs). Next, you might want
a dry ice machine
—to create plenty of fabulous fog in your back garden.
A Fearsome Foyer!
This decor idea is perfect if you know that you'll be receiving lots of trick-or-treaters: Simply decorate the foyer or entryway area behind your door. Think of a theme, like
a collection of creepy dolls
, a graveyard, or maybe just a bunch of
animatronic bats
flying around behind you!
Like this guide? For more inspiration and great ideas, check out all of my
Guides
!
Shop Halloween finds
including decor, costumes and more on eBay.