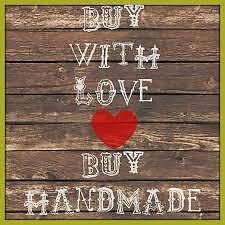 Why buy My Beautiful Handmade Goodies?
The biggest reason I buy handmade is to support the many talented people out there who are trying to get started with their small business. I find the care and love taken in making everything I buy comes through when I get it. I feel a sense of extra worth and pleasure with each purchase knowing I have helped someone get one step closer to their dream. Supporting each other is after all the most rewarding gift we can give each other. For me....I really enjoy what I do as an artist/crafter as I love personal touches, it's so meaningful and knowing I have put my imagination to good use, my best craftswomanship and love into making that unique gifts makes me very happy person..kinda like pure joy.Every time I design or create I feel energise and my passion for my beautiful creation being bought by my fellow supporter is AweSome ! Truly from the bottom of my heart I would like to say Thank You to all my lovely Supporters and Followers for buying My Handmade Goodies...it really means a lot to me and my family...xxx
Kind Regards,
Rene

Buy :
H - High Quality: the things I make are things I would buy.
A - Affordable
N - Noble :
D - Durable :
M - Memorable :
A - Adaptable
D - Different
E - Exceptional

Please feel free to write a few words or review for me...many thanks.