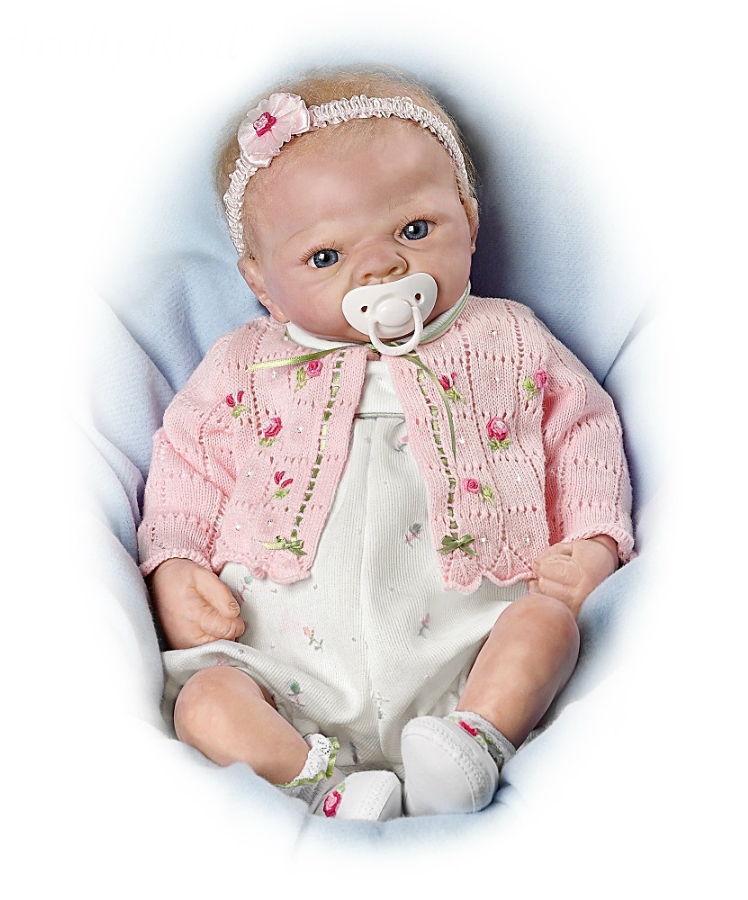 A reborn doll is a doll which has been worked on in order to make it look as realistically like a human baby as possible, through the use of a number of techniques.
A range of reborn dolls, kits and accessories can be found on eBay to suit any requirement of the buyer.
How Dolls are Reborn
Reborn dolls are often made through modifying pre-existing manufactured dolls. This process is often referred to as 'reborning'.
Reborn dolls are often made with vinyl dolls providing the basis, as the texture and malleability of the material make the process easier, and the facial moulds of these dolls are often much more realistic than those made from other materials.
Vintage dolls are sometimes used as a basis, though this is unusual. Vintage dolls are often made of less malleable material, making the process more difficult. Furthermore, the process of 'reborning' can completely remove the value and appeal to collectors that often make vintage dolls desirable and valuable.
The first step in creating a reborn doll is often to completely disassemble the original doll into its component parts, removing any hair and stickers applied by the manufacturer.
The next stage is generally to clean the parts of the doll to ensure that no paint or chemical residue which may have been placed on the original doll remains.
Hair, often made of soft animal hair, is then hand rooted into the doll. Wigs are also often used by many artists who work on reborn dolls. This hair is then commonly dyed, in order to achieve vibrant, realistic colour.
The next step involves applying a high level of detail to the doll, in order to achieve a highly realistic look. Many layers of paints are often used to achieve realistic skin tones, and sometimes artists even add detail such as veins. Pastels, brushes, pencils and paints are all often used together in order to achieve the most realistic finish possible.
Finally, the reborn doll is reassembled, with weights such as sand or pellets added in order to give the finished product a realistic feeling weight. Clothes and other accessories are then often applied. Some makers add magnets so that a pacifier can be used, or other accessories secured into place.
'Newborning' of Dolls
Aside from buying a completed reborn doll, it is also possible to purchase a kit, so a user can complete a reborn doll themselves. These kits often arrive with the early stages completed by the artist, and can range from the unpainted and disassembled parts of a doll, to one that appears to be nearly complete. Various supplies can be useful to those assembling a kit, or as it is sometimes called, 'newborning'.
A range of brushes, paints and pastels are often used, if the kit offers parts which have not been painted or coloured by the artist. Pencils are often used for detail work such as eyebrows.
Doll hair is also often supplied, or may have to be obtained separately. A material called 'mohair', a yarn made of goat hair, is often used and rooted into the doll itself. Hair is available in straight or curly form, and is most often dyed. Some prefer to use wigs, which are simpler to use and available in many different styles and colour.
Glue is another necessary piece of equipment for assembling a doll kit. It is important to select transparent and flexible glue, which can be painted over to ensure that it does not affect the final appearance of the doll.
Joints will often be part of a kit. These ensure that the pieces can be fit together, and that these parts can move. A variety of different sizes are available which are suitable for use with different sizes of doll.
Eyes and eyelashes can also be purchased, and are sometimes included in kits. Many artists choose acrylic eyes, though more expensive glass eyes can be used for a more realistic look. A variety of colours of eye and length of eyelashes are available.
Weights are a key part of building a reborn doll. These ensure that the doll feels realistic, due to the added weight. Beanbags, sand and even rice are all a popular substance used to add weight to a doll.
Reborn Dolls Accessories
Accessories are available which can be used with reborn dolls in order to add a further sense of realism. Hair and wigs are a popular choice, as are other supplies for completing a doll. Clothes are a popular choice and can encompass a huge range of items. Baby-grows, nightclothes, shirts, trousers and dresses, as well as other baby clothes for both male and female dolls are widely popular choices from this category. Shoes are also a popular accessory, and a wide selection of different sizes are available.
Other accessories can include pacifiers and bottles, with some reborn dolls featuring magnets which can ensure that such accessories remain in place. Make up pencils and other equipment can also be useful for maintaining the appearance of a doll, while weight kits and other useful kits are also available which can help with 'newborning' a doll.
Choosing a Reborn Doll
There are a few key characteristics to look out for when purchasing a doll.
Many elements of a doll can be down to personal choice. This includes characteristics such as the gender, eye and hair colour of a doll, as well as the age a doll is supposed to represent. All of these elements should be taken into account when considering the kind of doll that should be purchased. A range of different ages are available, from dolls representing newly born babies, to those which represent toddlers.
The skin tone of a doll should be considered. An unrealistically dark complexion can mean that the doll has been coloured with too much dye, or coloured sand was used to weight the doll which has seeped in to the vinyl and tinged the colour. Furthermore, if an incorrect material is used for weight this can react poorly with the vinyl and reduce the durability of the doll.
The limbs and head of the doll should also be examined. Replacement parts from other dolls can sometimes be used. This is not an issue, as long as the parts are of the right proportions and painted in the same way as the other parts of the doll.
An overly shiny exterior of a doll may be a sign that the doll has been washed with acetone before painting, which may prevent the paint from properly fixing to the surface of the doll, though can also be caused by the type of paint used.
Other features like the appearance of nails, the size, shape and brand of the eyes, and the shape and size of nose holes are all often taken into account when deciding on a doll.
Many artists who make reborn dolls belong to an organisation such as the International Reborn Doll Artist organisation. These groups require their members to meet certain standards with their work, and can sometimes be considered a sign of reliability and quality.
How to Buy a Reborn Doll on eBay
A wide range of reborn dolls, kits and accessories are available on eBay. The full list of available reborn dolls can be found in the Collectables & Antiques category. Reborn dolls can be found under Dolls, in the Dolls & Bears section. Results can be organised by categories such as price, condition, and distance to seller as well as by artist and manufacturer. It is also possible to sort between the Auction and Buy it Now buying options, which provide flexibility in how a reborn doll can be purchased.
Key information about a reborn doll, such as eye colour, gender and age of a doll, are all often prominently displayed in the item listing. This makes it easy to quickly see if a particular item meets any specific requirements. More detail information can be found on the item page, where information about the seller such as item ratings and feedback reviews is also available. This helps to ensure that a purchase can be made with confidence. It is also possible to ask the seller a question on this page, if any more information is required.
If a specific reborn doll is required, it may be easier and more effective to use the search function available at the top of every page. Searches can be made to cover the entire site, or to return results from within specified category. Further information on getting the most out of the search function is available on the Search Tips page.
Conclusion
Reborn dolls are a popular collectable, sought after for their highly realistic appearance. Reborn dolls can be found which represent different ages and genders, and can feature a wide range of accessories. It's easy to find a reborn doll on eBay, as they offer one of the widest selections, both on the Internet and through bricks and mortar stores. Whatever reborn doll you're looking for, eBay will certainly have the answer.