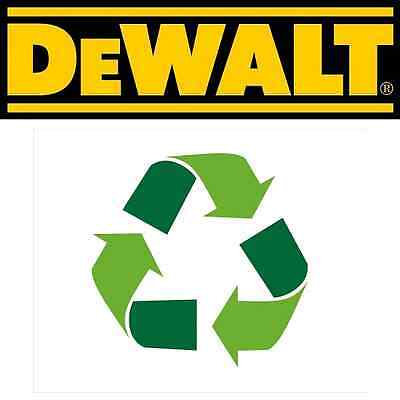 Fixit Power Tools, Colwyn Bay is a 5* Authorised repair agent which can help with recycling your old DeWALT tools and batteries!
All you need to do is bring your unwanted, old or broken DeWALT tools or batteries to us and we will take care of the rest.

Help prevent environmental pollution and reduce demand for use of more natural materials. Recycle and preserve natural resources for future generations!

Did you know that rechargeable batteries contain harmful metals and should never be thrown away with household rubbish and ordinary batteries contain hazardous chemicals - don't pollute any more than you have to, bring your items to us and we will take care of them for free!

Instead of disposing of your DeWALT item in household waste take it to your local DeWALT repair agent and they can dispose of your old items responsibly. By reusing we can save money and reduce the need to consume and produce more waste.

Reduce your waste and decrease the need for landfill sites! Harmful chemicals and green house gasses are emitted from landfill sites and recycling reduces this pollution, it is also one of the best ways for you to have a positive impact.

If we are not your local agent you can search on the DeWALT website to find one more suitable for you.