Use What You Have
Making your own cards can be a very expensive business what with all of the tools and assorted embellishments that can now be found in many stores across the UK and online. It was once tricky to find anything more than some blank cards, glitter and stickers, but as the craft has increased in popularity, the variety of goods on offer is mind boggling, especially for someone starting out. If you're a beginner and are not yet sure how committed you're going to be to your new interest, there is no need to lay out hundreds of pounds to get started. Likewise, if you're a veteran cardmaker, why not challenge yourself to make something old into something new and beautiful?
It is amazing the assortment of things you can find around your home that can be transformed into a lovely card for a friend or family member. Below are just a few items I've reused:
A pear protective net
Sweet wrappers
End of the tin foil
Plastic shopping bag
Lace from a broken bra
Playing cards
Clothes pegs
Small pebbles
Extra wallpaper border
Sequins & buttons (that come as extras with clothes)
Ribbons (cut out of clothes if you don't use them for hanging up)
Magazine cut outs
Pictures from old calendars
Other cards
Be Simplistic
Cards can look great with only a few items rather than filling them up, so look at what you have available to you, purchase a few key items such as coloured cards, glue dots, stickers, etc. and combine recycled and purchased embellishments to create a memorable design.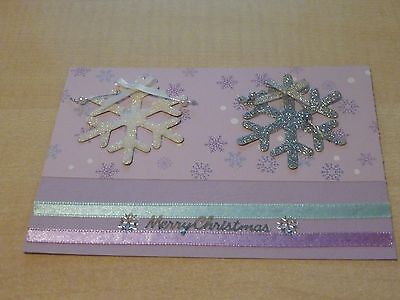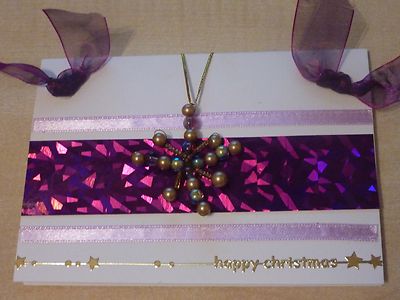 Add a caption
Made using snowflakes from Christmas crackers and ribbons from clothes