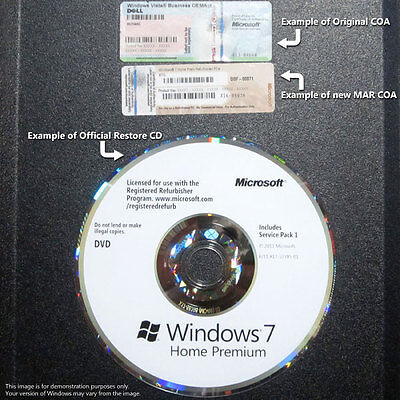 When is a refurbished Windows PC not a refurbished Windows PC?
Did you know there are a strict set of rules that a refurbished Windows PC has to adhere to?
There are many 'refurbished' PCs on eBay. Some legit, some not.
A refurbished Windows PC can be provided with the original OS (according to the COA sticker) or a new OS.
For a new OS, the PC
must
have the following:
An old COA (the top sticker in the image)
A new, 'refurbished', COA (the lower sticker in the image)
Supplied with a 'refurbisher program' Windows installation DVD
A sheet of paper with the license key on
Where the original OS is still installed:
The original Windows install disc must be provided with the machine
OR a separate 'recovery partition', on the Hard Disk, must be provided
There are more points to consider but, for the consumer, these are the main ones. By listing a PC as refurbished, a seller can charge a premium. Unfortunately it's all to easy to clean a PC, reinstall Windows and claim it's refurbished. This DOES NOT constitute a refurb PC.
So,
IF A PC IS LISTED AS REFURBISHED BUT DOESN'T HAVE EITHER OF THESE THEN IT'S NOT OFFICIALLY REFURBISHED AND YOU SHOULDN'T BE PAYING A PREMIUM!!
You can find out more here: microsoft[DOT]com/RefurbishedPCs/