Just a small guide on another replica I have come across...designer watches! Unfortunately, without being a complete expert, you can't really tell the difference between the two.
The cheapest replica watches you can get are noticeably fake. Bad quality, watch never working properly, bits fall off, colour rubs off etc. The ones to watch out for are the AAA+ grade replica watches. Normally made to exact specifications to the authentic model, but can sometimes have flaws because obviously, it hasn't been made to that companies strict control specifications.
One of the worst I've seen is Chanel J12 watches on eBay. In boutiques, the cheapest one sells for about £1290, yet some are listed for as little as £0.01 on eBay. I would never sell a £1290 watch for less than £1000, possibly £800, £900 if used. That's just for the J12 watch with a small face, no diamond detail, just a plain old J12. Another flaw in replicas is that they do not use real diamonds in the detail. Some J12 watches have baguette diamonds around the face, the diamond bezel J12 watches. I would never sell one of these watches for as little as £100 if they were real diamonds.
Another flaw is they can break down more than a J12 watch should, bits may get more easily scratched/broken, and it may not keep in time very well. It may look and feel like a J12 watch, but it hasn't been made with the excellent craftmanship of the Chanel J12 watchmaker employee so therefore has not gone through Chanel control, and this is why there is flaws.
Always, if in doubt, do not buy from eBay! J12 watches are one of the most desired watches in celebland and I can't imagine anyone ever wanting to give it away as an unwanted gift. That's just ludicrous! A list of other watches that are copied are:
Cartier, Gucci, Chanel, Tag, Armani, Breitling, Rolex, Panerai, Bvlgari, Zenith, Patek Phillipe, Franck Muller, Omega, etc, etc, etc.
I've recently found a website that sells watches like these: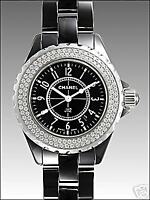 for only $199, which is about £104. I know this guy on eBay who Powersells these watches and is loaded, but unfortunately I've forgotten his username. He sold, Rolex, Cartier etc. On this website, you can also buy fake replica bags as well, and buy everything at wholesale prices and drop off prices, so these people you are buying these fake items off are not only ripping you off, but are making a mug of you.
See my other guides on how to buy designer gear safely on eBay!