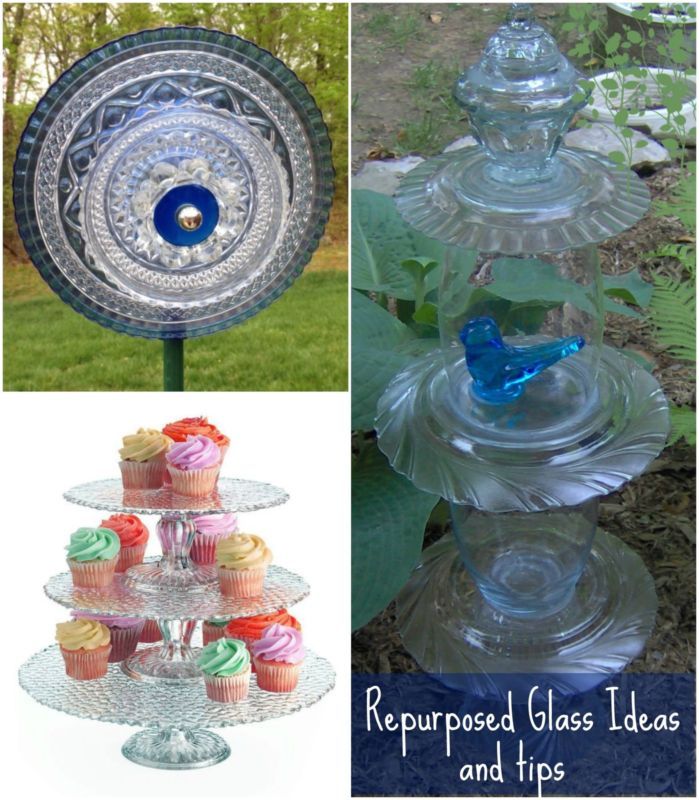 My name is Gail, and I've been fighting a battle for years. I'm addicted to making glass garden totems. I like to call them topiaries. I am currently in recovery, I haven't made one in about a year—but I do have enough glass items saved up to make many more. Once you start collecting glassware, it's hard to stop. Just putting together a
collection on eBay
has me chomping at the bit to break out my Silicone and caulk gun to work on my huge stash of glassware.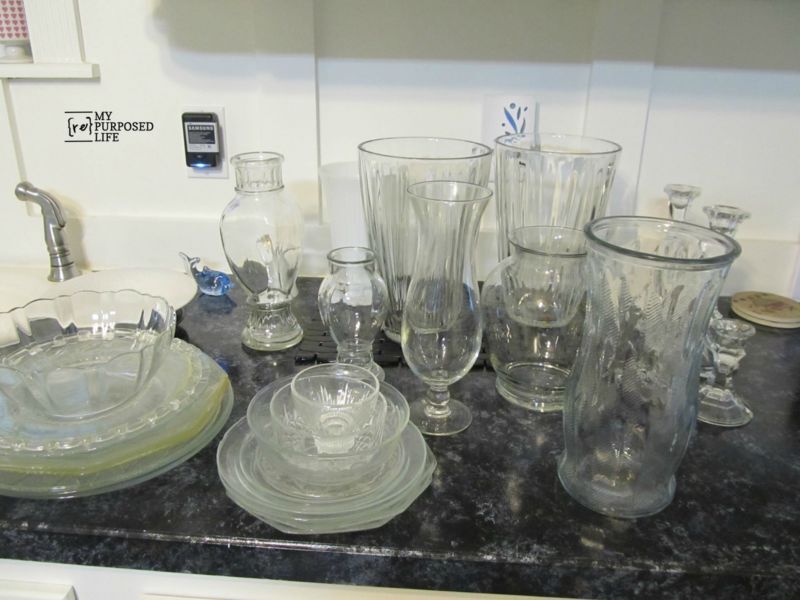 These are the type of pieces I like to collect. To make a nice glass garden topiary you need several components. A
large plate
is the first item of order, the larger the base, the taller you can go. A great heavy base that I like to use is a
microwave turntable
. By adding it as the foundation of your glass garden topiary, it may seem that it takes away from the glamour of it all, but it really will help steady your tower of glass.
Chunky
vases
and
candlesticks
are, of course, more sturdy and are less breakable.
Small bowls
are great for mixing up layers. If you look closely you will see a small blue whale in the top left of the photo. I like to use items like these to add colour and fun inside clear pieces.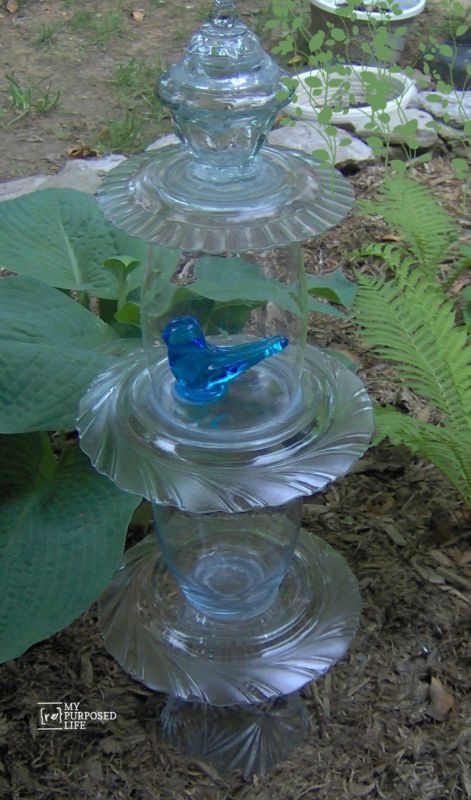 My Favourite Topiary
This is my personal favourite and one of the few glass garden topiaries I've actually kept. Take a good look at it from the bottom up.
Large plate (buried under the mulch)
Very heavy cut class piece-upside down (given to me by a former student—part of it was broken and useless until I made this topiary.)
Fun fluted plate (upside down to keep it from collecting water)
Heavy vase with a slight blue hue to it-right side up.
Another plate upside down
A large heavy vase upside down (with a bluebird of happiness inside)
Small fluted plate, again upside down so it doesn't hold water
Vintage Avon piece as the topper
This glass topiary has been outdoors in the weather since the summer of 2009. It still is holding up great! The only mishap it has suffered is an impact with a ladder while a neighbour was cleaning out the gutters. The Avon piece on top was destroyed, but everything else survived. It's endured hot summers, cold winters, ice and windstorms. These topiaries are pretty to look at but can be long lasting if properly made and cared for.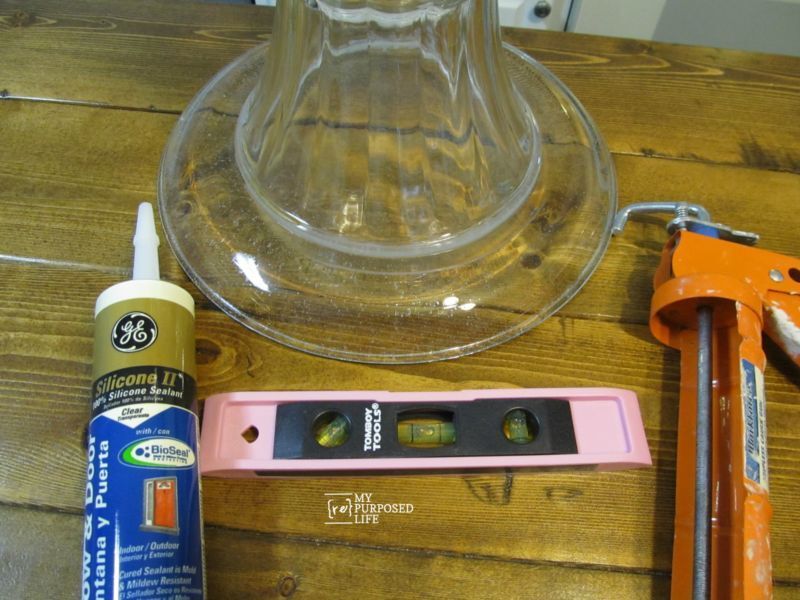 Tools You Need
These are the tools needed to make these fun projects. Be warned, once you start making them, you seriously will have a hard time stopping.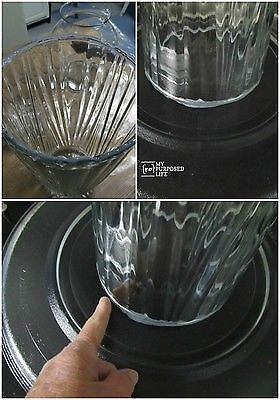 Apply your caulk to vase top
Flip it upside down onto your heavy plate
Use your finger to smooth the caulk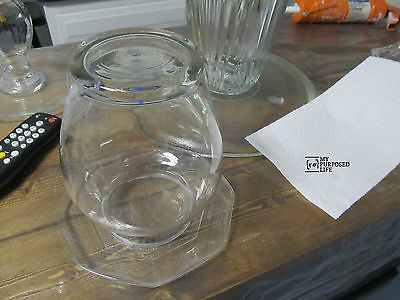 The best tip I can give you is to build your topiary in sections. You can see 3 sections completed here.

When you get these sections done, start building your topiary from the ground up, letting each section cure in a safe dry environment. (moisture and humidity is your enemy).
Important things to remember
Wash and allow all pieces to thoroughly dry
Keep that level handy
Build in sections
Allow to fully cure before moving (24-48 hours)
Other glassware ideas
There are numerous ways to use repurposed glassware including dessert stands, jewellery and change catchalls, garden plate flowers, and of course, my favourite, the garden topiary.

How have you repurposed glassware? Please tell me your thoughts in a comment below. I LOVE to read what you have to say!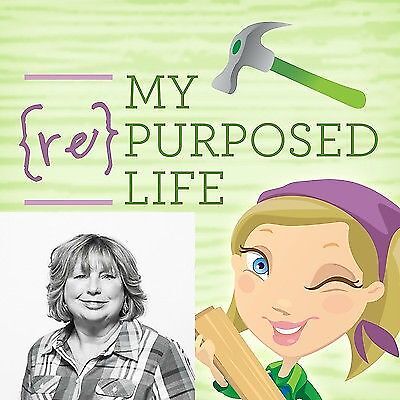 Join me, won't you?
I hope you follow me
here on Ebay
. Also, check out my site MyRepurposedLife (.com) and join in the conversation on Facebook!