Trailer lighting
This is aimed to give a basic understanding of the trailer lighting requirements. You will be within the current law for use on the public highway if you follow the requirements below.
Basic requirements for small trailers
Basic requirements are covered by most light boards they are as follows:-
2 Red side lights

2 Red stop lights

Iluminated number plate light

Amber indicators designed to flash at 60 - 120 times per minute

2 Red reflective triangles
This can be achieved in various ways listed below.
Most budget 4 function lights with a pair of red triangular reflectors.

A light board with reflective triangles.

3 function lights with seperate number plate lights and reflective triangles

Larger Multifunction lights some of which include all items required and more.
Below are some of the lights to meet requirements all on stock and available in our ebay shop along with many more. All of our lights are 'e' marked unless stated othewise in the discription.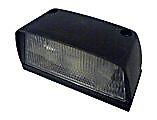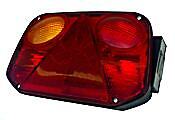 Requirements for larger trailers
Rear fog lights (required on trailers over 1300mm wide)

White front reflectors (required on trailers over 1600mm wide)

White front markers (required on trailers over 1600mm wide but NOT boat trailers)

Red / white side markers (required on trailers over 6m long excluding drawbar but NOT boat trailers)

Amber side reflectors (required on trailers over 5m long excluding drawbar)
Quick fit lighting.
There are a few different types of quickfit lighting available we use the radex type.
This is a quick and easy way to fit lighting and is available for some of our larger 5 and 6 function lights.
The lights come pre wired as shown.
On the back of the lights there are 2 sockets and studs to fix it to the trailer, as shown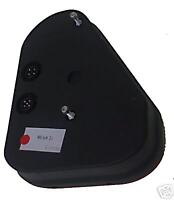 The plug holes are 5 pin for the light operation and 4 pin to supply markers and number plate lights.
The cables consist of a standard seven pin plug into the towing vehicle. 2 Cables come out of the plug (1 for each light ). The cables terminate into plugs 1 red and one green which plug in to the back of the lights which are colour coded . These harnesses are available in 4m, 6m and 8m lengths Cables for side markers or number plate lights have a white plug to take power from the rear lights down 2 4m cables with female spade connectors.
Fitting quick fit lights is very easy, you do not even need to remove the lenses and is done by following these few instructions.
Fix the light in place by drilling holes (2 for studs and larger holes for plugs)

Bolt the light in place

Plug the wiring loom in

Fasten the wires in place this can be done with tiewraps or 'P' clips

Plug in your car and off you go.
We do have sections in our shop for quickfit lights and cables.
Please use the links below for parts and information in our shop
Wiring diagrams for conventional lights + guide to plugs sockets and wiring
Please vote if you feel this Guide has been usefull as the more votes it gets the easier it is to find for other buyers