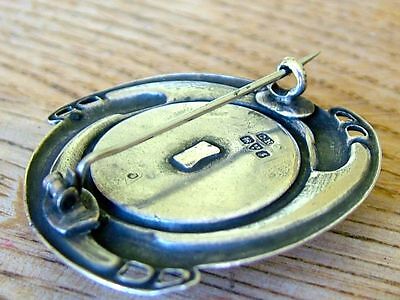 Recently someone mentioned a guide relating to antique jewellery being 're-enamelled'. I had a look at the guide and I am perplexed. This is on two counts. The first count is that the author, according to their own logic, is one of the unscrupulous and deceptive sellers they decry; they are basically being hoisted by their own petard. Further, the author doesn't seem to understand repair, restoration and renovation, nor indeed, the processes involved. I will give my response to each of these points raised. Needless to say this is personal opinion. Take it how you like.
The author states that sellers of antique enamel jewellery sold as having 'perfect' enamel are somehow 'unscrupulous' and 'deceptive' because, they claim, such pieces were all originally damaged and then re-enamelled. Firstly, they have absolutely no evidence to support these claims. Secondly the author, even at the time of writing (August 2014) has recently sold quite a large number (17 in fact, netting them a huge amount of dosh) of items of art nouveau jewellery, all of which are described as being "antique" with "no damage to the enamel".
This lack of damage to the enamel is further remarkable given the items are
so
old and have been
so
well worn, that deeply stamped hallmarks have completely been "rubbed away". Amazing! Further, the vast majority of items, irrespective of who the design was attributed to and the era, were done in an identical colour palette. So, I can only suppose that the author is equally guilty of practices they claim to be unethical. Either that, or the complete lack of hallmarks on all of the items means they are less circa 1904 and more circa 1994. Either way, you, dear reader, can draw your own conclusions.
However, the issue of something being 're-enamelled' IS interesting and being a bit of a geek, I decided to explore further, mostly because I like increasing my own knowledge but also I am supposed to be working and don't want to ;)
Before I continue however, I should clarify that although my interest is in all kinds of Art Nouveau enamelled jewellery, my collecting habits and thus my years of knowledge and experience are sadly limited to what could be termed the 'low end'. By 'low end' I mean jewellery that was largely mass-produced, usually in silver but sometimes in low carat gold. No matter what people would have you believe, most stuff by Charles Horner, James Fenton, Murrle Bennett etc was mass-produced for a mass market and sold at comparatively low prices. Yes, it was out of the reach of the majority of poor people, but it was certainly affordable by the better-off tradesman class and the growing middle classes from the end of the 19th century to the first two decades of the 20th century. So my main interest is in what serious collectors of high end stuff would call 'costume jewellery', though I have sometimes managed to get the odd hand made piece here and there.
The next bit is long and probably too nerdy for most people to have any patience with. Mea Culpa, I'm pedantic and as you can see already, I have the bad habit of waffling, so for all you impatient souls,
the tl;dr is:

If the replacement enamel is consistent with the period in terms of application, colour and style and is done using traditional methods so it is consequently indistinguishable from its original appearance, then there should be no complaints about 're-enamelling' from anyone. Not least because for most enamelling of sterling and some gold costume jewellery, the only way to tell it has been restored is if the person who did the restoration tells you it has been done.
For those that want to know more (or are terminally bored and have time to kill) here's some more detail, but first it's important to define terms.
Repairs
= Fixing damage, the results of which you can see, so soldering on new pin catches or hinges, basically either replacing a damaged part or re-attaching it. The emphasis is mending it so it is usable and not really about maintaining its original form, be it colour or utility. In terms of repairing enamel, this is usually done with coloured resin or (the horror!) model maker's enamel paints. So for jewellery a good example of a repair is when the pins on the backs of brooches are replaced, usually with the dreaded lead solder. The picture above shows such a repair and is also a good example of renovation in that it looks like it was a hat pin originally. This particular repair is nice and clean without the horrible big blobs of lead solder you often see and the replacement parts look like they are made of silver rather than brass.
Conservation
= This is done to preserve and protect especially fragile items. It might involve some restoration but it is done to keep as much of the original intact. There is usually a very clear distinction between the original parts and the conserved parts. Examples of this is shown in the V&A website if you search for enamel restoration and you can also see how resins (which until now, I really hated!) are used in conservation by googling 'Ursula Kugler Art Conservation Atelier'.
Renovation
= making a change in utility, so converting from brooches to pendants etc. Sometimes this is done because of a change in fashion, so hatpins become brooches and pendants because women's fashions changed, especially after WW1. Another reason for changing utility is in the case of damage. Most repairs on enamelled jewellery are done with lead solder. This is evil, nasty stuff! It literally eats into the metal and is especially perilous for gold. But it was used because there was too much risk to the enamel or other soldered joins to use proper solder. Plus any half competent person can do it. If the lead soldered repair over time breaks (and they often do because the lead solder basically effs up the metal), then you have three choices.
1) leave the item to gather dust.
2) try to repair the old repair.
3) change the use.
Trying to repair an old lead solder repair is not something most jewellers will do because, as I have discovered, jewellers know that lead solder is a nightmare. This means 3) is the preferred option. The lead solder can mostly be ground away. It leaves a mark and no mistake. But then you can attach one or two rings with soft solder to convert into a pendant. Because the heat is not so intense near the original lead solder, there is less risk.
Restoration
= The aim of restoration is to bring an item back into its original state. This is done using the same materials, methods and techniques from the period in question. This I believe is what the author is taking issue with.
In terms of re-enamelling antique jewellery, it means heating the item up to temperatures high enough to melt the enamel powder so it becomes glass (1300 - 1500 degrees F) but not so high as to damage the metal and maybe even get to its melting point (which for Sterling is 1670 degrees F). This process is done multiple times. The potential for ruin is huge. On complex pieces, which might have multiple solder joins, there is a chance of collapse unless it is painstakingly broken down into its individual components. On more mass-produced items made by stamping or casting, flaws in the metal, which did not surface on original firings, may become apparent when further fired, again resulting in ruin. Most enamellers will not touch restorations for this reason. Those that do take on restoration work charge high amounts.
It is true that there are many examples of jewellery that seem to have been restored with varying degrees of success. My heart was made sad recently when I saw what was probably a lovely old pendant. However it had clearly been re-enamelled at some point and so it resembled a disk piled high with sludgy, snotty coloured glass. There were hints of the raised silver lines showing through and it was by a desirable maker and so sold for a good price. I really hope the buyer gets it restored.
Mostly however, those who I suspect (and it can only ever be a suspicion) of restoring enamel jewellery, are doing so sensitively and with great skill. The colours are appropriate, the techniques and materials are identical to the original ones used and most important, they are actually restoring an ORIGINAL item. I have yet to see a suspected restoration of an item that was not either hallmarked (that is with the maker's mark, Assay office mark, fineness mark and date mark) or at least, as is often the case with Atkins butterflies for example, with such clear and crisp detailing to the trademarks as to remove any suspicion that the item is a reproduction. These are not cases of my grandfather's axe, where all parts have slowly been replaced.
Returning to the guide, the author claims that these sellers are "
are out to deceive unsuspectiong buyers into believing they will be bidding and buying a genuine enamelled article
." It is very obvious that the suspected items on offer ARE genuine enamelled works. Plastic resin really does have a very different look. And they ARE all antique, with nice clear marks, no 'rubbed' into invisibility marks. Now in fairness to the author, they might be describing the many reproductions that use plastic resin, aka cold enamel, but not able to articulate their meaning.
They then suggest that buyers get their purchases checked by a specialist because "
if the enamel has been touched - up or re-enamelled, it most certainly will be exposed as such.
" Well you do not need a specialist to test for resin or cold enamel. A hot pin will do that more than adequately and is non-destructive in the case of vitreous enamel. If the 'suspected' item is real enamel and it has been properly restored, then you are out of luck in terms of testing unless you have access to an XRF spectroscope, because it is impossible to tell, without actually analysing the enamel at a molecular level. Even then, if it was restored using old enamels, it would be impossible to tell.
So is it important?
If you are buying items purely for their historical interest or are wanting to do a chemical analysis of turn of the century enamel for academic purposes, then yes, I suppose it does matter. If you happen to love art nouveau jewellery for the beautiful designs and enjoy wearing it or maybe you like opening your jewellery box to reveal an array of shimmering, jewel-like colours, then no, I
personally
don't think it does matter. I've bought pieces that I
suspect
have been restored, and been delighted by the vibrant colours and craftsmanship. Far from being a rip-off, correctly restored jewellery is, I believe, more beautiful and, if it is important to you, more valuable than damaged pieces.
Below are some of the many sources I used. I can't link to them but a google of each entry should find the web page.
Alohilani Designs. (n.d.). Enamels, Properties, Firing Times and Color Charts Archives - Cloisonne and Enamel Jewelry Making
Colomban, P. (2013). The Destructive/Non-Destructive Identification of Enameled Pottery, Glass Artifacts and Associated Pigments—A Brief Overview. Arts, 2(3), 77–110. doi:10.3390/arts2030077
Crane Jewelers. (n.d.). Restoration of Antique Jewelery
Ganoskin. (n.d.). [Jewelry making - Article 00035] - Re: [Orchid] Enameling Repair.
Glass on Metal Online. (n.d.). Glass on Metal Online - Past Articles - Metals Suitable for Enameling. Glass on Metal Online.
Goldberg Resoration. (2014). Golberg Restoration Co. - Enamel and Jewelry Enamel Restoration Services.
Langan Antiques. (2014). Arts & Crafts Era Jewelry - Antique Jewelry University.
Polizzotto, R. (n.d.). Enamel Restoration Home.
SEERS., D. (2009). THE WORKING-CLASS SHARE IN PRE-WAR CONSUMPTION. Bulletin of the Oxford University Institute of Economics & Statistics, 10(6), 181–194. doi:10.1111/j.1468-0084.1948.mp10006001.x
Seldon, K. (n.d.). Enamel Restoration - Jewellery and Fine Objects.
V&A Museum. (2011). Deteriorated enamelled objects: Past and present treatments - Victoria and Albert Museum.