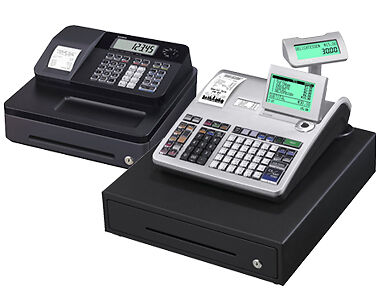 Retail Cash Registers Buying Guide - An Introduction
Thanks for checking out our Ebay Shop's buying guides.

It would be impossible to include all the pro's & con's of different cash registers in one buying guide, so what we've done is split the cash registers we sell into two broad categories - Retail Cash Registers and Hospitality Cash Registers, we've then produced buying guides on some of the key features you should consider when purchasing a cash register and we also buying guides for each of our most popular Ebay cash registers.

This guide focuses on cash registers for retailers - so for us retailers could be pet shops, bakeries, chemists, gift shops, butchers, charity shops, hair & beauty, farm shops, small supermarkets, garden centres, health food shops - any business premises taken payments, but not serving hot or cold food.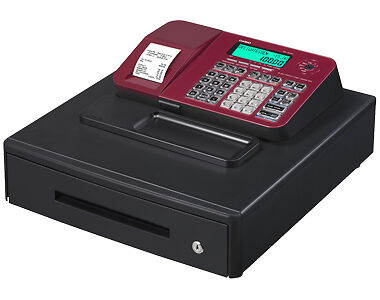 What Is A Retail Cash Register?
So what constitutes a retail cash register? Good question. In the cash register business retail cash registers tend to have raised key board with less buttons than those in the hospitality sector. A general retailer will often sell 1,000's of lines of products, too many indeed for each one to have their own button on the cash till. The buttons on retail cash registers tend to be departments or categories of products rather than individual products. The retailer can then use the department buttons as open (variable priced) sales buttons. The end of day sales report (Z1) will provide a break down of sales per department - useful for tax reporting. See our Cash Register buying guides below for more detailed information on which cash register may suit your retail business.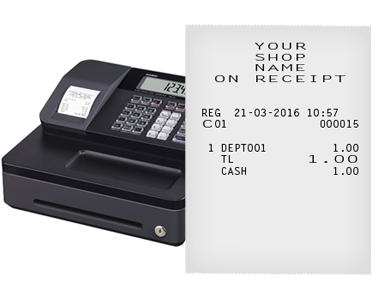 Why Have A Personalised Receipt Header?
Some of the cheaper and more basic cash registers available on the internet don't have the facility to issue personalised customer receipts. You may ask why the ability to give receipts with your shop name on is important. For us there are two main reasons for issuing personalised receipts. Not only can the facility help promote your business, but it can also be used to control refunds - having a receipt unique to your business allows you to prevent fraudsters returning items that weren't purchased from your store.

With cash registers and EPOS nothing is a simple as it first seems. Once you have established that you need a personalised receipt header you should also consider what control you have over printing receipts. For example, if you don't need to issue a receipt with every sale does the cash register you are ordering have the ability to turn off the receipt function and only issue one on request? The very popular Casio SE-G1 is a cool little till, but it doesn't have this feature - the receipts are issued whether you like it or not. Should you require duplicate receipts (or at least the ability to produce them) you have to be careful as a lot of the basic cash register don't allow you to do this (top tip: the first one that does is the Casio SE-S400 although this feature needs programming so you may want to ask your dealer about programming your cash register for you). Do you need an audit trail alongside your normal receipt issuance? If this feature is important you will need a cash register that has the electronic journal function (such as the SE-S400, or Sharp XE-A207). If you need your audit roll to be 'real-time', as our American cousins like say, you will need a dual roll cash register such as the Casio SE-S3000 or Sharp XE-A307.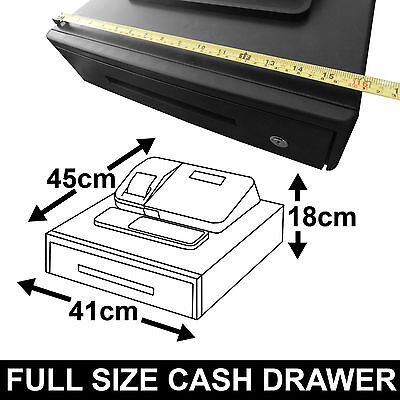 Check Dimensions Before Ordering!
The retail cash registers available online in the UK are all 'one-unit', that is the cash drawer and printer are included in the machine. As a general rule they come in two size categories - Big and Little!

The little cash registers, such as the Sharp XE-A107 and Casio SE-G1 have very small cash drawers and hence very small footprints so are really popular in pop-up shops, kiosks and in retail stores or boutiques short on counter space or ones not wanting their layout ruined by a 'big, ugly till'. The downside to these tills is that they are limited in functions and the small drawers mean you have to mix your coins up.

The 'big' cash registers have what we call 'full size' cash drawers (interestingly referred to as medium size by the cash register manufacturers) which have at least 4 note holders and 8 coin pots - enough for the all denominations in the UK.

Every now and then we have a customer used to one of the little tills wanting to upgrade to a big till, but getting caught out on the size difference!

One of our top recommendations before buying a cash register would be to double check the size you want! All the dimensions for the cash registers we sell can be found in each individual listing, but as rough guide check out the dimensions of our two top selling 'big' and 'little' cash registers -

Casio SE-S400 (our most popular 'big' cash register): 400mm wide x 450mm deep x 220mm high.

Casio SE-G1 (our most popular 'little' cash register): 330mm wide x 345mm deep x 170mm high.
Paste a YouTube Video URL
What Is A Department?
A cash register department is simply a category of sale. The most basic cash register will have at least 4 departments. Departments are used to categorise every sale.

The most basic method of sale on a cash register will involve the cashier typing in a sales amount then pressing a department button then cashing off.
Paste a YouTube Video URL
What Is A Plu?
A PLU (Price/Product Look Up) is an individual product whereas a Department is a category to which a PLU can belong.

For example, if I have a shop selling stationery supplies I might sell 2 different types of drawing pins - brass and plastic. If I want to account for each drawing pin sold I need to program each drawing pin as a seperate PLU, to my drawing pin department.

If I'm not too fussed about accounting for each individual drawing pin product, but want to know the total value of sales through my drawing pin department I can have a Drawing Pins department with no PLUs assigned to it.

Most, but not all, retail cash registers will have a number of department buttons on the till - allowing me to account for my drawing pin sales through an 'open' (variable-priced) department. Most will also have a PLU memory of at least 80 - allowing me to account for my individual drawing pin types.

If I have a lot of individual products which I want to account for I may wish to consider a barcode scanning solution, which may save me time processing sales as I can just scan a barcode rather than type in a PLU number.

Hospitality cash registers for pubs, cafes and restaurants differ from retail cash register as they have usually have a lot of preset product buttons on them.
Do I Need A Barcode Scanner?
If you have a lot of products and want to account for them all on the cash register you may find barcode scanning a more efficient method than PLU. This is a big consideration when purchasing a cash register. There are several factors to consider - is my cash register compatible with barcode scanners? What type of barcode scanner should I order?
Probably the number 1 consideration should be how many barcode products I have. The reason for this is that although there are lots of barcode scanning tills out there, the number of scanning lines they are able to store varies dramatically from as few as 300 to as many of 65,000. Once you know that number the cash register may actually pick itself.
Scanning is useful as it can speed up transaction time at the till, minimise cashier mistakes and give you more accurate and detailed reporting. However, you should bare in mind that most of the barcode scanning cash registers available on the internet will require manual programming first time round.
What About X & Z Reports?
The Shopstuff technical team often field calls from bewildered retailers trying to retrieve the correct reports from their cash register. We've put together a basic guide to explain the differences between the various reports available. Each cash register will be different in terms of the level of reporting available, but there are basic rules which can be applied to all cash registers.

X Reports

Cash register X reports (also called 'flash reads') can be summed up as 'read only'. X reports do not reset any totals. X reports can be used to check how much you have taken in the day so far without affecting the end of day report. Care should be taken not to run 'read only' X reports when you are meant to be running a reset Z report. The data will be correct for that day, but tomorrows Z report will be incorrect as it will include today's figures.

Z Reports

Cash register Z reports can be summed up as 'read and reset'. The data is printed and reset. For this reason Z reports are normally run at the end of a trading period. This is usually the end of the day, but this can vary depending on your business set up and when you do your cashing up. A common assumption is that a Z1 financial report is a daily report. The only factor that makes the report daily is that it is taken on a daily basis. Any Z report is a periodic report – the data is consolidated from the last time that Z report was run.

X2/Z2 Reports

Some, but not all cash registers, have periodic X2 and Z2 reporting. These reports can be used as weekly, monthly, quarterly or yearly reports – very much depending on your internal house-keeping. The best way of thinking about X2/Z2 reports are that every time you run a normal Z1 report the figures are moved into the consolidated X2/Z2 file. The totals in the X2/Z2 files build up with every Z1 report until the next Z2 report is run. How often you run the Z2 report dictates whether it is weekly or monthly report. If you run it once a month then it is a monthly report. Some of the high end cash registers will enable more than two report period files, but this is something that would have to be specified before you order your cash register.

Other Reports

Confusion often arises when the cash register is used to pull different reports at different times. This needn't be the case if a simple rule is understood – all report files are separate. So if you have a cash register that has the ability to run PLU, group, clerk and/or time reports in additional to the normal financial report, these will all run separately to each other. For example, you may run a pub and need to reconcile the till takings on a daily basis, but you also have a quarterly stock take. Providing you have the correct cash register set up in the correct way, you can run a normal Z report at the end of each day when cashing up. Then at the end of the quarter you could run a PLU Z report, which would show the quantity sold on each PLU since the last time the report was run. This system only works if you run the report every quarter and that you don't run the X report by mistake – the X report will provide the correct data this time, but next quarters report will be incorrect as the figures will have consolidated.

Check out our Ebay Shop and YouTube channel for more information on cash registers.