Here are some thoughts on what I think are particularly collectable in the fields of ceramics, glass and metalware (stainless steel) made during these two important decades for popular modernist design. This style is beginning to get a name: Retro (though I think mid-century better describes the era defined by a popular modernist style). All of these types of wares can be found on eBay.
Some of these are obvious, well known and already highly sought after and have seen prices rocket in recent years (Troika, Whitefriars). Interestingly, others have seen prices drop quite a lot from a high point in about 2003 as increased availability via eBay has made them appear commonplace (eg Poole, Midwinter) and others are still little known and cheap to buy (ie 1950s US designers have not yet caught on as much there as UK ones have here). In this collecting field, we are currently about where Art Deco collecting was in the late 70s/early 80s in term of interest. The level of interest, therefore, is likely to rise in future. I will add to this list as I research this area further.
NB. I have not included work by some of the leading studio potters (ie Leach, Rie, Coper). Their pieces costs four and five figure sums and are really part of the art rather than the collectables market. The prices of things mentioned here are in a wide range - from about £5 to £1500. There is something for everyone.
Some Significant 1950s retro collectables to look out for
Ceramics
1. Freeform Shapes
Poole (Alfred Read Designs)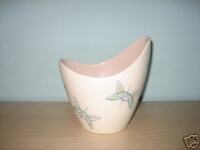 (A Poole Freeform vase - 1955-59)
Beswick (Colin Melbourne designs; Alfred Hallam Zebra striped wares; roof tops)
Royal Norfolk (Alan Compton designs)
Burleigh
Hornsea
Pilkington/Royal Lancastrian (Mitzi Cunliffe Designs)
Petrus Regout, Maastricht (Wim Visser designs)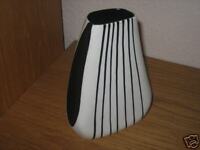 (A Wim Visser vase c1954)
Rosenthal (Beathe Kuhn designs)
Cmielow (great freeform vases and teasets from Poland)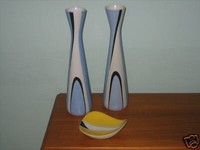 (A pair of Cmielow vases and a dish)
2. Tableware
Midwinter (Terence Conran, Jessie Tait - many designs)
Ridgway (Homemaker; Parisienne; Barbeque) Sometimes incorrectly spelt `Ridgeway' - searches on both spellings will turn up items.
Alfred Meakin (Jivers/ Rock n Roll range; Montmartre; new look/woman walking poodles range; Parisienne; Gay Nineties; London Town plus other 50s designs)
(An Alfred Meakin `Montmartre' Plate)
Beswick (Dancing Days; Circus; Ballet; Green Fingers)
Also: Barker Brothers; Swinnertons; Broadhurst
Rorstrand (ie Picknic range)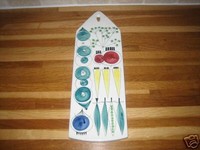 (A Rorstrand Picknic Tray - 1950s)
Eva Zeisel (Hall - Hallcraft range; Red Wing both USA + other makers)
Russell Wright (Steubenville - USA)
Raymond Loewy (Rosenthal, Continental China + other makers)
3. Pattern/ surface decoration
Tibor Reich (Denby Tigo range)
Glyn Colledge (Denby Cheviot range - I find his other designs rather traditional)
Various types of `Zebra' / Zebrette striped vases (Midwinter, Beswick, Lancaster and Sandland + others)
Jessie Tait (Vases for Midwinter)
Rye Pottery
4. Studio Pottery
Scandinavian studio pottery (e.g Ipsen, Saxbo, Nymolle, Palshus, Tobo, Arabia; - these can all cost serious money)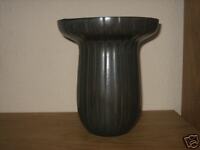 (A Gunnar Nylund vase for Rorstrand)
Gustavsberg (Wilhelm Kage, Stig Lindberg; Berndt Friberg, Sven Wejsfeldt)
Rorstrand (Gunnar Nylund, Carl-Harry Stalhane)
Italian Studio ceramics (eg Guido Gambone etc - top end prices but in the same league as Picasso's ceramics of this era - ie they pretty much define the era in terms of innovation and style). Much cheaper stylish pieces - Raymor/Bitossi.
Glass
Scandinavian - many designer names producing great design from simple colourless glass to etched glass, press-moulded, to the famous and expensive Graal style. Leading designers include Hald; Lindstrand; Nyman, Franck; Sarpaneva; Ohrstrom; Hopea; Palmqvist; Still and Wirkkala. They all produced expensive individual studio pieces as well as ranges of high quality. Many also designed cheaper but stylish tablewares.

There are many factories including Orrefors, Kosta Boda, Iittala, Flygsfors, Afors, Gullaskruf, Holmegaard, Hadeland, Lindshammer, Pukeberg, Riihimaki, Strombergshyttan,and Nuutajarvi-Notsojo.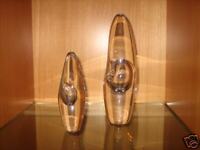 (two Orchid vases by Timo Sarpaneva - 1955)
The Italians made some great glass in the 50s too. Individual studio pieces sell for megabucks. Some Murano glass can be quite affordable.
Metalware
Old Hall (Camden range - Robert Welch)
Some Significant 1960s retro collectables:
Ceramics
Poole Studio (most are unsigned but Robert Jefferson and especially Tony Morris are the big names)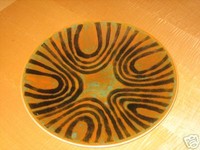 (A Poole Studio Charger - 1964-66)
Poole Delphis (especially designed by Margaret Anderson, Carol Holden, Jean Millership, Angela Wyburg and Betty Banten - Carol Cutler too though most of her pieces were made in the 1970s)
Troika (Personally I'm not a fan of the rough textured pieces made in the 1970s at Newlyn but there are some good early pieces made at St Ives and look out for the whiteware pieces - undervalued at the moment but classic 60s op art)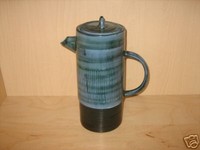 (A Troika Coffee Pot - 1968)
Alan Caiger-Smith (Aldermaston Pottery)
Portmeirion (ie totem coffee pots)
Iden Pottery (Rye)
Eric Leaper Pottery (St Ives)
Hornsea (some great 60s vases - these are cheap at the moment)
Royal Copenhagen - Fajance
Arabia (very expensive studio pottery but much cheaper tablewares)
Heinrich Fuchs - Op Art vases for Hutschenreuther (West Germany)
Rosenthal Studio Linie (West Germany)
Theo Baumann ( for Arzberg and Rosenthal - more 1970s than 1960s but superb designs all the same)
Glass
Whitefriars (Geoffry Baxter ie the now famous Drunken Bricklayer vase plus various other textured shapes - see Tapio Wirkkala for a key influence on Baxter)
See the many Scandinavian names mentioned above for the 1950s.

e.g. Kosta Boda (Mona Morales-Schildt; Vicke Lindstrand)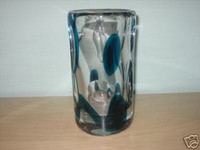 (A Vicke Lindstrand vase, Kosta Boda - 1960s)
Benny Motzfeldt (almost anti-design)
Holmegaard
Murano (eg Carlo Moretti)
Metalware
Stelton (Cylinda range by Arne Jacobsen)
David Mellor
Some useful keywords to put into searches if you are looking to do a general trawl on eBay for modern designs from this period:
freeform, contemporary, streamline, new look, retro, modernist, danish modern, scandinavian, mid-century, eames, panton, shabby chic, kitsch, vintage, atomic, funky, psychadelic as well as 1950s, 1960s, 50s, 60s etc (with and without apostrophes!)
I hope you find this guide of some use (first written in 2006).