I HAVE JUST STARTED THIS GUIDE MORE WILL COME AS I FIND THE TIME SO PLEASE BEAR WITH ME ON THIS ONE
FOR MORE IMFORMATION ON BAKELITE AND CANDLESTICK PLEASE SEE MY SPECIFIC GUIDES ON THEM
I WILL TRY AND DIVIDE THIS GUIDE INTO THREE PARTS
RETRO AND GROOVY TYPES
THE PHONES IN THIS CATEGORY ARE THE 1960' / 70'S / 80'S STANDARD TYPES PLUS A SELECTION OF FOREIGN TYPES
EARLY REPRODUCTION
PRE 1980'S
MODERN REPRODUCTION
1980'S UP TO PRESENT DAY
RETRO & GROOVY TYPES
THE THREE MOST COMMON TYPES LOOKED FOR ON EBAY ARE:
706

706 NEW ISSUES WERE 1959 - 1968 (1959 ISSUES HAD METAL DIALS)
THIS IS AN EXAMPLE OF A 706L (HAS LETTERS AROUND THE DIAL) THIS DATES FROM THE EARLY 1960'S IS IVORY IN COLOUR (THERE IS SOME DISCOLOURATION THIS, IS NOT UNCOMMON FOR THIS AGE) AND THE DIAL IS THE SAME COLOUR AS THE PHONE, AFTER THE MID 1960'S DIALS BECAME TRANSPARENT, NOTE THE CURVED HUMPS IN FRONT OF THE HANDSET, THIS IS THE EASIEST WAY TO IDENTIFY IT AS A 706, 706'S ALSO HAVE THEIR TWO CASE FIXING SCREWS ON TOP UNDER THE HANDSET. SOME 706'S OFFERED UP ON EBAY WILL NEED CONVERTING FOR MODERN USE, CHECK BEFORE BIDDING.
IF YOU COME ACCROSS ANY PUSH BUTTON VERSIONS OF THE 706 TELEPHONE, IT IS HIGHLY UNLIKELY THAT THESE WILL WORK ON A NORMAL DOMESTIC TELEPHONE LINE.
746

746 NEW ISSUES WERE 1968 - EARLY 1980'S
THIS IS AN EXAMPLE OF A 746 IN RED (A VERY COLLECTABLE COLOUR), ALTHOUGHT IT'S NOT EASY TO SEE THE HUMPS IN FRONT OF THE HANDSET HAVE FLAT TOPS UNLIKE THE CURVES OF THE 706, EARLY 746'S HAD NO HUMPS AT ALL AND IT WAS EASY TO KNOCK THE HANDSET OFF, ALSO THE SINGLE CASE FIXING SCREW IS AT THE REAR WHERE THE WIRES ENTER. THIS PHONE DATES FROM 1975, SOME 746'S OFFERED UP ON EBAY WILL NEED CONVERTING FOR MODERN USE, CHECK BEFORE BIDDING
THERE ARE ALSO PUSH BUTTON VERSIONS OF THE 746 TELEPHONE, MOST WILL WORK (FOR EXAMPLE 756 ) ON A STANDARD TELEPHONE LINE BUT THERE ARE A FEW VERSIONS THAT WILL NOT
722 TRIMPHONE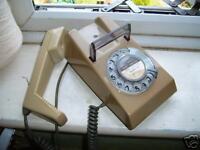 A TRIMPHONE FROM 1969
VERY COLLECTABLE NASTY LITTLE THINGS THAT SLIDE ALL OVER THE TABLE WHEN YOU TRY TO DIAL, ESPECIALLY IF THE DIAL HAS BEEN CHANGED FOR A NON LOW INERTIA TYPE, THE ORIGINAL LOW INERTIA DIALS ALSO CONTAIN A RADIOACTIVE RING WHICH IS SUPPOSED TO GLOW IN THE DARK SO YOU CAN CATCH IT AS IT SLIDES OFF THE TABLE. THEY ALSO HAVE A EAR PIERCING TRILL RING. SOME OF THESE MAY NEED CONVERTING.
I HAVE BEEN TOLD THAT WHEN THESE PHONES WERE RECOVERED BY BRITISH TELECOM AND STORED THERE WAS A LIMIT TO HOW MANY COULD BE STORED IN ONE PLACE, DUE TO A RADIATION RISK. I DO NOT KNOW IF THIS IS TRUE
FOREIGN TYPES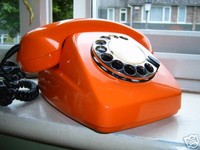 ABOVE AN EXAMPLE OF A EUROPEAN TELEPHONE FROM THE 1970'S IT'S REALLY GROOVY AND HAS CHROMED PLASTIC DIAL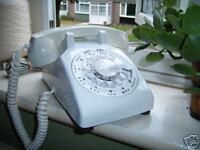 ABOVE A NICE EXAMPLE OF A BELL SYSTEMS (WESTERN ELECTRIC) 500 TELEPHONE IN WHITE, THESE DATE FROM ABOUT 1955 RIGHT THROUGH TO THE 1980'S, EARLY EXAMPLES LIKE THIS ONE ARE VERY HEAVY & HAVE FIXED CORDS, LATER TYPES HAVE PLUG IN CORDS & WEIGH LESS. THESE CAN BE DATED BY A TWO DIGIT NUMBER PRECEDED BY AN EQUALS SIGN, USUALLY CLOSE TO THE BELL CONTROL ON THEIR BASE
FOREIGN TYPES CAN COME IN UNUSUAL SHAPES AND COLOURS, NEARLY ALL TYPES WILL BE COMPATIBLE WITH THE UK NETWORK BUT WILL PROBABLY NEED CONVERTING IN NEARLY ALL CASES AS WELL. FOREIGN TELEPHONES ALWAYS SEEM TO HAVE NICER FREE RUNNING & SMOOTHER DIALS THAN GPO TYPES. IF YOU ARE THINKING OF BIDDING ON FOREIGN LISTINGS, CHECK THE SHIPPING RATES AS THESE CAN BE A LOT HIGHER THAN YOU MIGHT EXPECT
EARLY REPRODUCTION
PRE 1980'S
WITH OLDER TYPE TELEPHONES IT IS NOT ALWAYS POSSIBLE TO FULLY CONVERT THEM TO OPERATE ON THE BRITISH PLUG AND SOCKET SYSTEM AND IN ALMOST ALL CASES THIS WILL MEAN THEY WILL NOT BE APPROVED, IT IS IMPORTANT TO REMEMBER THAT YOU ARE NOT ALLOWED TO CONNECT UN-APPROVED TELEPHONE EQUIPMENT TO THE PUBLIC TELEPHONE NETWORK BY LAW!
IT IS ALSO WORTH NOTING THAT SOME TELEPHONES THAT WERE APPROVED IN THE PAST, THAT IS, FOR EXAMPLE EVEN GPO/PO TELEPHONES LIKE THEIR SPECIAL RANGE OF TELEPHONES FROM THE 1970'S WILL NO LONGER BE APPROVED
THIS SECTION COVERS THE GPO/PO SPECIAL RANGE OF TELEPHONES OFFERED FOR RENTAL IN THE 1970 AND ALSO THIRD PARTY MADE TELEPHONES WHICH WERE PROHIBITED FROM CONNECTION TO THE BRITISH TELEPHONE NETWORK BY LAW!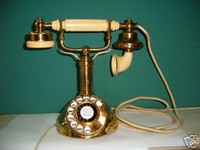 ABOVE IS AN EXAMPLE OF A REPRODUCTION TELEPHONE MADE IN 1967, THE HANDSET IS AN EXACT COPY OF A VERY EARLY HANDSET COMPLETE WITH A CLOTH CORD, THESE WERE VERY WELL MADE WITH A SOLID CONSTRUCTION & GOOD QUALITY INTERNAL COMPONENTS, FROM A TECHNICAL POINT OF VIEW AFTER CONVERSION THESE WOULD FUNCTION WITH NO PROBLEMS ON MODERN NETWORKS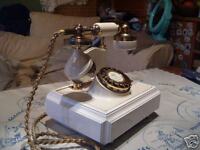 ABOVE IS AN EXAMPLE OF A GPO/PO SPECIAL RANGE TELEPHONE CONSTRUCTED OF WOOD, METAL & PLASTIC WITH A PLAITED CLOTH CORD, THESE WERE ORIGINALLY SUPPLIED IN THE 1970'S AS RENTED ONLY TELEPHONES FOR A ONE OFF PAYMENT REMAINING THE PROPERTY OF THE GPO/PO, THIS TELEPHONE IS A SLIGHTLY LATER RETAIL MODEL & IS APPROVED FOR CONNECTION.
MODERN REPRODUCTION
POST 1980
THIS SECTION COVERS ALL TELEPHONES MADE AFTER POST OFFICE TELEPHONES PRIVATISATION, ALL TELEPHONES IN THIS SECTION ARE APPROVED FOR CONNECTION IN THE U.K.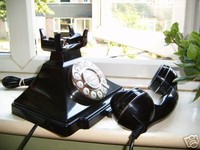 ABOVE AN EXAMPLE OF A PLASTIC CONSTRUCTION REPRODUCTION BLACK BAKELITE GPO 232 PYRAMID TELEPHONE, A VERY FAITHFUL ATTEMPT INCLUDING A PULL OUT DRAW ON ITS BASE & AN ANTLER TYPE CRADLE. THIS TELEPHONE HAS A PUSH BUTTON DIAL ARRANGED IN THE FORMAT OF AN OLD FASHIONED DIAL GIVING YOU MODERN FEATURES, THE HANDSET IS NOT QUITE RIGHT BUT A GOOD ATTEMPT. I THINK A QUICK GLANCE MIGHT FOOL YOU!
MORE TO COME!
REGARDS, Paul