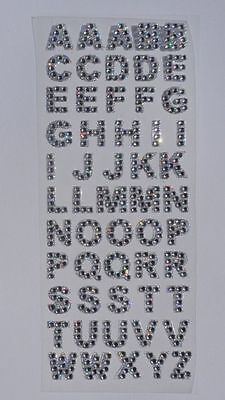 These are our crystal clear or white rhinestone letters and numbers with a sparkly glitter background, The letters are 10mm x 10mm, and our numbers are approx 8mm x 8mm, they are self adhesive or stick on, you just peel off and stick! These are ideal to personalise your cards, wedding glasses and craft projects.
We often get asked if we can supply these in different colours which we are able to source but now just bulk buy in the clear rhinestone only which helps to reduce our prices, we then pass these savings onto our customers as we now just tell our many crafters to just colour them in!
Use a quality craft marker or a permanent marker pen to change the clear rhinestone gems to a color that suits the required job! There are so many different colours to choose from in card designs, If your customers require a pink, blue, red, green, black or a purple effect, just colour them in, It's a quick low cost quality effect that helps to showcase your creativity plus the added bonus, quicker turn around of designs and it helps to reduce your stock and cost requirements to a minimum as craft pens last for months at a time, So now no need to hold various different colour rhinestone letter or number stock or if the colour scheme is an unusual one off design when you can just colour them in yourself!
Have a go experimenting with this tip! please view our shop on ebay, we have lots of quality embellishments for you to browse from rhinestones to pearls!