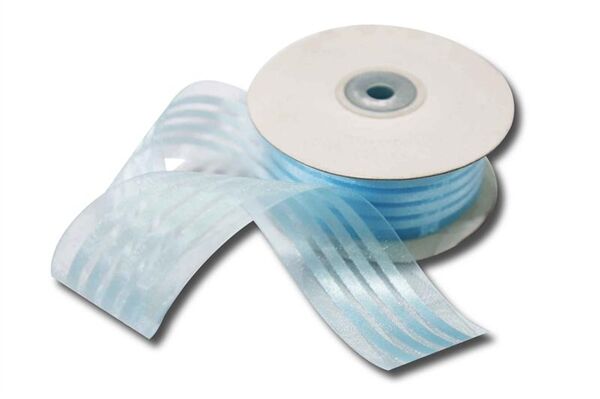 Using ribbon is a great way to enhance any sewing project, including clothing, curtains, and bed linen. Ribbon has numerous uses around the home that do not require a sewing machine. It can be tied to the back of a chair, or wrapped around jars, vases, and candle holders for a special touch. Ribbon can also be used to wrap gifts. There are so many types of ribbon available that choosing the right one can be a challenge.
When shopping for ribbon, buyers should understand the difference between cut edge and woven edge ribbon. They should also learn about the characteristics of the different kinds of ribbon, including grosgrain, jacquard, taffeta, and twill. Buyers should learn about the various ribbon sizes and the common sewing equipment used in conjunction with ribbons. Ribbon can be bought from haberdashery and craft shops, department stores, and online at eBay, which is a great source for craft products, with its large selection and convenient shopping experience.
Types of Ribbon
Ribbon can be divided two main types: cut edge and woven edge. Each type is appropriate for a particular use.
Cut Edge Ribbon
A cut edge ribbon is woven as a sheet and later sliced into individual pieces, so it lacks a finished edge, known as a selvedge. For this reason, cut edge ribbon is not ideal for clothing or any projects that will be washed.
Woven Edge Ribbon
A woven edge ribbon is created on a loom, so it has a selvedge. Woven edge ribbons come in several forms, including grosgrain, jacquard, satin, silk, sheer, metallic, taffeta, and twill.
Grosgrain Ribbon
Grosgrain is a type of ribbon with a coarse, ribbed weave. It is strong and supple, and can have a crisp appearance. Grosgrain ribbon comes in a variety of patterns, some of which are printed.
Jacquard Ribbon
Jacquard ribbon is similar to grosgrain. Jacquard is also known as brocade or damask and has patterns woven into it. The patterns can be anything, from florals to geometric designs. Jacquard ribbon is not reversible, as it has clear outer and inner sides.
Satin Ribbon
Satin ribbon is woven in such a way that it has a soft, lustrous finish. There are two kinds of satin ribbon: single-faced and double-faced. Single-faced satin has just one smooth side, whereas double-faced satin has a smooth surface on both sides. Some double-faced satin may even have two different colours on each side. Satin ribbon can be printed with a variety of designs.
Silk Ribbon
Silk ribbon has a similar texture to satin. It is often cut from bolts of silk fabric on the diagonal and then sewn together to create a long, narrow strip: this is referred to as a bias cut. Silk is versatile and strong enough to be used in many different ways.
Sheer Ribbon
Sheer ribbon includes varieties made from organza, muslin, chiffon, and georgette. Sheer ribbon is translucent, with a very light weave, and is great for projects where the ribbon needs to drape. Muslin is sometimes woven with two different colours of thread so that it has a two-toned appearance. Many sheer ribbon has an opaque monofilament selvedge to protect the edges.
Metallic Ribbon
Metallic ribbon has many of the same characteristics as sheer ribbon. It is made from metallic threads woven together and has a bright sheen. The metallic thread may be used throughout the ribbon or just along the edge. Some metallic ribbons have printed patterns.
Taffeta Ribbon
Taffeta ribbon is smooth and plain woven, with a slightly lustrous surface. It often has small copper wires in the selvedge that allow it to be shaped. Taffeta ribbon can be found in multicoloured designs, but may also have checks, stripes, or dots. Shot effect taffeta is designed to have an iridescent appearance.
Twill Ribbon
Twill ribbon does not have a lustrous appearance. Instead, it has a distinctive herringbone design with a V-shaped weave. Soft and strong, twill ribbon can be found in block colours and printed designs. It can be dyed or stamped for a more unique look. Twill is a great ribbon to use for sewing as it is easy to work with.
Additional Types of Ribbon
There are many more types of ribbon, for example, lace and crochet, which have delicate patterns. Crochet ribbon can be decorated in a variety of ways for even more ornamentation. Another option is velvet, which has all the texture of velvet in a narrow strip.
Edging for Ribbon
Many types of ribbon, whether satin, velvet, or sheer, have a picot edging, but it is most common for satin and taffeta. Picot edging, also known as feather edging, consists of continuous loops along the selvedge of the ribbon. Picot edging can give a ribbon a vintage feel.
Ribbon Sizes
Ribbon is most often purchased on spools, which can vary in length. Ribbon also varies in its width. The sizes may be given in millimetres or inches. The table below provides some common ribbon widths and conversions for the measurements.
| | | | | | | | | |
| --- | --- | --- | --- | --- | --- | --- | --- | --- |
| Ribbon width (mm) | 3.5 | 5 | 6 | 10 | 13 | 16 | 19 | 22 |
| Ribbon width (in) | 1/8 | 3/16 | 1/4 | 3/8 | 1/2 | 5/8 | 3/4 | 7/8 |
| Ribbon width (mm) | 25 | 38 | 50 | 56 | 63 | 76 | 101 | 127 |
| Ribbon width (in) | 1 | 1-1/2 | 2 | 2-1/4 | 2-1/2 | 3 | 4 | 5 |
Selecting the correct width of ribbon is important because woven edge ribbon cannot be cut to a thinner width without removing the selvedge, which would lead to unravelling. Although ribbon can be hemmed, cutting a ribbon to a particular width requires more work than simply buying the correct width.
Sewing with Ribbon
When sewing with ribbon, it is important to keep a few factors in mind. Most ribbon is made from polyester fibres, so it is resistant to bleeding colours or shrinking, but this may not always be the case. Check the care instructions for the ribbon if it is to be sewn into something that will be washed or wash a sample of ribbon to see how it behaves when laundered.
Equipment for Ribbon
Working with ribbon can require some special equipment. The most useful tools are shears for cutting the ribbon and fabric glue.
Equipment for Cutting Ribbon
It is important to have a pair of scissors. For most types of ribbon, a pair of fabric shears is sufficient. However, there are also special ribbon shears that have serrated edges. Fabric shears should never be used to cut anything other than fabric or ribbon, and the same applies to ribbon shears. Using them on another materials can damage the blades, leaving them dull and ineffective at cutting what they are intended for. Also note that ribbons with wire edges or metal threads should not be cut with these shears either. Instead, use a sturdy pair of craft scissors.
Fabric Glue for Ribbon
Some buyers may be wise to invest in fabric glue or special ribbon glue. Although it is relatively easy to sew a ribbon to the right piece of fabric, applying some fabric glue can make it easier to position the ribbon correctly. Other types of ribbon glue can make it easier to attach metal and other non-fabric materials. Buyers can also purchase adhesive tape that serves the same purpose as glue and has no adverse effects on the ribbon over time.
Storing Ribbon
Ribbon should always be stored out of direct sunlight because over time the sun can cause it to fade. There are many ways to store ribbon, including winding the it across a tension bar or a wooden rod so that it can be dispensed easier, and placing it in jars.
How to Buy Ribbon on eBay
Shopping online at eBay is a great way to find sewing and craft accessories. To search for ribbon, just specify the type that you would like to buy, such as "blue polka dot ribbon" or "metallic silver ribbon", and enter the keywords into the search bar. eBay's search engine lists all of the matching products. To narrow the options down and find exactly what you want, filter the items by product features and then apply other filters, such price and condition.
Tips for Shopping on eBay
eBay is made up of a network of independent sellers who list items for sale. After a purchase, buyers provide feedback for the sellers using specific criteria. The ratings and feedback are then made available so that other buyers can use it. Feedback is a critical component of the eBay shopping process because it lets members locate reputable sellers who pride themselves on excellent customer service. You can visit the eBay Help Centre to learn more about how feedback works.
You can also take advantage of the advanced search function to locate items more effectively. Performing an advanced search allows you specify how the keywords are used and a preferred buying method.
Conclusion
There are many types of ribbon to choose from. At the most basic level, there are two categories: cut edge and woven edge. Woven edge ribbon is ideal for sewing because is has two edges, or selvedges, that help the ribbon to avoid unravelling. Woven edge ribbon is available in many types. Grosgrain and jacquard ribbons are identified by their texture: grosgrain has a distinctive ribbing and jacquard has a woven decoration on one side. Satin has soft feel and a lustrous appearance, and is similar to silk.
Buyers can also purchase sheer or metallic ribbon. Sheer ribbon has a translucent appearance and metallics have a shimmery glint. There is also taffeta and twill ribbon. Taffeta ribbon has a slightly lustrous sheen and is soft, like satin. Twill is not lustrous, but it has a strong herringbone weave. Buyers can also shop for lace, crochet, or velvet ribbon, as well as ribbon with a picot edge. Whatever type of ribbon buyers wish to purchase, they can visit eBay for a large selection and convenient shopping.