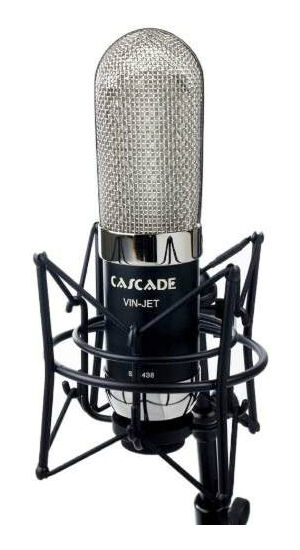 Ribbon microphones are a type of velocity microphone well regarded for their sound quality and good response. They are frequently used in musical applications.
About Ribbon Microphones
Microphones work by responding to the action of air molecules passing across them or to sound pressure. Condenser microphones and dynamic microphones respond to sound pressure. Velocity microphones, such as ribbon microphones, react to the action of air molecules.
Ribbon microphones are constructed with ultra thin metal wires, typically aluminium, suspended between magnet poles. These wires are known as ribbons. The action of air molecules moves the ribbon wire, and when the ribbon moves in the magnetic field, it generates different voltages.
Ribbon microphones have many excellent selling points. Their sound quality is very smooth and natural, characterised by its warmth and evenness. Sensitivity is bidirectional, and when used in pairs, ribbon microphones can pick up sounds from all directions. Other configurations can also be arranged to enhance specific applications.
Drawbacks with older ribbon microphones have included low voltage output, meaning that transformers were required, but modern ribbon microphones have largely solved this problem with the development and inclusion of more sophisticated magnets. Older ribbon microphones are also known for being extremely fragile, but again improvements in materials have resulted in modern ribbon microphones being far more durable. They should still be handled with care.
Ribbon microphones are especially recommended for instruments such as brass and string instruments as they emphasise body and character without producing a harsh or strident sound. They are also used for electric guitars and various other instruments as well as vocals.
Choosing a Ribbon Microphone
The choice of ribbon microphone depends upon various factors, such as application and the type of sound required, as well as price. A microphone that is to be used for various applications, for example, for vocals, guitar, and drums, will need to be more well rounded than one that is required for just one application and a specific kind of sound.
Application and Sound Type
It is a good idea to check out reviews and tests of specific models before buying a ribbon microphone. These can give an indication if the microphone is suitable for the particular application. For example, though ribbon microphones are not used as frequently as other microphones for vocals, tests have shown varying levels of response and sound quality from different models. The product description may also give information on recommended uses.
Features to look out if the microphone is to be used for vocals include clarity and detail, especially in the higher frequencies which is where many ribbon microphones lose out. Microphones that catch these high end frequencies will be better placed to capture the breathiness of vocals. Ribbon microphones are characterised by their warmth and smoothness, and these are qualities to check for. Ribbon microphones that sound too much like condenser microphones may be a little cold or restrained. Some ribbon microphones are especially noted for their vintage character of sound. These might be superb for some vocal applications, such as jazz, but may not be as appropriate for others.
Ribbon microphones can also work well for acoustic guitars. Placement is important, but the right ribbon microphone can easily convey the warmth and detail of these instruments. Placing the microphone differently can result in a brighter, tighter and more sparkly character.
Ribbon microphones have a great response and a good reputation when it comes to capturing the roundness of acoustic drums without any distortion. They work well with equalisation, producing tracks that do not sound grainy. It is often necessary to experiment with placing the microphones in different places to get the best sound.
Special Features and Accessories
Ribbon microphones have various features that give them enhanced performance. High sound pressure level (SPL) capability enables loud sounds to be recorded without any distortion. Product specifications may give details on frequency response. While most microphones have a low frequency roll-off to protect against unwanted low frequency sounds such as knocks and vibrations, some also have presence boosts to accentuate certain frequencies. This can be helpful to highlight vocals or specific instruments.
Look for ribbon microphones made of durable materials to robust standards. Microphones that are aimed at professional use should be robust enough to be transported frequently.
Accessories often included are cleaning cloths, carrying boxes or cases, shock mounts and pop filters or pop shields. Microfibre cleaning cloths are recommended for cleaning ribbon microphones. Carrying boxes or cases are essential to keep the microphone protected in transit. Shock mounts are mounts to hold microphones safely and securely while minimising vibrations that would be transmitted through a normal stand. This cuts down on unwanted noise and interference. Pop filters or pop shields are protective semi-transparent filters placed in front of the microphone. They are designed to minimise the popping sounds caused by rapidly moving air molecules, for example when p's are pronounced. They also protect the microphone from saliva which can cause corrosion long term. Pop filters are used with instrumental recordings as well as vocals.
New, Used and Vintage Microphones
If the budget allows, it can be worth purchasing a high-quality new microphone. Budget microphones will often be sufficient for many purposes, though their polar pattern may not be as precise or their response as tight.
An alternative to consider is to buy a used microphone, though there are certain considerations, such as lack of warranty and possible damage, that should be thought through when purchasing a used microphone.
Vintage ribbon microphones are often available at decent prices and these may be in good working order, though the product description should always be read carefully to check for any stated damage.
Find a Ribbon Microphone on eBay
Buying from eBay is a streamlined and easy process. Ribbon microphones can be found in the Microphones category on eBay. To navigate to this category, follow the All Categories link from the eBay home page to the Musical Instruments page. Then select Pro Audio Equipment and Microphones. From here Ribbon Microphone can be selected. On the tabs to the left are other criteria, such as brand, pickup pattern, condition, price, features and connectivity. Be aware that many sellers do not specify all these criteria, so selecting them may cut out relevant listings. The numbers of listings are given in brackets to the side for easy reference. Ribbon microphones can also be searched for using the search bar at the top of the page. Type in a general search term such as "ribbon microphone" to quickly bring up listings.
Conclusion
Ribbon microphones are a type of velocity microphone that respond to the movement of air molecules across them. They are noted for their warm, natural tone and are especially recommended for brass and string instruments, though they are also used for vocals and other instruments such as electric guitars and drums. The choice of ribbon microphone depends upon factors such as application, the type of sound desired and price. Some may be more suited for vocals and certain instruments than others, and reading product reviews and product descriptions can be very helpful here. Look for qualities such as response level, warmth and clarity, especially in the higher frequencies. Some ribbon microphones have a distinctively vintage sound which can be very attractive. The placement of the microphone is also important and the manufacturer's handbook or product reviews may give further information on how to set up the microphone to optimise its performance. Ribbon microphones may come with various accessories, some of which are essential for the safe operation and maintenance of the product. Buying the right ribbon microphone will greatly enhance both live performances and recording and is a worthwhile investment.