Telephone Parts 01522 589461
Mini guide to Road Legal Quads by Ram Zilla Apache made by SMC and Barossa in Taiwan
Under latest EEC regulations 92/61 and superseeded to 2002/24 a new category of vehicles the road legal Quad or "Quadricycle" was born for the whole of EEC
They can be ridden on a full car licence (or full motorcycle licence if you passed your test prior to feb 2001)
They have no restrictions and can be ridden anywhere a car or motorcycle can legally go.
The quadricycle class is limited to 15 KW of power approx 19 horses therefore a 250 - 300 cc quad provides the best power to weight ration for on road and off road fun
A taiwanese firm SMC Standard Motor Company became the first larger capacity Quadricycle under the brand name of RAM rapidly became the number one selling road legal quad in the UK
Similar twin cylinder machines based on the old honda CB250 lump are now available from a wide range of importers and brands: Derbi, Barrosa, Apache to name but a few.
If you want an affordable entry level machine then they start at 170 cc single, rise to a 200 cc twin and then a 250.
The 250 lump is based on the old solid Honda CB250 motor providing excellent reliability, great exhaust note (even standard) and reasonable performance (250 standard is just uder 60 mph) but with a few tweaks can be got to up 75 MPH
The Twin is one of the few machines to have a manual gearbox which is great for off roading and getting the most out of the motor. In comparison it makes automatic quads of similar cc rather boring unless youve got a very lazy left hand and foot. compared to a 250 or even 300 CVT Kymco the twin kicks ass.
Chassis design is based around the Yamaha Blaster 200 which is still a top selling and great handling off road quad, indeed many of the accessories fit both machines eg wide A arms, Skid plates, etc
The latest version of the SMC 250 now has revese gear, essential for on road use. Most machines are also homologated (granted approval) for use by two people so your quad riding does not need to be a solitary affair.
Due to the popularity they are 1000's of accessories and aftermarket parts to customise, make them look cooler and go faster
Common mods are 32 tooth rear, 13 T front sproket for quicker top end, race end can with a hi flow filter, Nerf bars and Nudge bars and wheel spacers! Plus if your a motorcyclist the first thing to do is junk the thumb throttle and buy a twist grip conversion to save on sore thumbs!
Stick with Genuine accessories where you can as they are guaranteed to fit and will be approved by the official UK importer.
Servicing costs are low and with good care after off roading the quads are about the best value for money product available on todays market.
On straight roads it can be dull, but on the twisty bits, roundabouts or simply used to get to where you want to play off road and they come into their own.
Not a real quad ? Well they have been entered and completed with ease the Weston Beach race and finished well ahead of many larger capacity race quads, and then can be ridden home afterwards (if you can still hang on!)
Latest Model SMC 300 LC is longer wider with Liquid cooling and a dam fine quad, if you want more then the SMC 500XLC is powered by a Japanese Fuji motor (as used in the Polaris Predator 500)
But for most a 300 offers great thrills especially off road
Many Parts and Accesories are available on line at bargain prices see ebay shop: an urban quad shop for a preview of some of the parts available
Going to buy a quad ? trying to work out what youve bought? Need parts & accessories ?
Good Quadin !
TRY The urban quad shop on ebay click below
email us for parts buyers guide for all SMC RAM Barossa models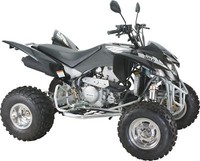 Ram Zilla SMC 500 XLC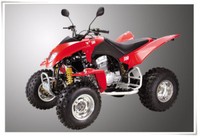 Ram Zilla SMC 300 XLC STINGER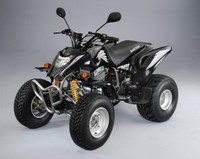 RAM Zilla SMC Apache 250 Twin