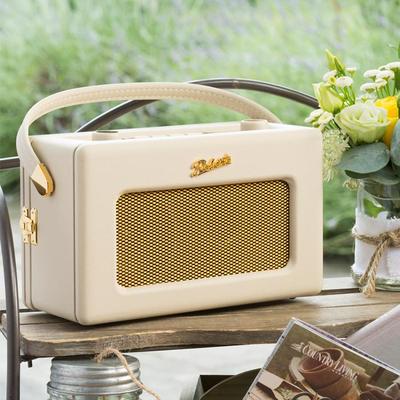 Roberts Radio RD60
Roberts Radio RD60



Today I have chosen the Roberts Radio RD60, a great looking and sounding radio on the market today. The UK Company, Roberts Radio has produced high quality sounding radios for over 80 years, holding two royal warrants as manufacturers and suppliers of radios to Her Majesty The Queen and HRH The Prince of Wales.

Inside the box!

Roberts Radio RD60 FM/DAB/DAB+ Radio

AC adapter

Instruction manual



A first glance of the Roberts Radio RD60 range, everyone's first words will be along the lines of "Wow" or "They're nice, aren't they?" and you can probably understand why. The elegant, fifties looking radio is a true centrepiece, adding a little life from the past, straight to your room. The radio uses MDF wood, concealed with genuine leather in a variation of different colours (Listed on our website). The colour scheme used in the RD60 range has really characterised the retro feel, embodying the feel of the fifties.



The Roberts Radio RD60 has a clear cut, acoustic sound, great for indoors and outdoors with hardly any distortion at higher volumes. The radio has an amber backlight LCD display, displaying the station and the song playing, so you won't be Googling the lyrics to find out what you're listening to! Positioned near the LCD display is the auto-tune utility, keeping you up to date with all the new stations, with a click of a button. It also comes equipped with two rotary dials, one for tuning and volume. The LCD display adds a bit of ease when choosing your stations, specifically for another function of the radio, being favourite presets. For those times when you're enjoying the music on one particular station and you're having an internal debate to whether you want to return in the future, press the favourite button and it's now a preset station on your radio, debate over.



Another handy feature integrated into the radio is one stereo line output socket (3.5mm Jack) and a headphone input! The stereo line output means that you can plug your phone to your Roberts Radio with a 3.5mm Aux cable and listen to your favourite tracks on the radio itself... And to our nocturnal readers out there, you can plug your headphones directly into the radio, without waking up your family each time a dramatic solo blasts down the speakers!



To conclude our review on the Roberts Radio RD60, we believe this radio is a must need for radio fanatics out there. The radio resembles an antique, adding that final touch to your home. The price of the radio may be off putting, but for the quality you are paying for; you won't want to be going back to any other radio in the near future.