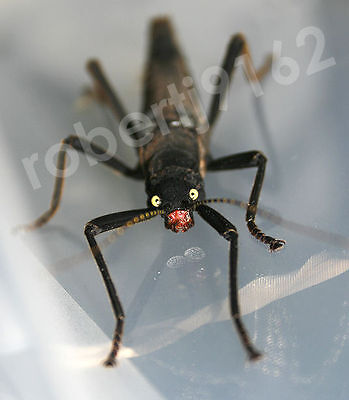 ...The Black Beauty Stick Insect…
…was discovered in 2006 in a tiny region of northern Peru, in an area of just 5 hectares (about 7 football pitches!) in the Cordillera del Condor Mountains, at altitude of about 5000ft! (500ft higher than Ben Nevis!)…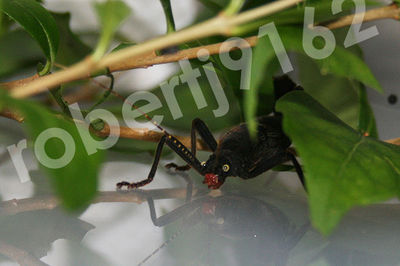 Housing
Your stick insects will like a nice bit of space just as we do. Make sure you find a nice large container or insect tank/vivarium from your local petshop. I actually use an old glass aquarium with netting over the top – as it is much roomier than my other insect tanks. (aim for about 30cm tank MINIMUM – this helps getting the food in too!)
Remember – don't cramp them in too much with lots of food otherwise they will have trouble shedding their skins! They can easily get stuck and seriously damage themselves so make sure you allow lots of roomy gaps! The bigger the tank the better!

Just putting some kitchen roll in the bottom makes cleaning up after them easy, they don't make hardly any mess but it's a good idea to wipe the tank out every so often and give it a good rinse. You can also use wood chippings from your local pet shop too, you won't have to clean them out as much as it hides the droppings a bit more, but it does make finding eggs more difficult!
Keep them somewhere dry and with plenty of ventilation, not too hot or too cold, and not in direct sunlight. Normal room temp (17 - 19˚C) is just right.
You can mist them with fresh water in hot weather or when it is particularly dry, but don't wet them too much too much water on the leaves can cause bacterial infections -they will get plenty from the leaves and they will even chew the stems and suck the water straight out of them like straws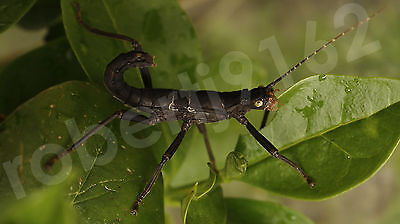 FOOD
These stick insects have been raised on PRIVET. I have tried them on bramble but they didn't like it. I have also heard they will eat honeysuckle, lilac and forsythia, but these plants are not often as accessible. I would NOT recommend Ivy for this species.
The food will usually last about a week, or longer depending on the weather. Put the privet in a jar with some fresh water, put some cling film or foil over the top with holes for the stems, it is useful to cover any large holes with strips of masking tape after putting the food in as insects and eggs may fall in the water!
Black Beauty's can be quite speedy, so it is usually best to clean them out in the daytime when they are less active, and less likely to escape!

I recommend rinsing the privet to remove anything that may have been sprayed in the garden, bonfire smoke/ petrol fumes and other nasties, then let it dry for a bit indoors before cleaning out your insects. This way you can take off any nasty leaves, berries, buds or flowers. These bits, as well as very new leaves, can contain high concentrations of toxins which can be very harmful to your bugs! Your insects will prefer to eat the bigger, darker leaves anyway.
Privet is very easy to grow, so if you want to have a dedicated bush for your insects; just cut off a large stem of privet from near the bottom of an existing bush (about 2ft is good) and put each in a large pot and water regularly, it will soon root and put out new leaves, but give it a good few months to grow big and strong. Regular pruning will also encourage growth.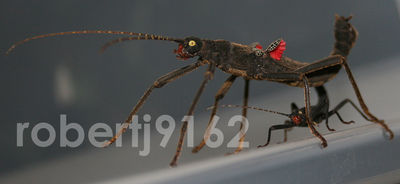 CAUTION! (The small print!)
In case you didn't know already your Black Beauty Stick insects are very special! Unlike most stick insects they have two special glands at either side on the back of their necks which they use as a defence against natural predators. They can spray a nasty chemical which tastes bad and can sting your eyes! So this makes it important that when you handle them you do so with care.
This has only ever happened to me once with a heavily pregnant female, and she had a very good aim! A bit like lemon juice in the eye! But if you do get squirted in the eye don't panic, just rinse thoroughly with warm water and you'll be fine.
Just be patient, and with lots of love and care (that means leaving them alone too!) your stikkies could live for up to two years!


Disclaimer
All information in this guide can be commonly found on the internet for free, I distribute one printed guide for every order.
PLEASE DO NOT COPY OR REDISTRIBUTE WITHOUT MY CONSENT.
© RJ.Mears 2014.
Updated - 2015.
Added to eBay Guides - 2016.