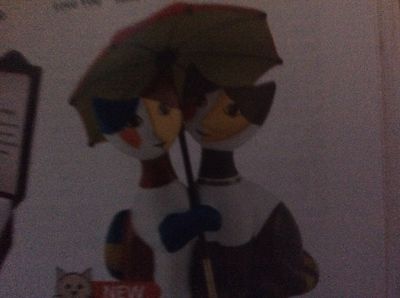 Sotto lo Scudo
I was quite disappointed when this beautifully crafted Rosina Wachtmeister cat ornament was not in stock from where I originally ordered it from.

I thought that I would check on EBay, I knew I had seen other ornaments on it before and I was not disappointed, there was a whole range to choose from, so I set about looking through the various sellers. I had a choice, I could either go for the option that some sellers have of 'Buy Now', which for those not familiar with Ebay, means that you do not have to bid, but pay the price given, but the only place I could get this product from was Germany and the postage costs were high, but there was one I found that I could bid on, it had three and a half days to go, but I thought I would give it a chance, and I won it, paying cheaper for it, which when the postage was added on was still cheaper than me buying it from my original place, so I was very happy.

For those not familiar with her work, check it out, a must if you are a cat lover, I got one of her ornaments, but she does other products to, like a cat mat and bathroom accessories.

So go on give it a go, just type in the name 'Rosina Wachmeister' into the search bar on EBay and enjoy looking at this beautifully crafted items, or just search the ornament or collectible section on eBay and type in her name, and I know it's scary but give the bidding a go, you might just get a bargain, like me.