Rover Mini Cooper 1.3i
This is one of many illustrated classic car guides I've created for the community. I hope you enjoy it. If you wish to find out more about the classic Mini Cooper art featured in this guide please click here.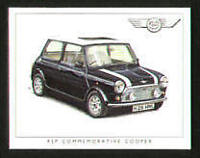 The idea of bringing back the Mini Cooper came from a series of meetings between Rover and John Cooper and on the 10th July 1990 the Rover Special Products or RSP Commemorative Cooper was launched. Intended as a limited Commemorative edition of 1000 (plus 650 for Japan) the new model was inevitably closer to the standard Mini specification than the old Mini Coopers had been. The 1.3 litre unit form the MG Metro was used while the Minilite style wheels were borrowed from the Mini 30 model of 1989 along with most of the interior trim. Finished in a range of two-tone colour schemes, the Commemorative looked remarkably similar to its 1960s brethren and in performance terms was similar to the original 1275cc Cooper S.
If you would like to see more guides on classic Mini Cooper cars please click!
Thank you for reading my guide and I hope you found it interesting!