How to tell the age of Royal Cauldon?, look at the Back Stamp on the base.
Back Stamp
Royal Cauldon England Est. 1774 Made In England was in use from 1930-1950 with slight variations. The later mark from 1950-1962 has Royal Cauldon above the crown and Made In England below, with Bone China to the left and right of the crown.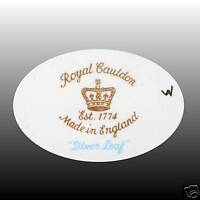 History
Cauldon Potteries was formerly Cauldon Ltd, and were based in Stoke from 1920-1962. In 1962 they were acquired by a Bristol company.
Cauldon Potteries manufactured china and earthenware at the Cauldon Place Works in Stoke-on-Trent. The previous owners of the Cauldon Works were "Potters to Her Majesty..." and as a result Cauldon were able to adopt the branding Royal Cauldon in 1930.
In 1962 the pottery was divided into porcelain and earthenware portions, and sold to two different companies.