Royal Crown Derby
Royal Crown Derby was established in 1750, in Derbyshire, England. From small beginings, a great company was born, using lavish gold, bold reds, and Japanese inspired colours and designs for a range of tableware, giftware and Collectables.
Royal Crown Derby is the only china manufacturer to have two Royal warrents. The word Crown in the title was given by King George III, and Queen Victoria gave the Royal part of the title we know today.
In 1981, the Paperweight was born, since then dozens have been lovingly created by the skilled designers, potters, painters and guilders at Royal Crown Derby.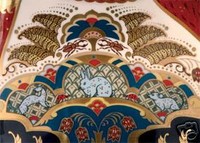 The qualiy of Royal Crown Derby is amazing, with lavish 22 carat gold decoration, which is hand paited in Derby in the East Midlands of England.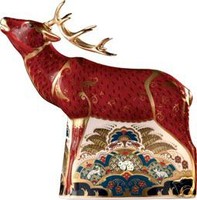 Stoppers
The original paperweights contained sand, as they were originally designed for use, but this practice soon ended, as it increased postage costs, and hindered production. A ceramic stopper was trialed, but this proved to be unpopular, so the Gold stopper which we see today is the one that has been produced for many years. A couple of other stoppers to note are; A Hexagonal stopper was made, and applied to all pieces produced in 2000, the Paperweights 21st birthday; and a Silver stopper, which is applied to all "Seconds", pieces which are not of good enough quality. The backstamp is also scratched on these pieces.
Backstamps
Royal Crown Derby carries a date mark to identify the year of manufacture. From 1938, roman numerals have been used - the only exception being the 2000, which had a special mark of two interlaced 'M's. 'X' and 'V' have been used twice as date marks - to avoid confusion, 1901 & 1904 are accompanied by 'England', while the roman numerals used for 1942 & 1947 are accompanied by 'Made in England'.
So if 1938 is I, then 1975 for instance is XXXVIII, 2000 is MM and 2006 is MMVI
eBay has a huge listing for Royal Crown Derby and can throw up some very rare pieces. Recently a Connaught House exclusive China Shop paperweight was for sale at over £250. Pieces like the are Super-Rare, only 75 were made, a lot were sold to staff of Connaught House, and the remainder were sold to the top loyal customers at the time, for under £100.