There are increasing reports of cheap copies of Royal Crown Derby turning up at auctions and markets around the country.
The Derby based porcelain manufacturers say they are extremely concerned.
One copy was so convincing no less than nine different experts identified it is genuine!
Managers at the factory are hoping that by making the public aware of the fakes being circulated, it can put a stop to the counterfeighters.
We expect to see more of these fakes so you need to be sure that you are buying from a reputable dealer.
These fakes are bad news for all concerned, so be very careful when purchasing such items.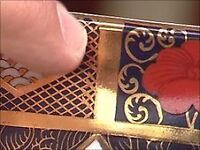 A close look at a genuine looking fake reveals imperfections in the detailed paintwork which you would not see in a genuine item.