Hi,
Welcome to my practical sellers guides on how to use the various popuar and rarly used postal options, delivered by Royal mail.
This Guide covers the following: Royal mail Recorded Delivery, Certificate of Postage & Extra Advice. Part 2 covers Special Delivery, and International Postage options - click this link to jump to part 2: Royal Mail - an Ebay Sellers Guide (Part 2) or part 3: Royal Mail - An ebBy Sellers Guide (Part 3)
Everything is written from personal experience!!!!!
---------------------------------------------------------------------------------------------------------
1. Sending via Royal Mail - UK options
ROYAL MAIL RECORDED DELIVERY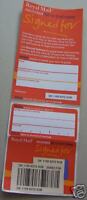 Recorded deliver is a fantastic way of posting your parcels for a cheap and efficient way within the UK. Recorded delivery currently costs 68p over and above the standard 1st or 2nd class mail cost.
Can be sent 1st or 2nd class

Requires a signature by the receiver

Can be used as proof of postage
ANTI FRAUD TIP: if your buyer claims that they have not received a parcel, you can prove to paypal that you sent it, and it was signed for (always keep the slip & the original post office paper till receipt stapled to it) - paypal ask for this.
ROYAL MAIL CERTIFICATE OF POSTAGE (p326 PAD)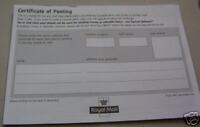 This is a service, that is not promoted by Royal Mail, as it is FREE! This is essential if you are selling overseas, you require proof that the item was posted, and you need to prove Paypal that the item was sent, to the address stated.
Remember there is no tracking, or signature.
Basically ask the counter clerk for a written certificate of postage (dont let them fob you off with just the printed receipt) - this will be no use if you have to defend yourself against a paypal claim of non-arrival of goods, as they never enter the address onto the printed receipt, thus rendering it useless!! However please note that a printed receipt with an address completed by the clerk will be evidence of postage, in the event of a claim with RM.
You will need to hand write the full name and address (make sure it is the address that is registered with ebay)...the clerk will stamp it and initial it.
Keep this for 3 months in an archive.
Extra Advice
Always put your return address on the back of any parcel

Always use a postcode

Always write clearly and in block capitals, so the postman can read it! - preferable use printed lables from your PC.

Always send your buyer the online tracking number, and paste it into selling manager pro, so if you need to recall it, you have it to hand (saves routing through lots of receipts!!)
Other Guides from me:
Royal Mail - an Ebay Sellers Guide (Part 2)
Thank You for reading this guide. I hope it has been useful.
Regards,
John
Give_Me_Designer_Clothes