KHOKHLOMA WARE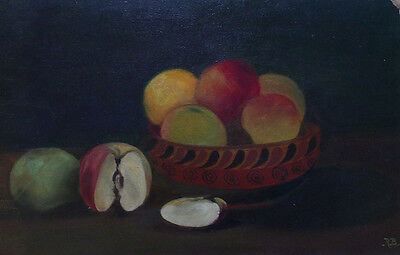 A naive Victorian oil painting I used to have of fruit in a Khokhloma ware bowl.
The name: Khokhloma is a village in the Volga woodlands and was the centre of manufacture of the ware which takes its name. Khokhloma ware has also been known in the British antiques trade as Riga ware, Archangel ware and Baltic treen, named after the ports where ships picked it up and the sea route which brought it to Britain.
For clarity and brevity I'll call Archangel/Baltic/Khokhloma/Riga ware ABKR.
Origin: the invention over three hundred years ago of
Archangel/Baltic/Khokhloma/Riga
ware is recorded in a Russian folktale which recounts how a peasant learned how to make "gold". ABKR ware was popular with far distant customers: from the Western Isles of Scotland and right across Northern Europe.
The Royal Museum of Scotland is very interested in this product which was an important article in Scottish trade for hundreds of years but researchers have never found it listed in the inventory of a noble or landed household: it was acquired by the poor who left few records. I think it might be mentioned in trade records such as ships' "bills of lading". Bright gold when new,
ABKR
was bought by buyers for whom gold, silver, brass, pewter and even pottery vessels were too costly. So, in homes of long ago where
ABKR
was proudly displayed, its cosy golden glow was a substitute for the gold plate of the magnificent. If you have any old documentary information about
ABKR
ware, such as a letter explaining where and how an 18th or 19th century ancestor came by a piece, I am sure the Royal Museum would like to hear from you.
The ware is not very durable, is very hard to date and no early pieces are certainly known to have survived in Scotland.
Condition, durability and care.
Many pieces of old
ABKR
treen have been spoiled by ignorant attempts to clean and brighten. The medium for the painting of old pieces is SET wood resin rather than varnish; solvents such as white spirit, turpentine and oil painting cleaner all dissolve the painting. Slightly damp cotton buds can help clean them.
Old timber shrinks and
ABKR
inevitably develops shrinkage cracks. Heat is destructive to the finish. If packed in paper the paper will sometimes stick to the surface which for some reason has become tacky again.
Display: with its warm earth colours
ABKR
is perfect for country oak and pine furniture and is authentic for decorating a 19th century Scottish croft house or fisherman's cottage. Like other types of folk art,
ABKR
is a dramatic accent in high-tech and minimalist interiors.
Technique: loosely described as lacquer, old
ABKR
woodware was decorated in a remarkable and unique way: one explanation of the method is that the metallic gold was in fact tin pigment, dull and grey when painted on, with the warmth of colour coming from the resin expressed from the wood when the object was baked at 90 degrees in an oven. Other varying accounts exist and I can't tell which is correct as there is so little information published in English.
Old pieces age in a different way from the 20th century type, and become very dark and often the paint shrinks in a crackled pattern.
Forms: articles of
ABKR
ware were mainly turned bowls, platters, storage jars and goblets. I have seen stools and other plank-constructed items of small furniture. The quaint Russian-style
ABKR
spoons, which I think are whittled, look Mediaeval to Western eyes.
Distribution: before macadam roads and railways the speediest and cheapest means of distributing goods around Britain was shipping. Strange to think of today but the tiny, sleepy, touristy harbours dotted along the coasts had a national and international trade. Ships from the Baltic would bring in cargoes including wooden wares, which would then be hawked around the countryside by packmen and peddlers. Bowls were packed nested smaller inside larger and ranged in size from about 1 inch up. In the 1980s I had a bowl of around 15 inches in diameter, but I think even larger ones might have been made.
Motifs: this is a key to dating
ABKR
. As time passed demand in Scotland declined and by 1920 even the quite low-paid could afford decorated Staffordshire pottery with a smooth surface, bright colours and fancy transfer prints following current trends. Later Khokhloma Ware is decorated with lush and detailed fruit and flowers of recognizable species including strawberries and grape vines. Early wares were decorated in a very small number of geometric patterns, with simple circular florets rather than naturalistic flowers. In spite of the limited repertoire of patterns, they were varied in small ways and the over all effect is not of monotony. Possibly the most popular pattern was the "Handkerchief" pattern based on a quadrangular shape with wavy sides.
Inscriptions: a Russian collector explained to me that, as the makers and buyers of
ABKR
were mostly illiterate, inscriptions are not to be expected on early pieces. After 1900 inscriptions on
ABKR
become more likely.
Revival: Russian folk arts in general were revived in the late czarist era and were bought by fashionable members of high society interested in the Arts and Crafts Movement. Such revivalist objects can be splendid and ambitious works of art but have little resemblance to the simple old pieces I am describing. Later on, Stalin exterminated the original makers of Khokhloma Ware (who were Kulaks) and so, when the Soviet state decided to revive the industry, workers from different sources were recruited. Thus the elaborately decorated pieces promoted by Marxist policy after the Revolution using new decorative styles inspired by other types of Russian folk art and employing modern paints little resemble the older work.
The modern product is "Folk Art" in name only, decorative though it is.
Safety: I don't know what the red pigment is but suspect it might be red lead. Use a glass liner if you plan to serve food in an Archangel/Baltic/Khokhloma/Riga Russian treen bowl.
Notes: I suggest you search the Internet using all the various names Including foreign spellings. I don't know if anyone else uses ABKR as a contraction.
Since I wrote this, a good article has appeared on Wikipedia with two links to further information. Still, in total, the information is not a lot.