If you want to avoid buyer disappointments when selling clothes, getting the colour right in your pics really does matter! So if your camera or phone does not reproduce the colour correctly, use a photo-editing program to adjust the colour until the colour of your pics matches the garment you are trying to sell! If you don't have a separate photo-editing program like Paint Shop or Photo Shop elements etc, even a basic photo-editing program like Windows Photo Gallery can fix colours - so PLEASE use it!
Here is one example of a garment I purchased recently on eBay: the top pic is the seller's, showing the colour as a greenish/mustardy colour. The bottom pic is mine, showing the actual colour! As you can see, there is a VAST difference between the seller's pic and mine!
Seller's pic, showing the colour as a greenish/mustardy colour.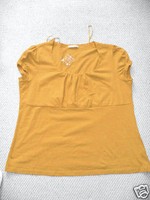 My pic, showing the actual colour of the top!!!
Naturally, I was very disappointed when it arrived! But as I only paid £0.99 for this top + £2.50 postage, it wouldn't have been financially viable to return it. So I just "wrote it off" as a bad buy and simply give it to my favourite charity shop! But had I paid £10 or more including postage, I would have been absolutely gutted to have wasted so much money! And it would still not have been worth trying to complain, as it would have been extremely difficult to prove that my pic showed the correct colour!
So the moral of this story is PLEASE try and get your colours right to avoid buyer disappointments!!!