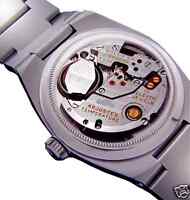 Thinking of buying a rolex ? but want to save money ? Seems to be a bit of a contradiction of terms really , after all a Rolex is a fine watch rated one of the best in the world and most people who own genuine Rolex watches dont really go looking for ones on the cheap ... I mean, can you emagine going to a celebrity party and saying to David Beck ' hey nice Rolex David' to which he replies '' Yeah not bad is it? I got me and posh one each from the Twiston Car boot sale!' .... So If you buy one on the cheap you are going to get just that ' A cheap copy !'
Many people have this mad mis conception that if the second hand on a Rolex ticks it's fake and if it sweeps in a perpetual motion then it must be real ! WRONG. Many copies now adays are the mutts Jewels , some are even made with solid gold cases , some have the numbers of a genuine watch ( clones) .Many of the chinese copy watches now come with good quality automatic wind ETA or Miyota movements these often are fitted in some of our best branded watches on our high streets and the tick motion is near on perpetual . Rolex do in fact make a ticking Rolex quartz, this, as far as i am aware, is only fitted in one model 'The rolex Oyster Quartz '..
Buying a Rolex off of ebay can be dangerous unless the seller agrees that you can collect in person . and take it to a Rolex stockist for confirmation in person. After all, whos to say that the rolex offered with full papers and a written confirmation is the one you will recieve?